Modified Vintage Modified
Thanks to the rave reviews here,I purchased a VM P-Bass at GC for $199.99.I played a couple of shows with it in stock form(actually pretty cool) ,then decided to have some real fun. First up: a Kahler Tremelo Bridge(which I installed myself), a Seymour Duncan QP pickup,Dunlop Straplocks and a upside down Mighty-Mite Left Handed P-bass Neck with a set of Schaller Tuners. Next up was a tribute to my favorite band of ALL-TIME- VAN HALEN!!!(electrical tape and a razor blade and about 4 hours!).Weighing in at over 11 lbs!, this Bass has been getting Rave Reviews at all my shows from musicians and non-musicians alike..................................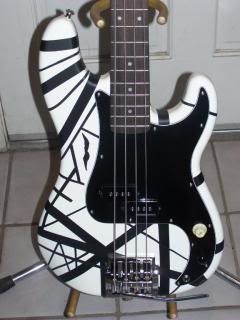 and the back
and full length
The Tape job is actually VERY close to Eddies original(Check out the single white tone Knob and camoflauged

black knob!
Not sure how long I am going to keep it in this form since the tape is temporary.The only parts left fom the original VM is the body,pickguard,pots/wiring and the Squire neckplate. In all, lots of fun and turned out to be a pretty cool looking/sounding bass.
thats actually pretty cool lol, good job.

Join date: Jun 2007
51

IQ
Nice Job Dude! How's the Trem Hold Tuning?

Join date: Jan 2007
200

IQ
Nice, good job there. I love the camouflaged knob.

Join date: Nov 2008
10

IQ
The tuning is just fine. Since it is a Left-Handed neck,the nut is backward for a right- handed player. Got some nut files from Stewart Macdonald and carefully enlarged the original D and G slots to fit a 80 A string and 100 E string and put a little pencil dust in the slots for lube. I will probably get a Graphtech or Tusq nut in the future. Also, could have got by without a string tree,but I used a roller style tree to keep a decent nut angle on the E and A strings. Kahler Bass Trems keep a stable tuning if you do the following:
Enlarge nut slots slightly larger than string gauge
Sand/polish the nut slots(smoother the better)
Lube the nut with pencil dust
Wrap strings Upward from tuning post with just enough string angle to keep open notes from rattling
Its a lot of work,but when you do a full on Melting SVT Dive-Bomb in a club full of people running for the exits because they think its an earthquake !!!!!!!!

well,you get the idea............................................................................
Thanks a lot randall. you just made me cream myself. My new jeans are ruined.

Bastard!


No seriously that thing is awesome. How's the Kahler working out? I've been thinking of getting one, but I heard the range of the trem arm is pretty narrow.
Thanks all,
It all depends on your particular set-up. String gauge will affect the" floating" position of the arm,but that can easily be adjusted on the Kahler itself(you can adjust for dive only,a middle position for dive and raising the pitch or raise only).This particular set-up with Ernie Ball 45-100's drops almost a step and a 1/2(not broken in and not fine tuned) but my older 80s squire drops over 2 steps with Rotosound RS66's........................