Another Vintage - memphis Set Neck
Wow, two Vintage guitar posts in one day. Here's mine, straight after unpacking, and well, some people just don't even bother to even attempt to clean, but under that grime is a pretty decent guitar by the looks of it:
This is a Memphis brand, but before you start groaning, this is a rare bird. The Guitars they were known for where cheap LP copies that were hollow, made of plywood, and a bolt on neck. Firewood in other words
This is solid mahogany, and a set neck, and pretty close to what Gibson was putting out in feel, despite the look that is sort of a bastard child mix of the LP and SG. Research, though I may be wrong, points to Ibanez as the factory, and I would say it's late in the production run, 1980-1981, judging from the lack of the lady lips at the top of the head, and they beveled the body.
All the electronics work, and of course, the tuners will go (automatic with MIJ guitars) but the thing that struck me was the rail type humbuckers, which I never have seen in a MIJ Vintage. Sounds great though, but if people have seen this or have some info, appreciate it.

by ibanez factory, do you mean fujigen?
sounds like a nice score (after a clean, anyway

), most of those old japanese guitars (even a lot of the newer ones too) are/were great.


Join date: Aug 2008
20

IQ
i like it, especially the beveled body.

i wonder if those pickups are original though...
Last edited by TheBuddhistPalm at Nov 19, 2008,
It appears it was a very nice score. I've read the reviews of this particular model, which was mixed up with the cheap model, and just about everyone gave the set neck high marks, and very positive comments. I have to agree so far, it's a really comfortable guitar, and slightly less in weight than a LP. My select swede is far heavier, but that can really tire the neck out.
I'm really amazed that this actually worked out of the packing. The strings were rusted, yet this looks to be a real tough bugger. The bevel is very nice as well, I find the flat tops to be a bit uncomfortable when I rest my arm. This is a strange looking guitar really when I think about it
As to the pickups, that's what I thought, that they may be after market. They still had a huge amount of dust on them though, but here's a better shot. I'm gonna have a proper look at them when I get the parts, and see if I can pull a model number off them when I dismantle the guitar to clean it.
The really odd thing is despite the rusted strings, all the hardware was in great shape. I have a album of some shots if people are interested, and a 2 gig SD card for the camera, so I will take shots as I go along while I restore it. I'm considering adding a Gibson Black pickguard to it as a addition.
http://s531.photobucket.com/albums/dd354/shvmr/Memphis%20Project%20Guitar/
Thanks for the comments.
And now, the clean up...
Took a while... and only goes to show you that some people just don't know how to treat their stuff properly. It took several days of wood soap, lemon oil, and special cleaner before I got the dirt, and the human based oil out of this. I doubt the previous owner ever took a rag to it, the strings were badly rusted.
I added a few coats of temp coat of clear, to restore the shine, and to bring out the grain. Despite the scratches, bumps and bruises, it really shows the grain. Since this is about 30 years old, they hadn't stripped mined all the decent mahogany by then, and this is a real nice chunk of wood. I love the old stuff...
I'm leaning towards just keeping it as is, and not stripping, sanding, and filling it before repainting. It's been through the wars, but it has character, and it should look like a Vintage guitar after all.
Have to replace the pickup surround rings, and other than a new heavy duty input jack and plate, and new tuners, everything else works great.
Here's a close up of the body after cleaning:
And here's the full shot:
I still have to clean the fretboard a bit more. I've gone through 2 cloths, and they were black. On top of it, the board was very dry, so a lot of Lemon oil was needed. I went through 3/4 of a small bottle, but at least now, I have less of a fire hazard...
Waiting on tuners, I have some D'Armonds coming, as well as a order of multiple old vintage tuners, enough for 12 guitars, so I will see what fits (as they are mixed, 6 inline, lp, classical and 12 string acoustic etc among them) and what looks the nicest.
Full set of pics are here:
http://s531.photobucket.com/albums/dd354/shvmr/Memphis%20Project%20Guitar/
That's actually really cool. It's looking nice and sharp after the clean too, so good work

Any chance of some sound clips when you're done?
Would, but don't have the equipment to do so.

Because the strings were so bad, they had to be the originals, it was a bit tough to get a decent feeling with the weird assed pickups, but they were very surprising, really snotty sounding so a good 80's type metal sound. Once I get decent strings on it, and get it setup and intoned by a pro, see what I have.
The interesting thing about these are the wide range of tone and sound with the pots. More than my Hag Select Swede.
I popped the PU out, no markings, but they are also metal encased (!) so once I find some rings, may dismantle them. I'm thinking these may be 3rd party.
Fun working on these things, only just learning. Oh, will be replacing the screws as well with stainless steel ones. I do it with all Asian guitars, as they use the cheapest quality screws, no matter how expensive the guitar is. Well worth the lack of hassle down the road.
nice, that looks a lot better now

I recently just started fixing up my Memphis LP copy. Mine is the hollow body, bolt on neck, looks to be plywood. I don't know how but it sounds amazing considering what it is though. I'm doing a full overhaul of it, check my sig.
I recently just started fixing up my Memphis LP copy. Mine is the hollow body, bolt on neck, looks to be plywood. I don't know how but it sounds amazing considering what it is though. I'm doing a full overhaul of it, check my sig.
Cool. Yes, your's is plywood, which isn't uncommon for a lot of MIJ brands that were used for mail order. I have a Beatle style bass which is similar. I have no idea the story on mine.
Maybe we can trade unused parts at least.

Bit of a debate here. I feel mine is a bit plain, so I wondered if I added a black Gibson pickguard on it to make it look better. A friend was horrified (okay not so much) because a pickguard was not original and therefore I should even think about it.
So I grabbed my spare pickguard, put it on as a test (no drilling or screws) I kind of like it better, but what do you think? Looks like a modern Studio now, in a cheap and nasty way that is...
Just waiting for tuners nows. I "fixed" the surround rings until I can find replacements, so I am pacing the floor waiting. I really want to get this girl stringed so I can hear those rails.

I actually think that it looks really cool

Seeing as it's not a valuable guitar, you should do whatever the hell you want to do to make it yours.
I actually think that it looks really cool

Seeing as it's not a valuable guitar, you should do whatever the hell you want to do to make it yours.
Pretty much what I thought as well.

Move the toggle to where it's suppose to be, get a buffer and remove the clear, fix the bumps and knicks, make my own pickguard with some line work, add some trim to the headstock and put a inlay up there. Block inlays in the frets and change the nut and add stainless steel frets...
Wonder how it would look with a Violin type tailpiece?

Hmm, maybe I should buy another guitar instead, might be cheaper...

Thanks for the comment.
Last edited by shvmr at Dec 9, 2008,
I like it with the pickguard, like you said makes it look more like a studio. The inlays and stuff sound cool. My Memphis has inlays around everything, and a pickguard and all that mess and it doesn't look half bad in my opinion. It's gonna look much better when I get all the new parts on it.

Join date: Jul 2007
470

IQ
Very nice, Where did you get it and how much did it drain your wallet?


John
picked it up from EvilBay. Because of the rate of exchange, turned out more than usual, but after parts, the tuners, a new heavy duty input and new jack plate, plus some stainless steel screws I will be putting in, and the various things needed to clean it up and set up...

Hmm, about 250 CDN (200 US) total by the time it's done if I leave as is. Higher estimate, but be about right. I kind of figure a new version like this would be a lot more than that new now, but I did it for fun and to learn. Was surprising in that after it was clean, how good of a shape it was.
Will you be putting up any clips of this bad boy when it's all done? I'm kind of qurious as to how those rails sound. I'll return the favor and put clips of mine up when it's done if I can find a means of recording it.
Can't, no recording gear.

Maybe I can find someone with that capability, if so will do. Everyone who has seen it want to know about those rails, even I don't know, when I got it, the tuners were broke and the strings were so rusty they left brown lines on my fingers! Some people huh.
Oh, Yours showed up on ebay. Someone should tell him it's not a solid body and it's a false listing, only the solid bodies had a set neck. Mind you, if you wanted a second one, this looked in great shape.
http://cgi.ebay.ca/ws/eBayISAPI.dll?ViewItem&ssPageName=STRK:MEWAX:IT&item=120347109301
This is what I have found out. This was more than likely built by fujigen and the model number is sp-200. Memphis had the exact same models as Mann (CDN version of Ibanez, and other Re-branded models Ibanez used), though the brand was owned by someone else. The model is referred to as the Ghost, so people don't get it confused with the cheap LP copies Memphis put out. The wood is mahogany, but if you look carefully, it's a bolt on neck with a veneer put over it. The neck is also box jointed at the top, so the head is separate from the neck. The Pickup rings are Anderson clone copies, but still a great sounding pickup. I've seen another one with a brass nut, but mine is bone, so I guess they made them from available parts more than anything.

Vantage also put out the same guitar, they used regular humbuckers though.

Memphis also used Matsumoko and other factories, but the best and most logical guess is fujigen for this one. This was their middle of the line, they had a better, far higher quality version of a LP Standard, and of course, the low end was a LP that was hollow and made of plywood. This model was dated late 70's early 80's, before Memphis disappeared for good 82-83. The company was resurrected, but bare no resemblance to the older version, I think the new models are bad quality chinese made guitars now.
Last edited by shvmr at Dec 15, 2008,
thanks for the info.

And (finally) finished.
Added BC Rich dark chrome locking tuners (not the most high end, but they do the job, and fit the guitar for the price range) a new truss cover, input/jack plate and a graphite nut to replace the old plastic one. I figure the entire thing cost about 225, which is reasonable as I have seen this particular model go for around 400 without all the bumps and nicks like this one has.
Set up and intoned etc, it's a very strange guitar with those Anderson cloned rails, but then it fits the rest of the guitar. If their ever was a guitar that has a Identity crisis, it's this one. Can't seem to make up it's mind whether to be a LP, SG, or a Studio. Plays pretty good though now, and will be the "beater" in the household.
Here's a couple pics: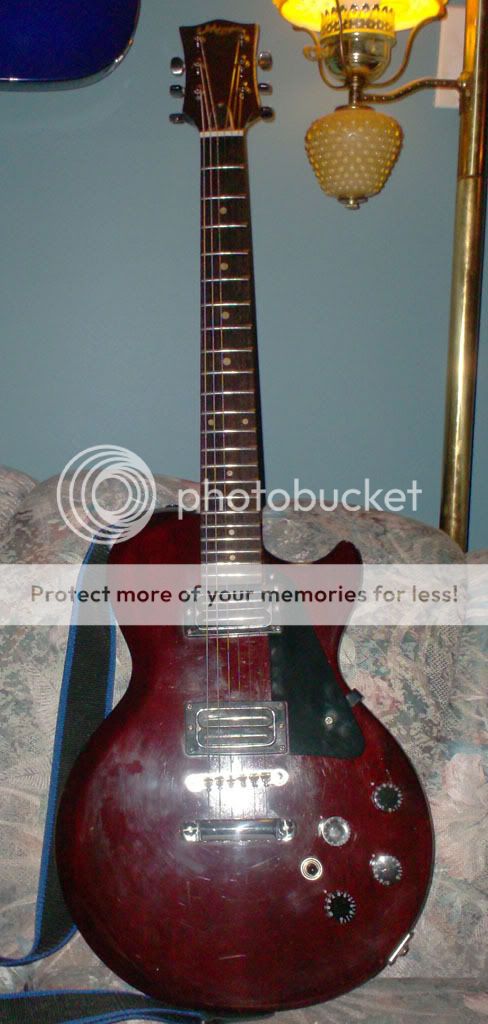 and one after I had to repolish it... oops
Had a lot of fun working on this, never was brave enough, so sorry it's done in one way. In a couple years, I expect I will need new frets, so will strip it, fix the bumps, and get it repainted.
Thanks for the comments guys.
Decided to upgrade this one...

The bridge turned out to be real crap, so coming shortly is a Gibson brand bridge and tailpiece, and well, those BC Rich tuners could be better, so I will slap on a pair of Grover 18:1 locking tuners I was going to use for my Hagstrom. These have the ebony top caps, and they just would look so damn nice...
Sigh, I guess with the other changes, I now have paid more money for the parts than the guitar, but should be worth it
haha, that's what always happens.

if it's a good enough guitar, it's worth it, kind of thing, but you always have to be careful when upgrading that you don't put more money into it than it's worth

Hey I remember this guitar. Finally finished mine off as well...for the most part lol I still need 4 push pull pots and a new graphtech nut and I think I'll call her done, but she's playable now so that's all that matters.
shvmr
I have that exact same guitar. I'm trying to find out more about it. Any info you have would be greatly appreciated.
Please don't bump old threads.