Guitar Set Up
Hey Everyone
I want to get my guitar set up, but have never had it done before. Do i just go into the store and say i want my guitar set up or do i have to ask for anything specific (lower action, etc)? Also, about how much does it cost? I live in NJ and have a squier strat if that makes any difference

Thank You
what do you need done, because there's not much you cant do yourself.
Im kind of new to playing and havent played a lot of different guitars but it seems like the strings are extremely high off of the fretboard, especially at the lower frets. I was also told that my truss rod needs to be adjusted because i replaced the stock strings (9's) with 11's. Im down to try and make these changes myself, but i have almost no knowledge of messing with the set up.
Don't do it yourself. Go to a local shop and explain what you did. They'll know. Just needs some common adjusting(aka, it's normal, don't panic) and leave your guitar in the shop for said setup.

Join date: Mar 2008
92

IQ
If you take it to a shop, watch what the tech does, and don't be afraid to ask questions. After you've played for a while, you should be able to do it yourself. There's nothing that's really tough to do.
well, ok except it's a starter guitar and a setup aint free.
you can start by making sure the ass end of the bridge is flat against the body.
if it's not. you flip the guitar over, and take off the back cover.
inside you'll see this.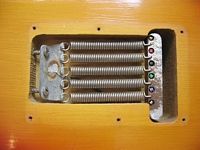 so tighten the two screws in there. if needed, you can even add a spring.
do that if needed, and then repost, and ill talk to you about the next thing.
Hey bro, we've all been new to this at one time. Your best bet is to go to a shop and ask for a set-up. Tell the tech that you'd like to watch so you can learn how to do it. He'll ask you some q's about action etc. Just talk to him and he'll probably know what you want better than you do at this point. Most of the time. . . unless they're real busy they'll accomodate you. I hung around guitar shops as a kid and thats how I learned. You'll look back one day and laugh that you had to have someone else set-up your guiitar. Use others experience to gain your own.

Join date: Mar 2008
92

IQ
Techs are pretty cool, usually, when i got my first guitar the tech showed me how to install the volume pot while he was doing it. They don't mind if you hang around and watch. Like I said above, nothing difficult about it, but if you're not comfortable with it the first time, take it to a tech and watch him do it. You'll learn a lot in the process. Or listen to jenny, and let her talk you through it. She knows her stuff, and can pretty much walk you through the entire thing.

The stuff happening to your guitar is normal. If you watch the tech then you should be able to do it yourself in the future. My experience is, if you buy the guitar at a shop, they usually set it up for free. Otherwise, i think its about $40 at my local shop but I don't know for sure. On a side note, If your new to playing, 11's are awfully heavy strings to learn on. I'd switch back to 9's until you get really solid with those, but thats just my opinion.