My Newest Acquisitions

Join date: Jul 2007
470

IQ
I just got back from picking up two guitars I won on Ebay.
The first is a Halo Octavia 6 String I won for $100.00 these guitars are amazing!
I am pretty sure mine is an older model hand made at their CA. Facility before they moved to TX. It has one custom made pup and a Kahler USA Trem. It's a set neck, The body and Neck are both mahogany. I got it home, plugged it in and the sound is amazing!! It's a very comfortable guitar to play. The one problem is it didn't come with a whammy bar but I can score one easy enough.
The Second is an inexpensive BC Rich SOB, not a bad guitar really but I got it as a project guitar not sure what I am going to do with it yet. I was very surprised at how nice it actually is for a $250.00 (new) guitar. I paid less than a forth of that price. The neck needs attention bad.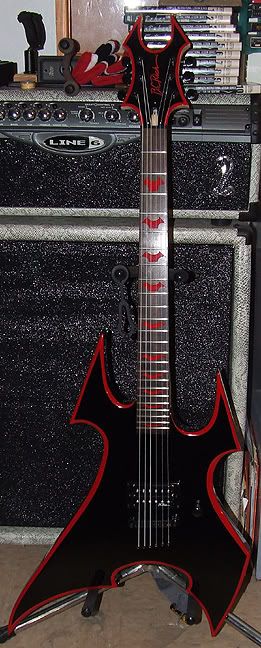 John

Join date: May 2007
340

IQ
The BC rich is nice, can't say I like the other. But regardless, sounds like you got some really good deals for your money!

Join date: Jul 2007
470

IQ
After putting a new set of strings, locking down the Kahler on the Halo I have been playing this guitar for hours and hours. I dreamt about playing it, it is that much fun to play. I got up this morning and plugged in but kept the volume down. This guitar is amazing better than 90% of the guitar I have played from any of the big manufacturers. Halo might be a small custom guitar company but they make some of the best guitars I have ever gotten my mits on. I don't who they get to wind their pups but it one of the best pups I have ever played thru. I just might try and buy another Halo really soon. Now I really can't beleive I got this guitar for only $100.00 I basically stole it!

I liked the Halo so much I just ordered another I found online!

John
Last edited by johnro6659 at Dec 2, 2008,
Not my cup of tea but congratz on these guitar.

Join date: Oct 2007
10

IQ
Both are really cool guitars... The BC Rich looks so... br00tal!