WTS/WTT Ibanez Rg3ex1, A couple pedals, and
I have a red quilted top ibanez rg3ex1. It has a wizard II neck, and a basswood body combined with emg pickups. This is one of the fastest necks on the market. I also have a wah crybaby gcb95 in like new condition. never gigged with. I also have a boss ds-1 distortion pedal only used once for a gig. I am looking to trade the pedals for either a boss ts9, or a pedal tuner by boss, i think the TU-2? I also have a peavey classic 50 212 amp that i might be willing to sell. Its pretty old, 1993 i believe. Bought used from daddys last year. Its is built like a tank, and is in very very good condition for its age. Lastly i have a epiphone valve junior. i bought this about a year ago, new from musicansfriend.com. I have only used it for bedroom practice. I again would have 2 get a quote on shipping this amp. I will provide pics if someone shows interest. This will be shipped from Massachusetts USA. I only have pics of the ibanez right now, and i will give u pics of the pedals if you are interested. You can pm me with any questions.
Ibanez $280 +shipping(will need to get a quote before i tell you)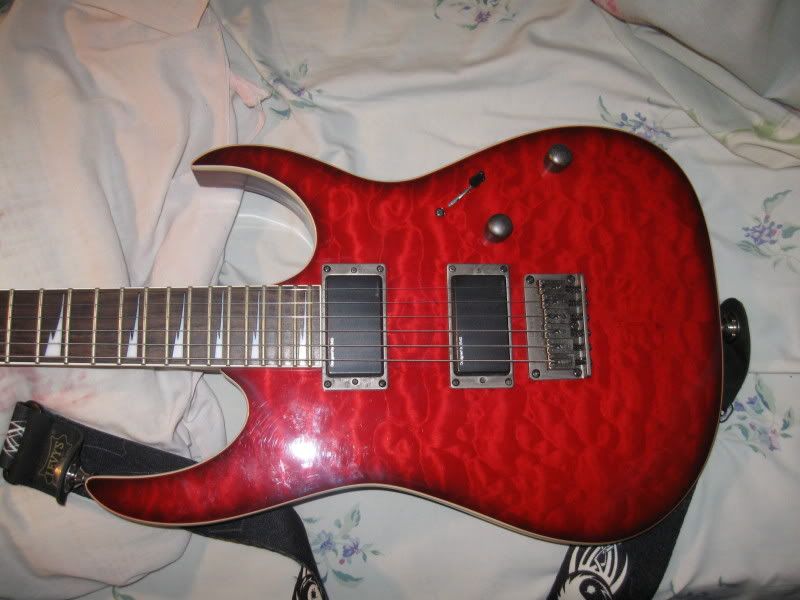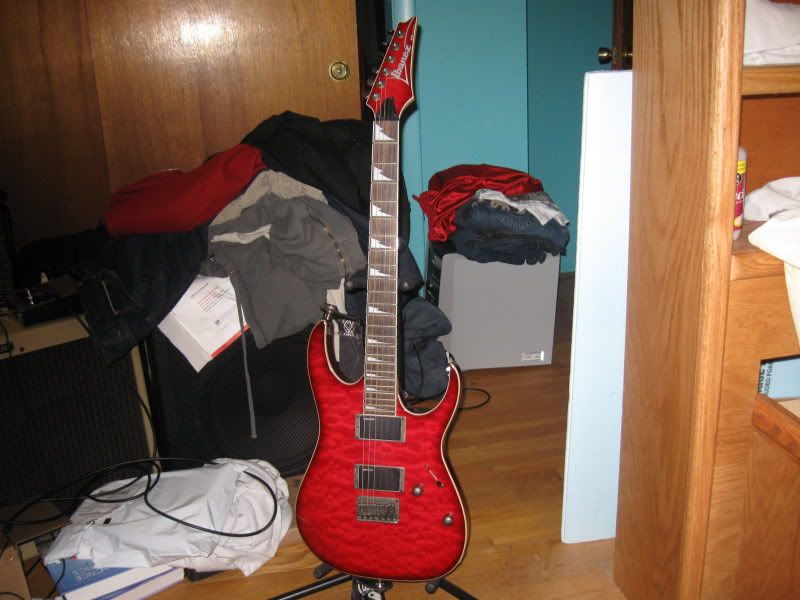 Peavey Classic 50 212 $400 +shipping(will need to get a quote before i tell you)
Epiphone valve junior $ 120 +shipping(will need to get a quote before i tell you)
Boss ds-1 $30 shipped
Crybaby $50 shipped
Items i am interested in- Ibanez ts1, fender strats/telecasters MIM,MIJ,MIA, les pauls(epiphone). Blues juniors, marshall jcms combos, and fender tube amps(no hot rod devilles).
Man, that thing is beautiful...

Also, I'm interested in the Crybaby.
Where are you located?
And I might not have the money until around Christmastime...
Would you be willing to hold it until then?
umm well theres only a sligh problem. i will b away from like the 19th to the 27 of december. i am shipping from massachuetts in the usa(see description lol). i will hold it as long as any one does not offer me any more. basically i need it sold before like the 17 tho, or else i wont b able 2 get it 2 u for a while.

If u want to know how much shipping will be leave your zip code so i can check for you, or what town and state you live in.
EDIT. I am also looking for prs guitars, not the expensive ones, but the lower end ones. like the SE series guitars.
That's fine, just as long i finally get a damn wah pedal. Lol.
Yeah, I'm in New York; my zip is 13135.
o this goin 2 b a cheap ship then, whens a date that u possibly could get the cash?
Hmmm.
Hopefully no later than the first week of January?
Of course, this all depends on if i get the DigiTech RP500 for Christmas like I asked for.
However, I will definitely keep you updated.
ttt really need 2 sell with holdiday season coming around