Modded My B52 AT100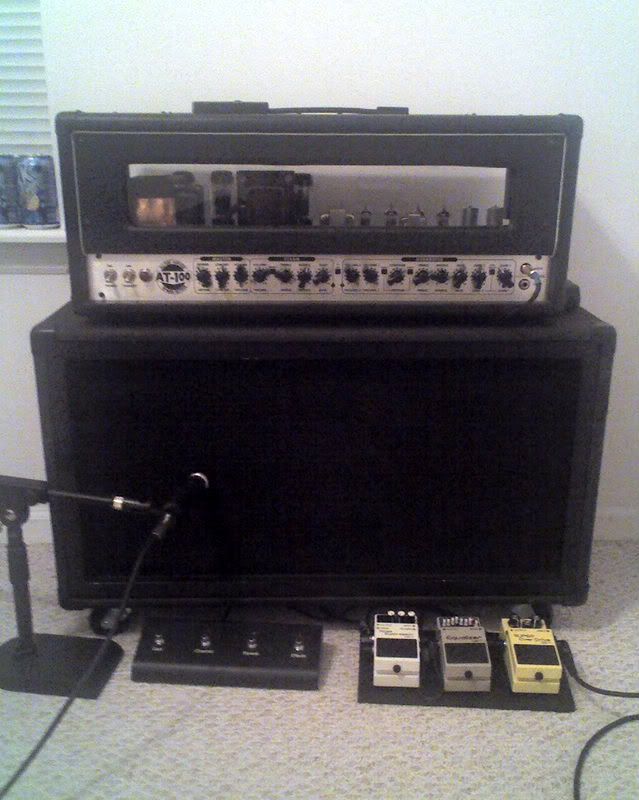 I took the rear grill, and moved it to the front side of the amp. Then i took the expanded metal out of the center, and replaced it with a piece of Plexiglas.
The knobs are just some cheap chicken heads that I picked up off eBay for something like $10 bucks for 25 of them. Seem like a pretty good quality for the price.
The speaker cab is also custom made by me. Currently has Valveking speakers in it, but I am looking to upgrade. Any suggestions?
Can't go wrong with celestion.
Vintage 30 I am guessing?

What about the Warehouse Guitar Speakers? I heard they were comparable, if not better than, the Celestions?

Join date: May 2008
20

IQ
Celestion Lead 80's FTW.

Good for everything, I use them with my B-52 for everything from jazz to metalcore with astounding results.
I play the -core styles of music.
Maybe G12T-75s then. Seem to be the most metal speakers they offer.
What about Warehouse Guitar Speakers? They have a Vintage 30 and a G12T-75 clone for way cheaper.

Join date: May 2008
20

IQ
For -core music, you'd be good off with either the G12-75's, or Classic Lead 80's. Both very good choices, and have enough handling to run your amp wide open with a pair.

I've never used one, but the general concensus is that the Warehouse Guitar Speakers are really good for the money. Ive heard from some theres nearly no difference, and I've also heard that there IS a difference but for the money you save its worth it. I've never heard anyone outright go "Dont buy these."
Damn, $60 for their Vintage 30 copy? I haven't ever heard of them before, have you found good reviews?
I haven't heard anything bad about them. I actually heard that some people like them better than the originals.
Go for it then man

Where is a good place to get tolex at?

The stuff I put on the cab was what I had at the time, and now I don't like it. I am looking for something that will match the tolex on the head.

How much would I need to cover the cab?