BPoTM December: Timmy C
Bass Player of the Month-December
Tim Commerford (aka Timmy C) is one of my favorite bass players. He puts tons of things together. Playing ability, tone, and stage presence. I think that most bass players could learn a lot from taking time to learn some of his bass lines.
NOTE: This article will focus on his Rage Against the Machine days mostly, as I'm not too knowledgeable on his Audioslave material. And some of the interviews I dug up are a little old, so the info might be slightly out of date or wrong...And all info comes from Wikipedia, Bass Player, Talkbass (oh noes), and my own thoughts.
BIOGRAPHY
Timmy C was the youngest of five children. In fifth grade he met Zack de la Rocha (singer of RATM) who taught him how to steal food from the cafeteria. Tim's mom was also diagnosed with cancer around this time. His dad, however, left his mom and remarried. Commoerford stayed with his dad, who supposedly abused him. His mom died of brain cancer in 1988. You think this could've contributed to his anger? lol Zack introduced him to bass when he was 15, and music became his outlet. Apparently he hurt his shoulder playing football, so he had Levy's make him a really wide strap so the weight of his bass is distributed over as large an area as possible.
He married an AIDS activist and has two children. He also has tons of tattoos on him. Tim is also a vegan.
TECHNIQUE
There is nothing incredibly out of the ordinary about his technique. He plays pretty much exclusively with his fingers, and doesn't slap, with the exception of one RATM song (Take the Power Back). The reason for this is that he didn't want Rage to be classified as a Red Hot Chili Peppers copycat. The one thing that he occaisonally does that isn't commonplace is where he hits all of the strings in one stroke, a bit like Les Claypool's flamenco. Timmy C also tells young bass players not to wear their basses so low, as he learned it hindered his playing.
RAGE AGAINST THE MACHINE
Tim's role in RATM was pretty typical of the rock bass player, but there was more to it, as the band had elements of funk and rap present. There were times when he played less to bring forward the lyrics of the music, or Tom Morello's guitar innovation. Some may criticize him saying that he followed the guitar a lot of the time, but those people must keep in mind that Tom's riffs were usually very rhythmic, and Timmy also had to fill the sonic space of a second guitarist to give heaviness to the sound, but also a bass player.
Because of the content of Rage's music, most of his stuff is minor key based. Tim doesn't make a lot of fills, but his basslines aren't completely simple. He makes use of the minor second fairly often (Killing in the Name, Settle for Nothing). There are also a few occaisons of him using tritones (augmented 4th/diminished 5th). These intervals give an ominous and dissonant sound which was beneficial for some songs. Note, he didn't do this all the time. Timmy C also made some use of chromatics, particularly when the band played in Drop D. He mixed up the Major 7th as well as the regular 7th in lots of songs. He also on occaision would throw in harmonics and chords, when the situation called for it. But a lot of the band's theoretical knowledge came from Tom Morello.
In addition to the note choices he made, there is also the rythm. Rage's music relies a lot on the beat to bounce the feel (see, Tom Morello live

). Brad Wilk (drummer) helps a lot to give that feel, but Timmy also contributed a lot to that. The two worked together very well along with Morello to get that feel. One thing Commerford did was play fairly common intervals on the beat on the beat to give more emphasis to it. I've also noticed he played a little harder on the beat to make it more pronounced. A lot of times he plays a quick 16th note before the beat on some occaisons to give tension to be released on the beat.
As for writing music, he says that Jazz is a huge influence. He would loop a part and BOOM he would have his riff. Another thing is that he looks at music competitevely. This comes from his background in sports. He looks at other bands as other teams. Because of this, he doesn't listen to the radio much, he listens to old records. Saying that, he believes in the taking of influence from others.
TONE
This is a good 15-20% of why I really enjoy Commerford's bass work. His tone is IMO to die for. Better than Jaco's. But it'll be tough to describe a lot of stuff here, as he's very secretive about his rig. He's gone so far as to paint all of his pedals the same color and/or put pedals in his chain he doesn't use.

Basses/associated info
During the recording of Rage's first album, he used a Stingray. This can be seen in the video for Bullet in the Head, among others. He removed the pickguard.
From Evil Empire onward, he used Fender Jazz Basses. Nowadays he's switched to Lakland (presumably to get the humbucker+jazz tonal possibilities), but he didn't record any Rage material on one. He has Hipshot D-Tuners on ALL his basses, and used Badass II Bridges during RATM. His pickups are a mystery. When he switched to Jazz basses, he bought some vintage pups, and rewound them (I want to think he made them hotter). He personally chose each pair of pickups he used. But when he smashed his main Jazz Bass, he recovered his original pickups and had the Fender Custom Shop make copies. He also uses Ernie Ball strings. Another minor thing is that when he tunes in BEAD, he has a bass that has a reverse headstock, because he believes it helps with the tension on the low B. Whether this works or not I do not know.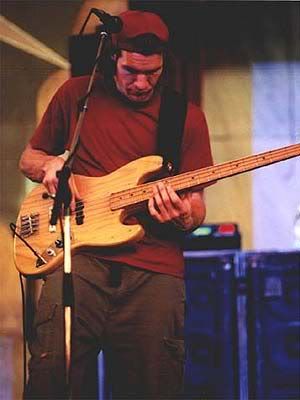 The Jazz bass he smashed.
Amplification
He pretty much used Ampeg for all of his Rage days.
If I recall correctly, he used ONE SVT-2PRO head through an 8x10 for the self titled album, but then doubled up from Evil Empire onward. He also presumably cranks his amps to get his tube growl going on. For those of you who care, he also draped an American flag upside down from his cabinet. He probably has a good 6 or 8 tracks of bass going on. He also has the various other typical rack gear i.e. power conditioner, tuner, etc.
I'll also talk about his Audioslave setup, because it was right on Wikipedia. lol
During Audioslave he used THREE SVT-2PRO heads. One went into an 8x10, the others into SVT 4x10 cabs. The SVT going to the 8x10 was his clean signal, and the other two provided more dirt and low end into the 4x10s. In 2003 he began his using his SVT for dirty distortion, an Ashdown ABM EVO for overdrive and a Mesa M-Pulse 600 for cleans. However, when Rage started touring again, he switched back to his classic Rage setup.

Effects
This is where no one is really 100% sure what goes on. The distortions that have been seen on his pedalboard range from homemade overdrive pedals, to a Boss, to a Marshall Guv'nor. I am inclined to think a lot of the distortion comes from his amp, with an overdrive helping it along a little. But he for sure used a Guv'nor on Rage's first album (Know Your Enemy). He used a Dunlop 105Q Bass Wah whenever he did use one (Calm Like a Bomb, Mic Check). Also seen on his board are Boss pedals (DD-3 Delay and OC-3 Octaver), and an MXR Flanger pedal. But a large part of what is going on here is speculation. Wait, I've just found some more stuff. A Sadowsky DI box, a Dunlop Jimi Hendrix Fuzz, and a DC Brick. I also assume he uses a noise gate. lol
Someone's thought as to how his rig goes.
His rack.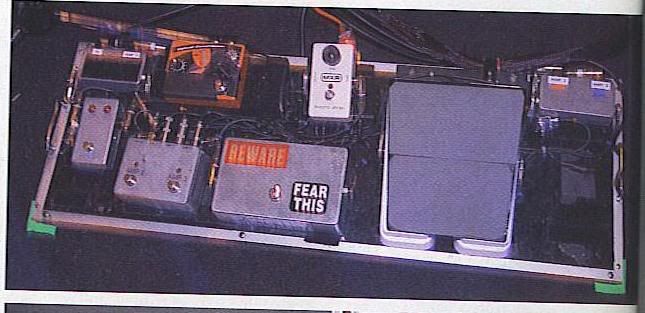 A picture of his pedalboard.
Other Stuff (AKA Magic)
He digs in really hard. REALLY REALLY hard. I can't deal with that, so I don't get the Timmy C tone. That, among other reasons

. The fact that he winds some of his own pups is also important. Because he isn't a machine, every pickup is different from the next. He believes pickups are where you get your tone from the bass. This is supposedly the magic part.Woods for him just give sustain. He only plays passive, because 1) he would always freak out about the battery dying out, and 2) he thinks passives just sound better. He says it is what makes a Jazz Bass sound like a Jazz bass. A way to get closer to his sound is to think of the bass as a rhythm guitarist and a bass. That means you take up a lot more sonic space than just the bottom end. He says his tone is kinda meh by itself, but comes together with a band. Also important is that he blends both clean and dirty signals. That is where the concept of two heads comes up.
Bottome line with tone? You ain't gonna get it. You need multiple tube heads, impossible to recreate pickups, and god knows what effects. But from what I've heard of it the Tech 21 VT bass does a pretty good tube overdrive/distortion, so you might want to check it out. I want to play one personally to see how it works out.
Well that's all I got here, I hope you had some fun reading about him.