Ngd!!!

Join date: Feb 2008
150

IQ
My Cordoba Koa CE classical finally came today

I got it used on ebay with case for $680, normally that wouldn't be that great of a deal but the guitar is in perfect condition, I can't find a scratch! But anyways on to pics!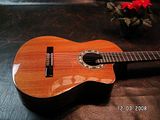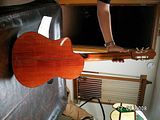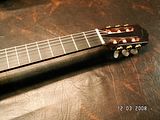 I haven't put the thing down since I got it out

This is my first classical and I'm psyched! Really nice, I love the sound and feel... And now I'm gonna go play some more


I LOVE koa! It's got amazing grain and color, and great tone to match. Awesome guitar man, congrats!
She's a looker!

Congratulations!
I like the inlay work and patterns around the soundhole particularly. Sweet!

Join date: Nov 2003
90

IQ
Hey congrats! She looks pretty. I'm not a huge fan of classical guitars, but I'm sure she plays well.

Join date: Feb 2008
150

IQ
Thanks guys

Today I found out this was in fact one of a limited run with a superb grain, it's number 28 of I think 100

which means I was getting a better deal than I even expected! Again, PSYCHED!!!