Small set of reviews based on my trip to GuitarCenter.
I went into guitar center today when the cool people I know are working there, so they let me turn up all the tube amps to 5 or so.
In this small review of some amps, I try and discredit some stupid myths that get repeated far too often and prove some other falsehoods true!
Good stuff, if you know anything about tube amps you know that the louder they get the better they sound.
And since all the amps I played are 100ish watt monster amps, well... let me explain. First of all, all the amps I played with went through their respective cab, the peavey went through a peavey, etc etc. I played all the amps with my schecter hellraiser c-1 elite diamond series (emg 81 bridge emg 89 neck) strung with dr xl light jazz 11's
LINE 6 100-HD through line 6 4x12"
I thought I would revisit this amp after I had passed it by before as sounding a little too digital. But now that I have come to the realization that its not that bad, I'm kinda startled by the quality.
This is the bogner power section designed line 6 amp. From what I can tell its 4 power tubes 6l6's with two generic 12ax7 preamp tubes. Apparently, line 6 understood the problem with the combo's of having no preamp and going directly into a digital interface. So they added the preamp tubes to allow the line 6 modeler to work as if you had a pod plugged into the effects send and receive of a good tube amp. I must say that its a very nice improvement from the combo which only has two power tubes and no preamp tubes.
Over all the sound quality was surprisingly good. Basically it sounds like a pod going into the power section of a pretty nice tube amp. The presets are mostly the same, a few (most noticeably the stinkfist preset because I am a tool fanboy) really stood out to me as being very close to the amp and artist line 6 was trying to model after.
The Insane setting for the amp model is in all honesty kinda stupid, it oversaturates the sound FAR too much for my tastes, almost as if you were to take a high end amp and just turn everything up all the way. Its basically just a really sticky wet sound, I'm sure some would love that, but personally, I dugg the blue metal amp mode and the blue clean model.
All in all its a versatile amp that people discredit because of the not so spectacular spider 2 amp series. Give it a shot and go in as if you've never even heard of line 6.
Peavey 6505+ w/ Peavey 4x12"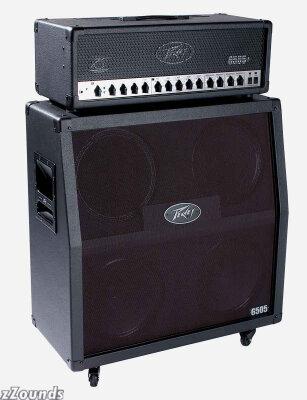 The 6505 is a straight forward no bull**** amp that has two things on its mind, decent cleans and insanely powerful distortion. Now the myth of these bad boys is that the clean channel sucks. And I disagree!
But basically it boils down to how much metal you play, because while it is possible to get some VERY nice classic crunch tones from this amp, it really only shines its true magic when all the dials are cranked!
The clean channel has a trick and to explain you have to know a little about the 6505+ tube setup. All tube amps have preamp tubes that lead to power amp tubes. For the 6505+ clean channel you have the clean option and the crunch option. The only difference being is that the clean channel goes through 1 preamp tube whilst the crunch goes through 3. Sonically, the crunch channel is much richer and active with more high response and a harmonically rich warm mid.
So basically you lower down the pre-gain on that channel and boost up the post-gain. After all it is a non-master volume amp with a true two channel setup.
Otherwise, the lead channel is what you'd expect. Its thick, rich, and creamy all at the same time. The most interesting thing I found out with my experience is two fold: firstly, that the volume pot on your guitar becomes a secret weapon, allowing you to get a thick dirty clean sound even on high distortion; and secondly that the tone knobs are surprisingly responsive to whatever you dial in. Tones that you'd think were impossible to get out of a "normal" tube amp are surprisingly easy to attain. Pumping the mids lead to a diezel crunch, while backing off the treble and mids and boosting the bass got me a 70's marshall power stack rub-off-your-face sound.
Boss Noise Suppressor
This thing, this unusual thing. It gets mislabeled so much.
Lets get it straight now lol. Its a noise GATE not a reducer. It creates a loop that senses when a sound is being repeated too much and then squishes it to an in audible frequency. I tried it out with the ultimate noise creator! the metal zone pedal set on full everything. It actually got the hum gone completely, but there was this odd sucking sound when the pedal would kick in and realize that indeed I wanted it to suppress the sound because I wasn't playing anything.
I mean its ok for setting up a chain and what not. But as a suppressor I think it falls right on its face.
Im gonna make another trip tomorrow!
Last edited by sesstreets at Dec 13, 2008,
I rather enjoyed this - keep 'em coming.


Join date: Aug 2008
70

IQ
I rather enjoyed this - keep 'em coming.
Much agreed. Love your descriptions mate!
Good job. You put a lot of time and effort in to this post. This forum is better for it . Looking forward to more.

Yes, I do have a 6505 in my sights, btw.
I'm going again tomorrow!
Good review. I was pretty happy too with the 6505+ I played recently.

I'm going again tomorrow!
How about the Peavy Vyper... i'd like to see if they're as good as advertised.

Join date: Jul 2008
270

IQ
nice review
and can you do a JSX review
Vyper and jsx if they have one.

Anything else? I'm going to make a small set of why the b-52 is ****ing awesome as well.

Join date: Dec 2007
340

IQ
Good job. You put a lot of time and effort in to this post. This forum is better for it . Looking forward to more.

Yes, I do have a 6505 in my sights, btw.
Steer clear big tuna!!!!
these review are pretty awesome! keep em coming
Join date: Jul 2008
40

IQ
is it just amps, or are you reviewing guitars too? if so, can you review a Schecter C-7 (I think)?
is it just amps, or are you reviewing guitars too? if so, can you review a Schecter C-7 (I think)?
I can tell you without even reviewing it that its a great amp... why? Because schecters quality and its quality control (no mistakes) are just that damn good.
If your into metal and you like having drop b then its the guitar for you.
Anything else anybody wants me to use in person and give my semi-expert opinion on?

So far I'm going to test out the vyper and the crate v amps with the bad monkey.
Egnater Tourmaster,
PRS 24 Custom
ISP Decimator
Egnater Tourmaster,
PRS 24 Custom
ISP Decimator
I'll check to see if they have any egnater's. They have a few prs's but maybe not the 24 custom. And no isp anything.

Join date: Jun 2008
10

IQ
could you look at the mesa roadster
Hey, thanks for doing these reviews, they are extremely helpful! I don't have any requests because you're trying out the amps I've been looking at. : )

Join date: Aug 2008
70

IQ
I can tell you without even reviewing it that its a great amp... why? Because schecters quality and its quality control (no mistakes) are just that damn good.

If your into metal and you like having drop b then its the guitar for you.
You called it an amp =D it's a guitar!

Yay more reviews:
Peavey Vyper 30 watt.
wow. This thing, for 199, sounds better than most cheapish tube amps. And thats really no lie. I compared it directly to a valveking next to it and found that its tone was sharper, less muddy, and more powerful.
I was seriously surprised. To make it a bit newbie friendly I decided to to plug in a simple Ibanez RG series into the amp instead of my shecter. That way I would be able to review it based on what it would sound like with just ok stuff. The guitar I used was 250 something, an average price for an ok guitar. Passive pickups whatever whatever.
This thing has a pretty wicked interface. The three knobs on the right set a stompbox, an amp model, and an effects knob. They are all pretty solid emulations.
They got their own models pretty tight. The 6505 model to me sounded the hottest, seconded only to the TWAN clean model based off a fender. It had that nice clean crunch I like that responded quite well to pick variation. Picking harder with the twan model resulted in a tube screamer like natural tube amp sound.
It kinda threw me for a loop. I forgot it was a solid state amp in all honesty.
The stomp boxes are ok. Most noticeably is how good the tubscrmr one sounds. That and the auto wah I thought were the two most quality models in this amp. The fuzz sucked ass however, way too blurry.
The two effects knobs (stomp and effect) have a bypass to avoid any effects.
Here's a closeup of its knobs and such. The one I used didn't have a power sponge, and from what I can tell its just a noise gate nothing more.
But really, I recommend this to any guitarist looking to upgrade to a good all around solid state amp that sounds pretty decent at loud volumes (remember, I know the dudes there and they let me crank it).
One complaint I had was the knobs, they don't really respond like you'd expect them to. They are digital knobs meaning they go to infinity towards each end (you can just keep turning them) and the turning ratio isn't that good. IE if you turn it all the way 360 degrees it only uses that as a half turn.
Also there is a pretty nice built in tuner, a batch of banks, and a simple custom preset manager. ALSO ALSO the knobs (since they only change the digital interface) only change the light position to let you know how much gain, or what eq level you have your knobs at.
Its kinda unusual until you get the grasp of it.
Seriously, this plus a good ole fashioned ibanez rg or a shecter c-1 is the new good guitar amp combo. seriously this thing does WORK.
Last edited by sesstreets at Dec 16, 2008,
Egnater rebel w/ stack.
Dude, this thing eff's faces up. I thought that when I sat down in front of this little baby stack I'd wind up laughing my ass off somehow.
Boy was I shocked with the pure amount of crunch that resonated from this beast. Stock it was able to get metallica distortion, but its cleans were responsive and chunky just how I like em'.
The tube change and mix is SORTA gimicky, it does change the sound a bit. the 6V6 section is a bit brighter and with more responsive high and bottom end and the el84 section is more middy with more punch than anything else.
The watt attenuator thingy. Well I can't really tell if its actually lowering the watts or if its just an attenuator built in or whatever. But it does work, even at its lowest setting a good sound was produced.
Of course when cranked it exploded with crunch. Reaching zepp marshall goodness quickly. Active pickups only increased the speed at which it reached this crunch point.
Also it has a tight and a bright switch that aren't really visible. The tight increases the bass response and the bright increases the high frequency response.
Over all, a good, but expensive, little boutique amp.
Last edited by sesstreets at Dec 15, 2008,

Join date: Dec 2007
150

IQ
No offense, but it'd be easier to take you serious if you got the power tubes right, EL84s and 6V6s. I pretty much agree with your assessment of the tube control and wattage selector, though I didn't like the tone of the amp as much as you did. They should've just made this amp with the EL84s, no wattage control and lowered it's price about 50% If egnater did that they'd have something.
Schecter hellraiser c-1 FR elite Diamond series.
O
m
g.
Firstly, if you remove my fanboyism for shecter, take away the GORGEOUS off white finish with inlay, forget that it has a REAL floyd rose and some of the best action I've ever seen stock...
Well you wouldn't have much of a guitar then (read: squier) but since the c-1 FR has all of this I think its quite simply the go to metal guitar for anyone wanting to experience some sonic mayhem in a quality and affordable package.
The emg's screamed through a 6505 and a marshall JVM. I swear it was like they were kicking the amps ASS into over drive. The 6505 became more responsive and the cut through the marshalls middiness to deliver some REAL sonic mayhem.
But something is happening at shecter, and I'm concerned yet amused by it. I've brought in my hellraiser before and the first thing the guy who deals with shecter says is "dude this thing is HEAVY" and I say "not really?" so he showed me the new hellraiser line...
I swear to god its chambered somehow. It weighs about half of mine. can't complain though, mine is a solid guitar, and the new ones are as well. There's just a little less back ache.
I'm a big guy though so it doesn't matter.
But anyway, in comparison the FR model is even lighter. This I'm sure comes from the extra pound or so that gets scrapped away when making room for the trem cavity and such.
Also the trem cavity is dressed quite nicely with a bit of black felt, allowing you to do extreme up pulls without damaging the components and/or the finish.
Last edited by sesstreets at Dec 15, 2008,
I'll give a preface of this, I'm not primarily a bass dude. But...
Holy crap.
This was without a doubt, the most crisp bass amp GC has to offer. This is a real bass tube with 300 watts of pure power.
And OMG does this thing put out. Pumping the bass up and increasing the gain lead to the entire building shaking.
I'm not kidding. At all.
At about 6 this thing was making my pants ripple from the force, after about 9 my ears started getting deaf so I quickly stopped. The entire room (gc has separated bass rooms) was shaking and the guitars on the wall were ever so gently rocking back and forth.
Apparently I caused some havoc above me as well as the mcdonalds manager came down (My gc is in a mall) to complain about some rattling sound, which the dudes at the store said could have just been a train and all laughed after she left.
Its loud, its deep, it makes buildings shake.
A few notes however, it does have a fan in it. Its extremely loud, but what'd you expect lol. And it has a -15 db input for lower output (good for apartments you don't want to destroy)
And on another note, I plugged in MY hellraiser into this baby, and wow. The single best cleans I've ever heard. I lowered down the bass and popped up the treble, and I swear it was the single sexiest clean sound I've ever heard. I'd buy it just to a/b it with a large regular tube amp as a clean channel.

TWAN clean model based off a fender (I think not sure)

Your Vypyr 'review' was not nearly as good as your other stuff.

Join date: Sep 2008
50

IQ
Wow you're my new hero :O

If you get a chance, can you review a Vox AD15VT / that series, and specifically how it holds up for metal?
Alright the vox's are my next stop, anything else?
Yeah, I'm particularly intersted to hear what you have to say about the Alchemist.
Well the b-52 is easy to review. I kinda have one about 10 feet away from me.

Gonna take a bit of time to get to the alchemist though. I got some college finals coming up, but I'll do it. =)