wow, this site speaks the truth
I am confused....
You're not the only one.
I fail to see the purpose of that site.
The guy in the front is wearing a fullbleed shirt. Awesome

Oh, and the site sucks
click on the pic, then pick the scene, then it explains it

Join date: Apr 2008
82

IQ
Have you seen this one

yourthreadsucks

Join date: Dec 2004
10

IQ
"even though his sense of style nor the bands he listens to should be considered "emo" in the traditional sense, he is exactly what the media would paint as its emo posterchild.

somewhere jeremy engik and guy picciotto are shaking their heads."

that

Join date: Sep 2006
20

IQ
Thats pretty damn funny, Win for you TS.
This site has been floating B&A for awhile.


I'm orgcore =/
heres an example from the site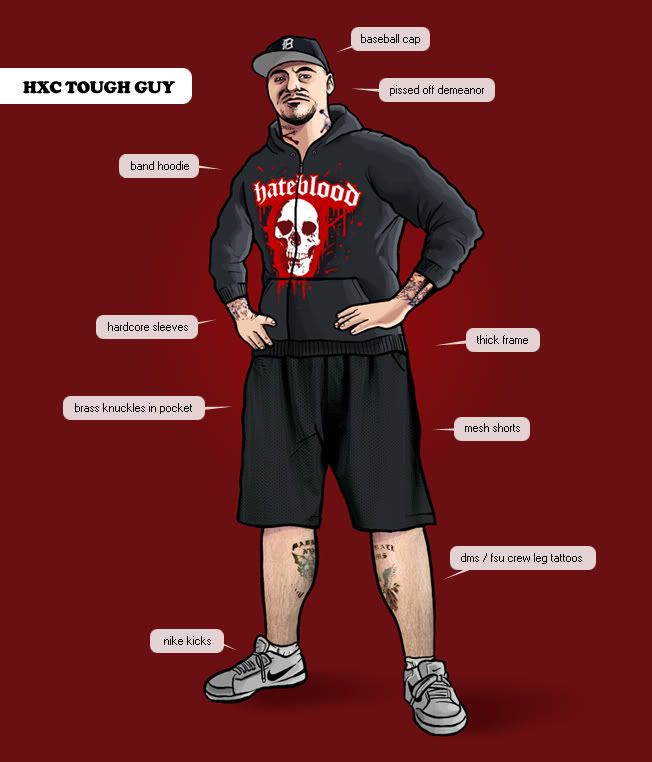 my friend is a total "williamsburg hipster"

I still am confused...

Of what truths does it speak? Are they truths that I can follow? Shall they become a deity unto my beliefs?

Join date: Jul 2008
10

IQ

Join date: Jul 2006
10

IQ
im proud to say that i dont even come close to any of these, either in musical taste, appearance, or action
The T-shirts are awesome though.

Join date: Jul 2006
70

IQ
A lot of the athletes at my school dress like popcore dorks...
Hm.


Join date: Jul 2007
48,988

IQ
I know a rude boy and a brootal kid. Pretty accurate on those.
I read all of them, they are pretty ****ing funny