Pickups for my Custom Ibanez S-series
Hey All,
I'm the proud owner of an Ibanez S-320, which I've just refinished in a custom mixed Metallic Green...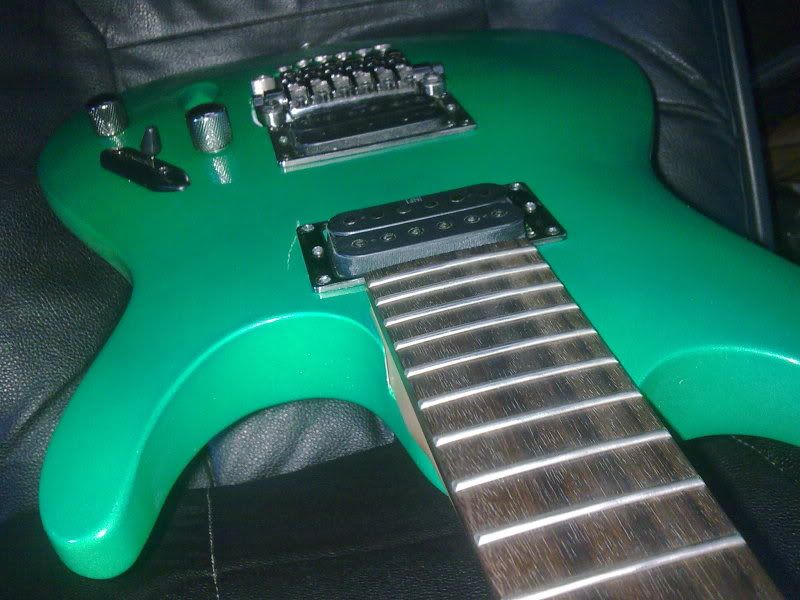 It looks killer - but the standard INF1 and INF2 are terrible, and I want the sound to match it's looks...
I've already decided on a Seymour Duncan P-rails for the Neck, while I'm at it, I want to change the bridge pickup for another HB - any ideas on what? I play country, blues and classic rock; so needs to be able to handle clean and moderate drive.
Ideally, I want to wire it up to a push/pull and the existing 5-way selector... wired as follows:
1-Neck HB
2-Neck P90/rail (selectable with push/pull)
3-Both HB
4-One coil of HB and rail
5-Bridge HB
Only problem is I suck at working out whether this is possible, is it? Can anyone direct me to a diagram to enable me to wire this?
Many Thanks,
Gulliver
Sorry I dont know much about pickups so i cant help
But I just thought I would say that is one tastey guitar.
Good work with the paint job.
Thanks, the pics don't really do the colour justice...

Anyone any ideas on a bridge p/up for this??

Join date: Jan 2005
365

IQ
what wood is the body made of?

Join date: Oct 2007
450

IQ
what wood is the body made of?
mahogany

Join date: Jan 2005
365

IQ
Duncan TB-14 Custom 5 ftw.