The day just keeps on getting better!

Join date: Jul 2007
470

IQ
Today I win an Ebay auction for a Washburn KC-70V with HSC for a low price of $79.00. I go down to my local GC to get a few parts I'll need to spruce up the Washburn. Well. The other day when I was there Benny the guitar manager showed me a mint Gibson LP Goth they got in used and was selling for $699.00 I tried it out and liked it but wasn't sure about it. I asked about it today while I was there and it just happened to be sold the day I looked at it so I lost out but they show me a brand new Gibson Explorer they had marked down and I figured what the hesk. I tried it out and the guitar just played like a dream and sounded awesom. I flipped the tag over to see a very low price. I asked and they checked the guitar was priced at $499.00 with the HSC. I was just amazed because a friend of mine just paid $750.00 for the exact same guitar a week ago. Well to make a long story a little longer I bought the guitar!. The actual cost of the guitar was $325.00 and the case $175.00 that's cheaper than an Epi Explorer!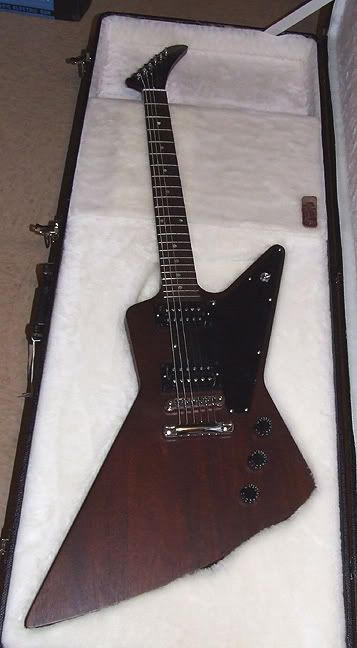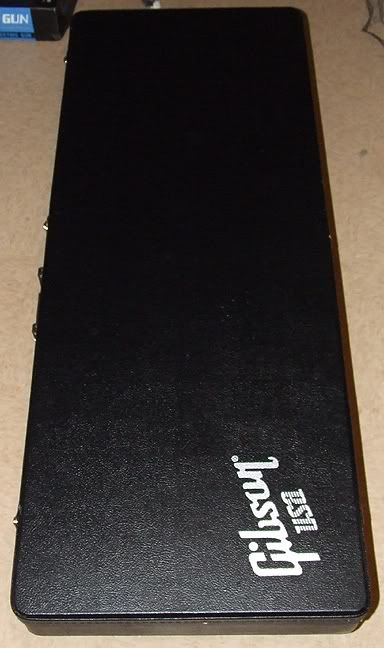 John
Last edited by johnro6659 at Dec 16, 2008,

Join date: Sep 2008
20

IQ

Join date: May 2007
10

IQ
Dude...i'll buy it from you, seriously.

Join date: Apr 2006
61

IQ
You... you... a
sswho
re!! I'm not jealous at all.
how come these things don't happen to me... while I have money.

Join date: Jul 2007
470

IQ
Well, being retired is a big help I have time to go on the hunt so to speak. I make sure I make friends with the sales men at the local shops. You would be surprised just by dropping off a $10.00 Dunkin Donuts gift card to the guy who gives you help when you go into the store every once in a while can do to help him remember who you are and what your tastes are. I get calls from these guys when they get in a used guitar they know I would be interested in, it works!

I played the guitar until about 11:30 last night and it's a great guitar. According to the discription it comes with 496r and 500T but they sound much better than any other Gibsons I tried with he same pups. I am going to resting it so I'll check the pups. I haven't been happy with Gibsons quality lately but this is one of those good ones. I was so into it when trying it out at GC I didn't notice I had drawn a crowd on onlookers. I don't even remember what I was doing I was just making it up as I went along. I was doing leads with a little delay so it almost sounded like I was harmonizing with a second guitar. That was until one of the salesman asked me to turn it down because they couldn't hear people on the phone. My little audience booed him! LOL That's when I realized I drew a little crowd. LOL I was enjoying the Explorer so much I was in my own little world and that doesn't happen much. It's funny out of all the guitars I try I usually avoid the worn finish guitars and if this wasn't recommended to me I probably would have missed out on it.


John
Gorgeous guitar mate, well done in spotting it. I'm loving that rich mahogany it's got there. I've never even picked up an Explorer let alone played one, but they certainly look the part.

Join date: Aug 2008
10

IQ

Why don't these things ever happen to me?