Bridge saddle screws loose?

Join date: Dec 2007
50

IQ
The bridge saddle screws that adjust string action on my guitar keep coming loose and are constantly altering the tuning on my guitar so I either have to retune or readjust the screws to constantly.

This happens mostly on my low E, what can I do to stop this?

I have a Fender US Strat.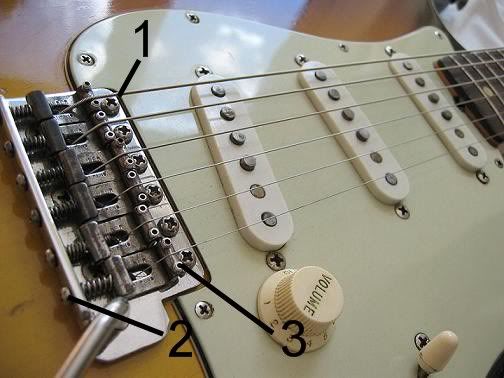 #2? intonation screws? if so you need better springs to hold the tension. $2.
#3? the pegs that adjust string height? if so, you can get new pegs but you might want to look at graphtech saddles instead. not sure why those pegs are so loose, usually string tension takes care of that.

Join date: Dec 2007
50

IQ
Screw number 3 in the picture keeps coming loose and lowers the string which makes it buzz and makes it detune as well.
you can add a thin wrap of plumbers tape around the pegs that dont stay.

or maybe dab some clear nail polish on the threads to lock the pegs in place.

Join date: Jul 2007
60

IQ
Careful with locktite, some formulas are meant to be breakable later and some are not! The nail polish or teflon tape (plumbers tape) is a reversable solution and will allow for later adjustments.