Intonation Problem?
Okay I have this intonation problem (I think that's what it is) with my guitar, specifically on the low E string. Even if I tune it perfectly with a electronic tuner to the "E" pitch, it starts to fret sharp as I move up the fret. However, it starts to get back up to the correct pitch as I reach the twelfth fret, becoming a solid E again up there. But at the fifth fret for instance it plays pretty sharp and it gets pretty annoying because those notes sound out of place when I play songs tune the guitar manually. Some people say it sounds fine and it really does if you don't try to notice it, but I really feel like fixing it anyways.

Also I went to a guitar shop and had a pretty interesting experience when I brought up the issue with them. They said the guitar seemed fine and told me that it was the way I played it that was making it sharp. They explained to me that when I fret I shouldn't have my finger as close to the fret as I could but at the middle:

E string and fret

/----------**-/ (The way I fret usually, especially for barre chords)

/-----**------/ (Way I should fret according to store)

( / = fret margins, * = Finger)

Also, I asked him about barre chords and he said the same thing: barre at the middle of the fret. I was taught by some pretty legitimate guitarists that you should fret as close as you can to the end of each fret so I'm kind of suspicious that the diagnosis that it was my playing that caused the problem was bogus. Even if the store employee was correct, the string still fretted sharp either way I did it. To this he replied that I should practice more, which I felt was a cop out/bail out move by him. It seems to me that if you hold the string at the right place and pluck it it you should produce the right pitch. Also he criticized my callouses, saying I shouldn't have any. Being an steel string acoustic player and explaining to him that I was, it further increased my suspicion and distrust of his expertise.

Anyways I just wanted to see what all of you thought about this and tell me if the store guy's diagnosis was right or wrong. Should I visit another store and take my business there or not?
tl;dr
you are cool
probably old strings, you need to change them or else they start to sound iffy when they get old. the overtones change as gunk and other stuff gets on the strings.
that means the guy at the store is most definitely wrong. you get different sounds where you press on the fret but that's not enough to make it sharp. you also get a different pitch if you push the string down as hard as you can (because you increase the tension by an unnecessary amount) and this actually makes it slightly sharper.
You should definitely be fretting right behind the fret. Pushing in the middle will just make it easier to press the string too hard, and therefore play sharp as a result.
Have a look at the little drawing I did a while back in paint. Granted, it's no piece of art, but it get's the job done.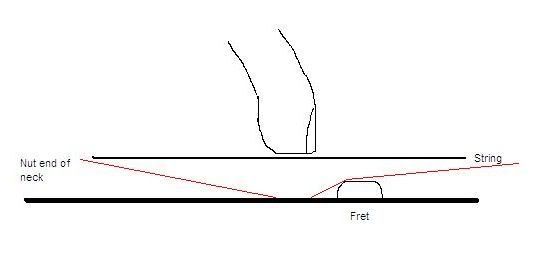 It's exaggerated, but you should be fretting the string just behind each fret, and only applying enough pressure so that you don't get any buzzing. If you start to get into the habit of fretting the strings in the middle, between the frets, you're going to get buzzing, guaranteed. Barre chords are the exception to the rule here. You may need to fret in the middle in order to press down on all of the strings for whichever barre you're playing.
The best advice for your problem tho has already been answered. New strings first and foremost. Old strings suck for many reasons, and poor intonation is one of them.


/----------**-/ (The way I fret usually, especially for barre chords)

/-----**------/ (Way I should fret according to store)

( / = fret margins, * = Finger)


theres your problem!!
your fretting with two fingers, lol
but anyways, fretting close to the frets is fine
well the strings I have on are about 2 or 3 weeks old and I think there still pretty new. thanks for all the replies

Join date: Jul 2005
30

IQ
That guitar tech sounds sketchy...
It could be the strings, if its only one string I doubt it'd be a intonation problem that has to be fixed with moving the bridge.
Maybe when you changed the strings you didn't put the string in right with the bridge pin?
make sure it's in there correctly.