Acoustic B410 400W and B200H Head
Hello there, I was wondering if anyone has any personal experience with acoustic cabs or heads. I was thinking about saving up for one and I wanted to know if it was very versatile. Also, how much does the B410 weighs? I don't want something thats gonna be a pain to move around, but I'm looking for a good amount of wattage for playing gigs,etc.
They aren't especially heavy(or large), and most people on here consider it to be a very good sounding amp. It's nice and clear, but still has some balls to it, like an Acoustic should. It's worth noting, though, that you won't get the full 200W form that rig. You should have enough to gig, though.
So, wait, I was wondering if someone could clear this up for me: The B200H Head powers 200 watts at 4 Ohms. The 400 watt cab has an impedence of 8 Ohms. Can someone explain to me what this means exactly?
Basically, the less impedance(resistance, sort of) there is, the more power the head can push. If you have two 8-ohm cabs, the impedance goes down and the head can push more power because there are more speakers for the electricity to travel through. Two 8-ohm cabs make 4-ohms, and two 4-ohm cabs make 2-ohms(which would kill that amp)

Ideally, you want two 8-ohm cabs for that head to get the most volume. (a 4-ohm 810 or 215 would work too). In your case, you'll be fine running at 8-ohms unless you find that you need the extra volume, in which case you can always get another cab.
Oh, so how many watts would I get out of this rig?
140W, if I remember correctly. That should be plenty with the 410, and more than enough if you plan to add a 115 or another 410 later.
Do acoutic only make low powered heads.
Nope, they have a 600W head and an 810 out that aren't on musician's friend yet. Seems to the same as a B200H but with a bigger power section and a mute switch. Here's a picture I took: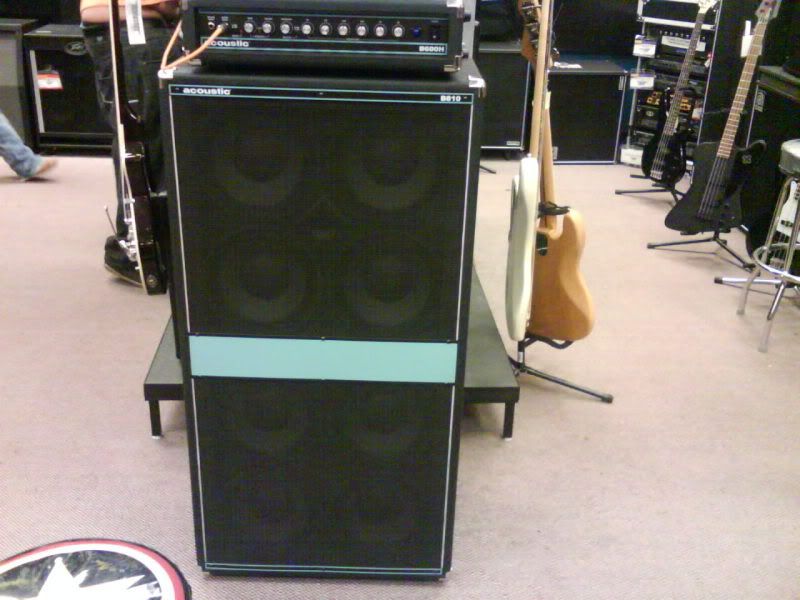 Im digging them look of that 8x10. It looks too open. and are there two horns on that.