NGD! (Fender content) + cool gig story
Saturday night was my uncle's final gig; he was retiring his steel string guitars because the arthritis in his hands made it so hard for him to play. My uncle has a pretty big name to some of the venues around the south and has even opened for Lynyrd Skynyrd and jammed with the Allman Brothers (on their 2000 tour). This event was going to be huge! He had been planning this night for several months and had asked me back in September to learn some songs. He wanted me to join him on stage! I was floored. This is the man that first taught me how to rock almost a decade ago.
Well, the night goes gets underway and there must have been over 900 people in attendance. We go through a some Hank Sr., Skynyrd, Vince Gill, Rolling Stones, SRV, Cash, Merle Haggard, ABB, etc. I have never felt so dwarfed by another guitar player. This man was chicken pickin' and nailing harp harmonics like they were nothing. I tried my best to throw out some licks that I had learned from Danny Gatton's instructional tape (when he indicated for my to play lead), but I just couldn't compare. What an amazing country guitar player. (Don't get me started on the pianist or the pedal steel player). I stuck to rhythm most of the night.
Since I know this place drools over gear, I was using a 52 RI Tele, EB Volume Pedal, Korg Pitchblack, Crowther Prunes and Custard, and a MXR Carbon Copy into an AC30 with Celestion Blues. My uncle was using a Gretsch Tennessee Rose/ Nashville Tele into a JTM 45 through a 65 Amps 412 (G1275s and Celestion Blues, I think) along with a Klon Centaur and EB Volume Pedal and a Pitchblack.. We had pretty sweet tone, I would say. But damn the stage volume was intense. Imagine a cranked AC30 and JTM45. Yea. It was loud.
Well, we played for roughly three hours (pro bono), and were greeted by a standing ovation at the end. I even got to sing AND take the lead on Keith Urban's "Where the Blacktop Ends" (which made me popular with teh wiminz in attendance). Damn, that was the best gig of my life.
As we were packing up, my uncle slide a black case into the backseat of my car and says, "I don't see any harm in giving you your Christmas present a few days early. I hope she treats you as well as she did me."
I open the case and I am greeted by this: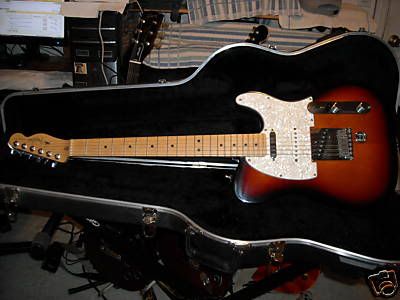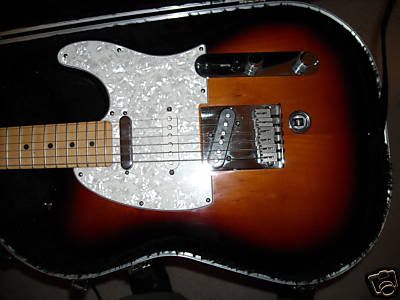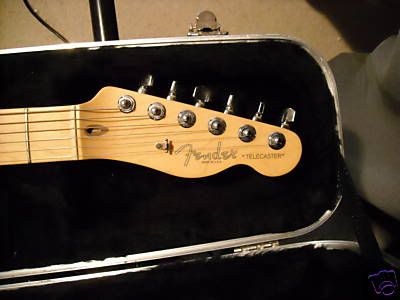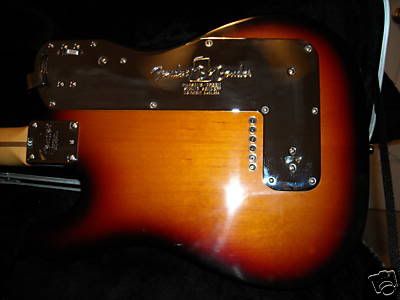 Its a 2000 American Fender Nashville B-Bender Telecaster.
Pure country/southern rock tone. (the bender is fun as **** to play with).
I am going to spend the day learning Brad Paisley's "Throttleneck" on this bad boy.
*For those of you that know for GG&A, I am not always pop and post-rock. I like my country fret burners, too.

Join date: Apr 2008
80

IQ
****ing hell dude!

SWEET!

B-Benders haul ass!
That's a sweet story and guitar you got there!

Join date: Mar 2008
76

IQ
Looks like you had a lot of fun and even got a kick ass guitar. I love the pickguard!
:O

That is one bitchin' Tele.

Join date: Aug 2008
130

IQ
omg lucky, thats one sweet tele
Guitars with those kind of stories are always better than ones that are bought off a rack

Guitars with those kind of stories are always better than ones that are bought off a rack
So true.
Btw, learning Throttleneck is proving much harder than I anticipated. I have about half of it down, but the tone is nailed (again, cranked AC30, Prunes and Custard, EB Volume, Nashville Tele).
I'm going to die from having my AC30 cranked for 2 straight days. But the tooooooooooooone

Join date: Oct 2008
580

IQ
Jealousy on the guitar, the gig and the uncle. Very nice man. How's she sound?
Jealousy on the guitar, the gig and the uncle. Very nice man. How's she sound?
Imagine the badass-ness of John Wayne combined with James Dean in guitar form.

Join date: Feb 2007
150

IQ
Dude I wish my family gave me music gear for christmas

EDIT: My uncle also plays guitar, classic rock/hair metal mostly, I wish he gave me one of his ibby's hes got some nice ones.