question about fixing ss amps(hand wired)
Im about to buy a old 60s amp solid state( believe to be hand wired) the owner said it dont work so before i buy it can anyone tell me if is posible to fix such amp and how hard will it be?
I belive its this one The 1464 sears silvertone but not sure until he sends pics: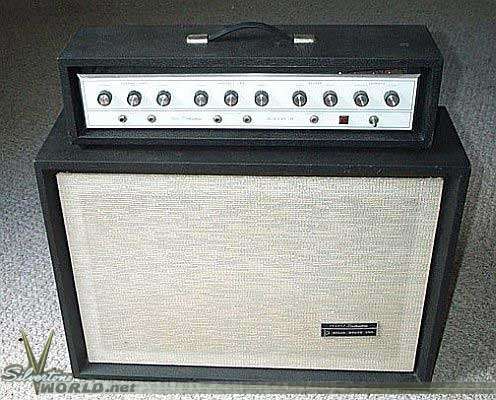 I will post pics as soon as i get them (it should be around Wednesday)
Last edited by Nagashiro at Dec 29, 2008,

Join date: Nov 2006
1,108

IQ
Of course it's possible to fix it. As long as spare parts are available, any decent electronics tech should be able to solve the mystery and get it going again. It's quite impossible for me, or anyone, to say how hard it would be, since I don't have the amp sitting in front of me.

The questions that I'd be asking would be:

Does it power up? For example, does the jewel light come on?
Does it blow the fuse?
Does it produce smoke or anything else unusual once it's turned on?
Does it make any sound at all?

All of those questions can help guide a technician to the general area of the failure.
thanks KG6 I send a email to the seller asking him

Join date: Nov 2006
1,108

IQ
Something else to consider on that old amp, is the fact that the pots may be pretty dirty and need cleaning as well. Hopefully, the speaker cone is in good condition. I'd certainly try to keep in original condition. I think the only problem you may run into, is if one, or more, of the transistors is shot. Trying to find that old stuff can be a real bear sometimes. Replacing capacitors and resistors is fairly easy, however. I'd also be hoping that the power supply transformer isn't bad. You could always have it rewound, but I don't know how much money you want to put into the repair job.
the head and cab will be giving to me for 50$, so around how much would all this work be?

Join date: Dec 2007
61

IQ
Find the schematic for the head (not much electrics in a cab

) and work out how many of each component it has and then google around for prices of them. Going worst case and replacing everything will show you the max you should have to spend on it (parts anyway, labour and tools cost extra

).
Find out what speaker(s) is/are in the cab. Google for replacements as above = cost.
it does not power up. The switch is broken so its not getting power. Honestly it's not my amp. The guy who bought it, bought it broken from Music go round for $50. He skipped town and left all his broken gear at my practice space. So he's been gone for 3 months and owes me rent for storing all his crap. He left me a message saying he was sorry and to sell his stuff if i need the $. I haven't been actively searching for someone to buy his stuff but i saw your ad and thought I might try and get rid of it. The guys at music go round told him it would be a easy fix (whatever that means) but dude never had money to take it to get fixed so i have no idea what it's gonna take. It's not very big it will easily fit in a back seat of a car. I'll get you pic's as soon as I get down there. cheers- A
Sounds like a possible simple fix if its just the switch ^_^
I should have it by Thursday