FS/FT 1994 Ibanez Jem
I have a 1994 Ibanez Jem. All original, 9/10 condition, very few problems. Works brilliantly, only reason I want to get rid of it is I cannot figure out the Floyd Rose system and im tired of messing with it.
Wanting a trade more than a sell, I will consider anything of equal value but all American instruments are more important to me. PM me your trades or if you'd like to outright buy it, then make on an offer on PM.
Guitar is for sale locally.
Pic.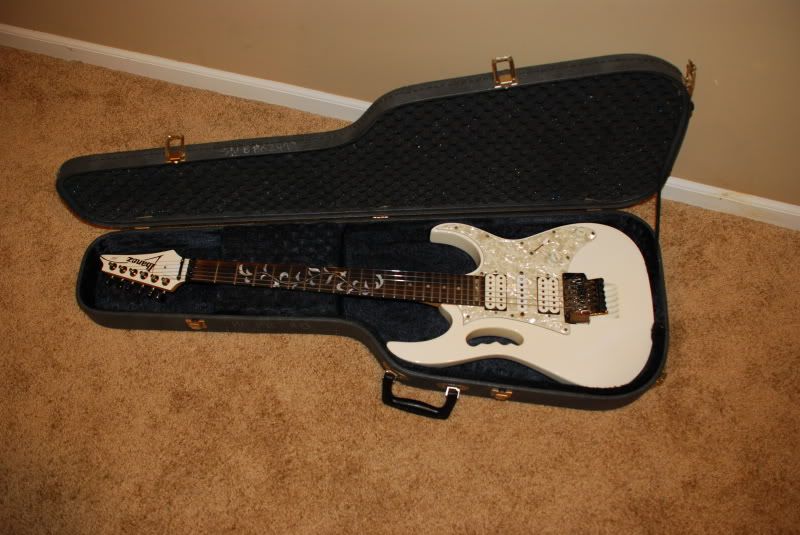 hardshell is included.

Join date: Aug 2007
60

IQ
I was thinking in the neighborhood of 650ish shipped

Join date: Aug 2007
60

IQ
i see i see.
had any offers?
im saving my money,
i was going to get one new.
but,
thats pretty cheap.
ebay?
trade for my rg550? check my profile and for 650 its too cheap

Join date: Jan 2008
10

IQ
thats a Jem 555 by the way, that is actually high for that guitar, it has the half inlay and the lo trs bridge and says "Steve Vai" on the 24th fret. It's worth about $500. And if i'm not mistaken the Jem 555 or Jem Jr. is made of basswood, not Alder like the Jem7vwh
thats a Jem 555 by the way, that is actually high for that guitar, it has the half inlay and the lo trs bridge and says "Steve Vai" on the 24th fret. It's worth about $500. And if i'm not mistaken the Jem 555 or Jem Jr. is made of basswood, not Alder like the Jem7vwh
+1