Connecting a MIDI Device (Sonar LE)
ok i recently bought a midi - usb cable to be able to connect my keyboard to my laptop to use as a midi device. The recording program i have on my laptop is sonar le and i can't get it to make any sound. I know that its plugged in properly (input - output and vice versa) and both the input and output lights are flashing on the cable.

So anyone used Sonar LE and got any idea on how to solve my problem?

Join date: Jun 2007
10

IQ
Did you go to properties and choose the input device as the keyboard model? then reboot sonar.
yea i did, still nothing. But when i open the piano roll and click on the keys it plays the sound out of the speakers on the keyboard.
you have to click the "all" tab or whatever its called and expand your MIDI track. At that point you can set the input source to your new cable/interface. If its anything like Sonar Producer 6 or 7 you will have an option to pick a channel or "Omni" which stands for all channels.

Adding a virtual synth to the synth rack (not sure if this is in Sonar LE...) will automatically setup a MIDI and audio track.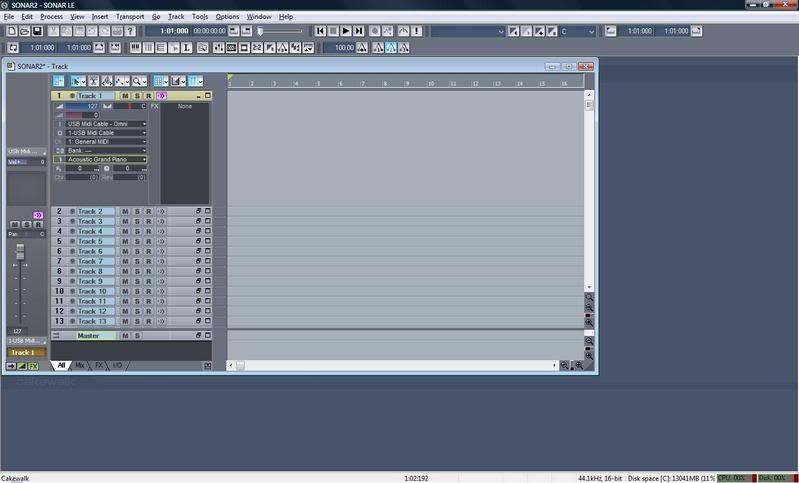 thats what i've got but still no sound, if it helps im using a Yamaha NP-30 as the MIDI controller.
if you are running though a VSTi in the program, you need to run a MIDI and Audio track at the same time

MIDI track
Input - MIDI interface
Output - New audio track

Audio track
Input - Output of MIDI track
Output - Main or sub out in Sonar.

Alternatively, you could run MIDI back out to your keyboard or any MIDI hardware with on board sounds and play the keyboard with the MIDI data. Then you can run the main audio outs of that hardware and record it with an audio interface. It's a similar setup to a VSTi but everything is external.
ah that makes alot of sense actually, thanks. I shall try it out next chance i have
i've just realised that i have no audio inputs or outputs, im just using a regular laptop, will i have to buy an external soundcard or midi interface to be able to use the software properly?
You can run the outputs though your stock sound card speakers but if you want to input audio like mics or instruments, an interface would be good to use.

Sonar should have no problem without an interface. In a digital setup, (such as using Sonar and a software synth) MIDI and audio routing are all "in the box" so you don't need a lot of cables going from outputs and inputs like other recording setups.
yea i thought i should be able to run it through the sound card speakers but there isn't an option to click on anything:
EDIT: i also already have a USB condenser mic so which i can also use to d/i my guitar/amp so i don't really need an interface for that. Actually theres a thought, let me try something...
Last edited by rhysm at Jan 7, 2009,