100 GBP Build - Jackson DXMG Dinky (Finished, with pictures)
For those of you who don't know about it already:
100 GBP Competition
My dad and I are done customizing my Jackson DXMG Dinky (her name is Iommi

), which was our project of the last two weeks and I decided to enter it in the 100GBP (150 USD) contest. The guitar originally was jet black with dual EMG-HZ's:
(Invalid img)
Basically, this is a whole new build, and honestly a lot more than most of the other people are submitting. (I had to correct myself... There are some that people invested a lot of work in to. But, some of them are lazy jobs for the contest.)
Work done/prices:
New contours to body: Had all the files we needed, zero dollars.
Bill Lawrence L-500XL in Bridge
We got a good deal on this, 45 bucks, the store listed it as 65.
Seymour Duncan Custom Custom in Neck
Another good deal, we got it for 65 when it was listed at 86.
New paintjob: Don't remember the prices, I do remember each can of paint we used (we used two, plus primer and clear coat) wasn't any more than 10 bucks, two of them were like… five.
Had all the rest of the tools we needed.
Used a small piece of leather that we already had to go under the Floyd Rose… That's because we had to take the foam off to paint it.
Final Price: 140
The thing sounds so nice now… It's like the Jackson from Hell, because I have fairly close to Dimebag's choice of pickups, just a different model of Seymour Duncan than he did, but the tones of the pickups are really close. Not to mention a Dimebucker is a stripped down version of the Bill Lawrence that I have; Dimebag actually used Bill Lawrence in the neck position religiously. You pay for the brand name and signature on that pickup. It's got a really warm tone in the neck position, and a cutting hot high end in the neck – And that's only using my forty dollar starter bass amp. Can't wait until I get home and I can plug it in to my new Valveking 112…
The contours are on the bottom and both sides. They're also on top of and under the neck… None of them are on the back.
Tell me what you think about the paintjob. I like it because it's unique. It was intended to be a swirled finish, but the basswood floats very easily… It popped up on my dad while he dunked it and made our final finish not swirled and really thick (so it ran on us while hung out to dry). We thought about spray painting it black at this point… But we wanted to let it dry and see how it looked, so we kept it. I really like it actually; it's unique, looks like a rainy or foggy night sky in my opinion. We were also on a deadline, it had to be done by today (January 3rd). There wasn't enough time to refinish for the desired effect. We might be refinishing it to get a swirl this summer. I'm not so certain I want to do that anymore though!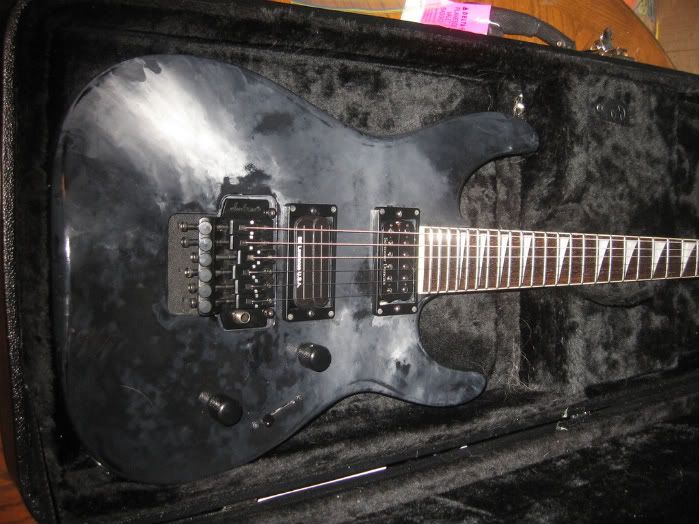 I'm going to be writing a really detailed article on everything we did, including all the steps that we took... I'll edit/post it in this thread when it's done. For now it's a myspace blog that details it really well up to sanding before the primer, with really detailed instructions on how we desoldered.
EDIT: I had some questions I forgot to ask. If you can help, it would be much appreciated. How necessary was the leather under the bridge to replace the foam? And, can anyone explain or give me some good links on adjusting the action and intonating my guitar? It's a licensed Floyd Rose if you couldn't tell.
EDIT: This is the swirl finish scheme we wanted, can't recreate those patterns, but those are the colors, with more grays maybe.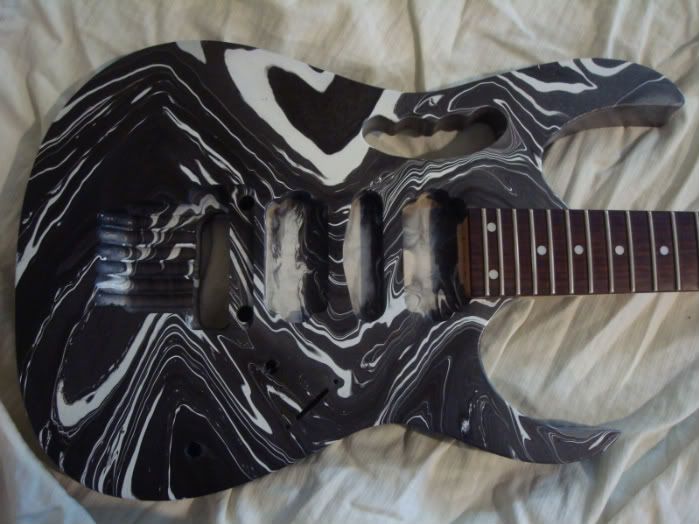 Last edited by idahoimmortal at Jan 3, 2009,
Looks nice, although that comment about it being more than other people have submitted isnt true, a lot of 100GBP have been veryvery impressive aswell as a lot of effort gone into them egThat really cool bass

But it is still a pretty cool guitar i think you've made it look good and not boring.
I meant there are a lot that don't have much submitted to them. You're right. There are some that have a lot of work done to them. I'll edit that.
TL : DR

But by the looks of it you didn't build anything?
Kinda defeats the point IMO when Carousel is building that amazing guitar...
that looks just like my DX10D with a different paintjob,

i love that thing to death.
TL : DR

But by the looks of it you didn't build anything?
Kinda defeats the point IMO when Carousel is building that amazing guitar...
No, the point was to get feedback on it... And possibly some answers to the questions at the bottom of the post. I had already been determined to do this project long before I saw the contest. The contest is just something I found out about so I entered; this is more to show what I did to it though. I didn't enter to win. The guitar was already disassembled to do the project when i read the thread on it. it was just conveient timing for me.
It's fair enough man.

It's about making your guitar what you want it to be, I agree. I was just saying that you didn't build anything. I apologise if I caused any offence.


Join date: Nov 2008
550

IQ
Looks sick. I love the paint.
Nice. The paint job is win.

Join date: Nov 2008
202

IQ
I ought to make a swirled guitar owners group because there is another sick swirl in the GB&C
That paint job kicks some serious ass. Maybe paint some lighter patches and darker bits on it too make it look more like a night storm.


Wait, you'd better name this guitar "Night Storm" or something cool
Nice, I love it. Good job, I'd be proud of that one!
I can't actually add in any paint, because it was dipped.


But thanks for the comments guys I appreciate it.