VK112: Combo to Head Conversion
that actually would look pertty damn sweet.
5/8th stack....lolz
man, i can't wait to see the final product.


Join date: Jan 2006
60

IQ
Two more screws to get rid of that front gap, and a Peavey logo would make that thing perfect. Would look like something bought out of a store.
That look ssooooo awesome, and the stain will make it look 1000x times better. Also Another idea for a front plate, Take another piece of solid wood and rout it so its only like, a square, hrmm trying to think of a way to explain it. Like an outline, so there is no middle hahaha. And then take a piece of plexiglass and put it over it, so its see through. Here kind of like this.
http://guitars.musiciansfriend.com/product/Line-6-Spider-Valve-HD100-100W-Guitar-Amp-Head?sku=487071
Then put the lighting behind it.
there is no lights, i can't see the amp. but nevertheless, sounds good.

Okay guys, I ran into a bunch of problems preping for staining.

First, the corners I am using didnt fit right, so i had to sand. Sanding kinda turned into rounding all the edges/corners of the head.

Second, When i chambered the holes for the screws, they tore out the side, so i will have to pick up some wood putty today, and will start on that hopefully.

Once i get the wood puddy, i'll fill everything, then re drill further in so i don't go out the side. Then i will chamber the screws in, and cover with puddy so their hidden and sand flush.
k - good luck.
i guess you don't want any of those metal corner protectors?
we need a pic of the head and cab together as of today

311- Well i am using those metal corners, but the ones i have (the ones of the vk112) are rounded, so i had to round the corners, and when i did, i kinda did the sides a little to so to make it look good i rounded the sides.

I'm waiting for my garage to warm up right now, then i will put the wood puddy over the holes. Then re drill, chamber, then apply more wood puddy. Then sand, and hopefully stain.
yeah, I meant new corners.
Need piczorz


Join date: Mar 2008
180

IQ
hey man looks good,
one warning though, what is the ohm output on your amp? Say its 8 ohms, you can only put a 8ohms cab or speaker through it

So i stained the head... And it looked awful, i did everything right, and even used the pre condition stuff. It was dark in spots, light in spots, and ugly in spots. So I went up to Joann Fabric and picked up some vinyl for 6.50$ a yard! awesome deal. I think i will start today, not sure but hopefully will.
yeah, cheap pine dosent have the best grain for staining., you used a rag, to staine it right?

Join date: Feb 2007
50

IQ
you should put metal corner things on the head :P
Ethan, yes i used a fine cloth my woodshop teacher gave me.

Rancid- I will, haha.
humm, wierd, usually dosent happen with fine cloth. oh well, go to plan B.


Join date: Feb 2007
50

IQ
make sure there black ones or it wont look right
or he could get pink ones just to **** with people.

lol, Well, I have black ones but i think im going to go with chrome ones to match my ampeg cabinet.

Anyone know where to find ampeg guitar grill cloth?

UPDATE:

I put the vinyl on the head, and it's drying right now. I will put pictures up when it's done.
Thanks Soultrip and Guitar-godfry
I'm trying to match this grillcloth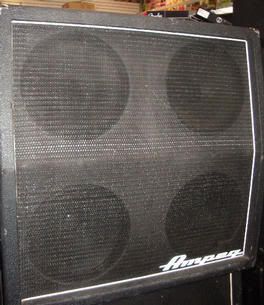 my dad just put a grill cloth something like that on an 100 year old record player. try hobbylobby, if those stores still exist.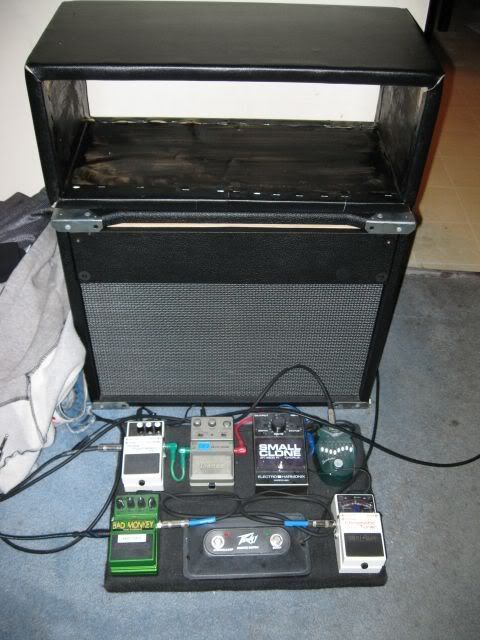 Put it on top of the 112, just to see how it looks. I <3 my eighth stack


Join date: Sep 2008
121

IQ
Put it on top of the 112, just to see how it looks. I <3 my eighth stack
Sweet!

Pretty sweet dude - can't wait to see final.

5/8th stack....I love it.
you could go to the tip for the grill cloth
Last edited by guitar-godfrey at Jan 15, 2009,
the box looks clean as hell, good job!
Thanks guys, i really appreciate all of your support!

Will have pics of the head assembled tonight.

I need:
Chrome 2 Lip corners (8)
3 ft of Marshall Small White Piping
Grill Cloth
Oh yeah, its sexy.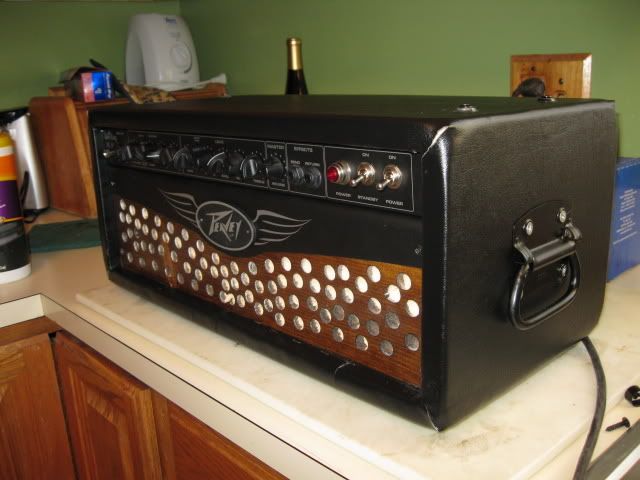 I chose side handles for better support, and because they were free haha!
... play through it yet? is it open in back, or covered? Does it get really hot?

Join date: Sep 2008
121

IQ
Great work!!! are you gonna leave the front part like it is?
... play through it yet? is it open in back, or covered? Does it get really hot?
It's open in the back to help with heat, it stays cool. I just made a vid with it, will post in a couple.
Necro- No, I will cover it with grill cloth.
Thanks Guys.
Sweet! Can't wait to see the vid!
So i recorded the vid, but my stupid self put it in front of the amp and it overloaded the mic pretty bad, plus all you can see in the video is my ass, haha.

Will do another one tomorrow.
lol! it happens... there is always next time!