SECOND commission this month... bloodwood/curly maple strat w/ floyd
Specs :
5 piece body, curly maple/bloodwood
5 piece neck. curly maple/bloodwood
all chrome hardware :
gotoh floyd rose
direct mounted dimarzio Fred in the neck and undecided bridge pickup
He wants 27 frets, but i am going to convince him otherwise
25'' scale length
gotoh 16:1 tuners
one volume one tone, 3 way selector switch
all sorts of my favorite carves
bolt on neck w/ AANJ

the 8/4 wood for he body has the most extreme damn curl ive ever freakin' seen
the neck has medium curl, but its still quite noticeable. the whole guitar is made out of soft maple to help with the weight, however the neck will be 3 pieces of quartersawn maple, and 2 pieces of quartersawn bloodwood, all with the middle pieces flipped, so im thinkin its going to be nice and tough.

this will take priority over my two stock guitars i have going, the sapele telecaster and the walnut RG, so this one will probably be done by next week or so, shooting for next friday if the parts order goes swiftly.

pics once i prepare the stock
this guitar will sell for $900~
im workin' too cheap damnit.
I can't wait to this one man!

Pictures or GTFO.

Join date: Oct 2007
430

IQ
I can't wait to this one man!

Pictures or GTFO.
+ Infinite, I always love seeing LP's work.
I feel kind of like a stalker.
My replies to everything he does are really speedy and enthusiastic...

My bad Kyle, I'll stop.
lol stalkers. BTW Kyle, find a box for that sapele yet?


Anyway, PICS!!!!!!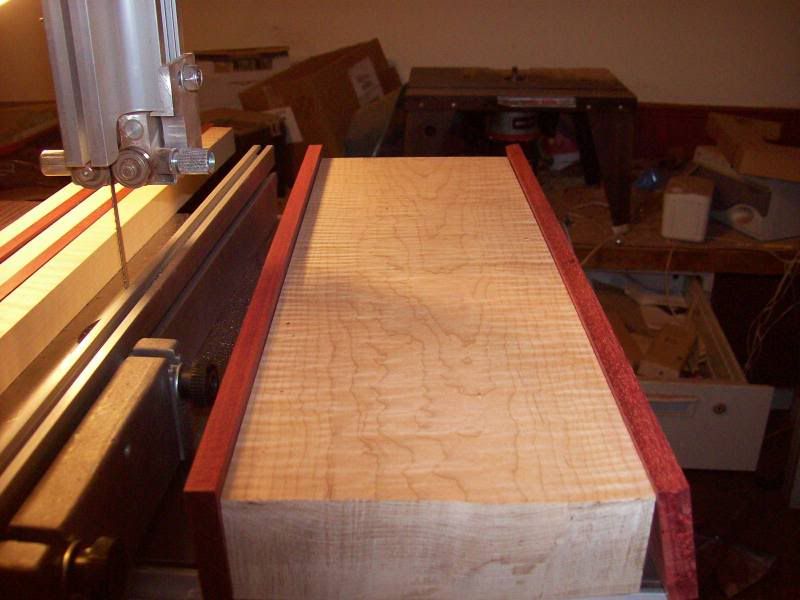 middle body lam and two bloodwood pieces
heres the neck unglued and the rosewood board :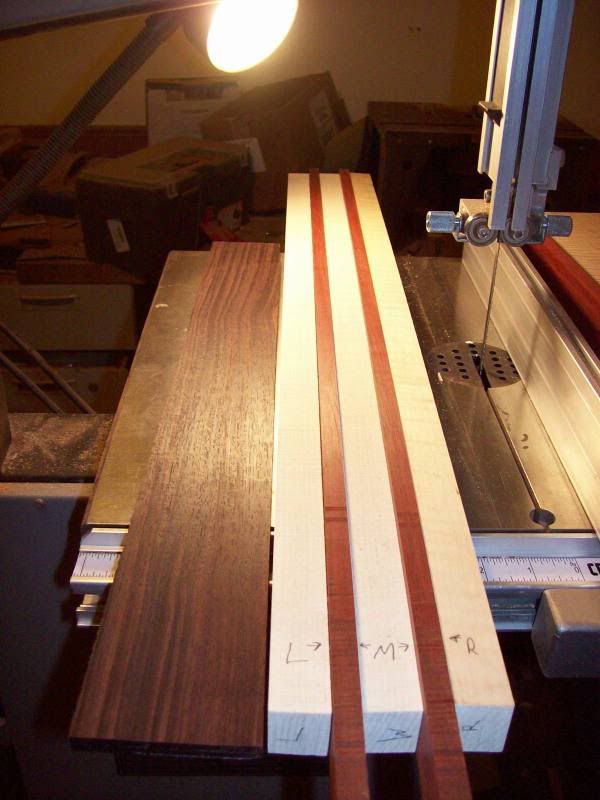 Join date: May 2007
283

IQ
Wow impressive chunk of wood!

this build is gonna be great I love Floyd Strats
ihave27frets has 27 frets

Nice wood! Can I touch it?


Join date: Mar 2008
260

IQ

LP Addict that is some sexy maple grain.
May i ask what you payed for such a thing?
You're building that for $900?

You're gods gift to guitarists.

Join date: Dec 2006
80

IQ
ummmmmm so sexy. Ohh so sexy.

Join date: Apr 2007
30

IQ
wow! that wood is gettin me all hot and bothered errrr uhh, i mean, I cant wait to see this thing progress. It better not get pained over.
i know, but 900 dollars to a nineteen year old is alot of money, beats a ****ty pizza job or something, thats for damn sure.
900?!?!? Wow that's cheap. For the quality of your instruments, you could charge 1200 easily.

Join date: Dec 2006
40

IQ
when u set a price do u ever like barter for it or do u set the price (or do they)
cause i think a more experienced luthier than i would say taht $900 is chump change for a build of the stature i have seen from u before.
wood looks great though
how much did that chunk o maple cost you?

Join date: Oct 2007
400

IQ

this guitar will sell for $900~
im workin' too cheap damnit.
Thats ridiculous, you may as well just give it away.
well in today's US economy, if i sell guitars for under 1,000, i will keep a steady business, and 1,000 dollars a week is a **** load of money to a teenager, that enables me to not have to have a ****ty job and all. the 8/4 maple was 35 dollars, the 4/4 for the neck (i bought a 17 foot long piece of it by 7'' wide) was 27 dollars.

Join date: Oct 2007
400

IQ
Yeah but what about hardwear and pickups? I get stuff at trade and its still not that cheap. . . . .
the hardware and everything costs around 250 for this build, and he buys all that before hand.
I wish i could find a lumber yard around me... everyone always finds such great deals... so if i don't find one soon ill be PMin you LP
How many hours do you put into each build?
It might be interesting to figure out your hourly wage.


Of course, it could be depressing as well, trust me.
its about 12 an hour depending on how hard i work, my first two guitar sold for 700, these four im making this month will sell for 900-1000.
i just got a boner after planing this, im sure you all will too :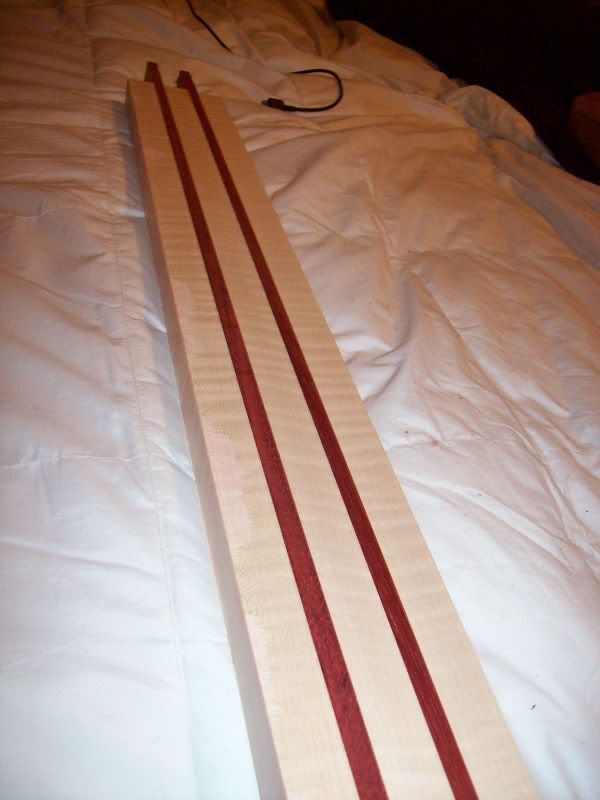 that neck is awesome. and no matter what your hourly wage is at least your not working at Staples like i am
i just took a trip out to see the buyer, showed him the neck blank and body blank, he almost jizzed his pants, close one.

Join date: Nov 2008
202

IQ
Speechless.
(except for that and this)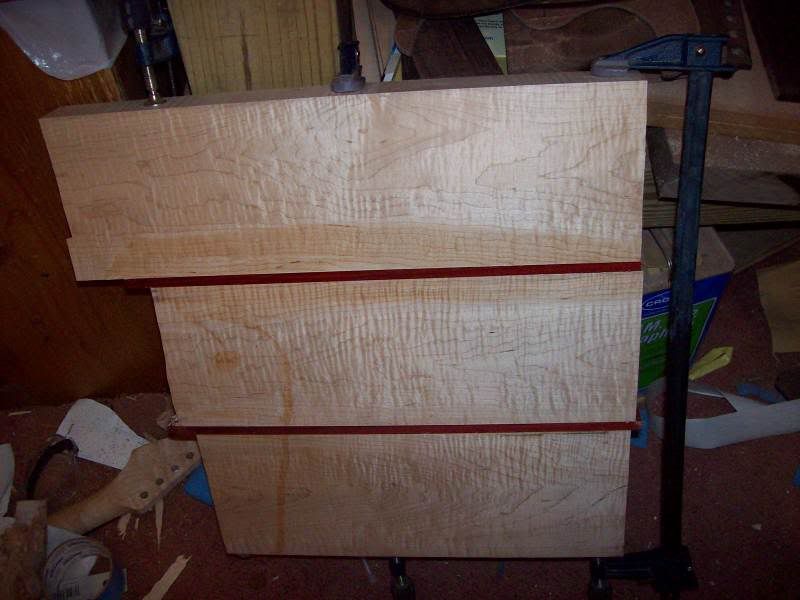 body being glued
fingerboard slotted
Nice!

That is a really nice fingerboard!

Hey LP, are you too busy to sell me stuff? I want to know whether or not I should hold off on e-mailing you.
just email me the HTML and a detailed list of what else you want, ive got about 5 orders right now, its getting confusing.
Ok man.

If it's too busy I can get all my stuff from Phil.

If not, I'll e-mail you the order info soon.

Join date: Dec 2006
80

IQ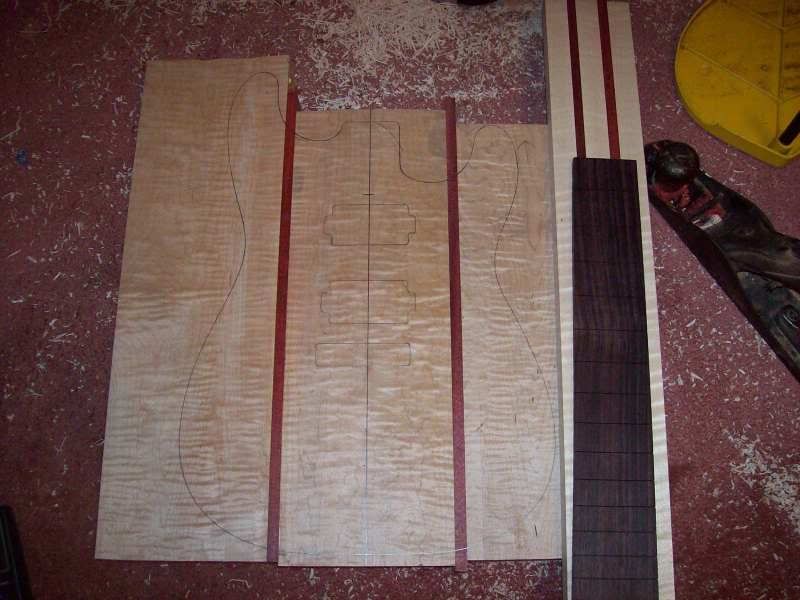 oh good lord.

Join date: Feb 2006
320

IQ
That first shot you have of the body gluing up is craaaazy. I didn't quite see why you thought that stock had such nice figuring from your first pic, I thought it was great, but not mind blowing. But then I saw that shot of it being glued up, and well.........

.....holy crap.
Beautiful wood you have there! I'm excited to see how this progresses.

Sorry I haven't been on much in the past few months. I missed out on a lot, I gather. I've been hustling to make money doing repairs and setups, and not building anything. Coming back here to see you guys working is motivating me to find the time.

If you're cranking out a guitar a week at that price and you don't have to pay for hardware... hell, you can't complain. Just be sure you feel you're getting paid enough for your time.