New Industrial Explorer Build
So.... I decided I'd build another guitar. I looked at all the super strats I wanted to make and they were nice.... But I wanted something more radical. I was looking at the steampunk guitar and was like.... I can do that! So I decided to make a Industrial themed guitar. Think old, dirty, dark industrial site...
In doing so I decided a few things:
I was going to keep true to the original gibson explorer body style
I was going to modify the headstock to give it a bit more edge
Specs:
5 Piece maple neck
Mahogany Body
Gibson Explorer Shape
Tune-O-Matic bridge
Gray / Gun Metal Undercoat with rust effects, weld marks and bolt heads around the edge of the guitar
Rosewood fretboard 22 frets (May stain black if I see fit)
EMG 81 85 Combo or SD JB and sh-2
Spertzel or Grover locking tuners
Now here come the questions:
Nickel or Chrome Hardware?
Any suggestions for a modified headstock?
Diamond plated pick guard or no pick guard?
So I went to the lumber yard... All of 1 1/2 hours away!
I GOT WOOD!
3 fretboard options.... Which one do you like... left center or right?
Huge ass neck blank
All of it :-D All for $50! All i need is $13 of maple for a second guitar!
Here's a gift from Santa too :-D
Last edited by ESP_Shreder at Jan 5, 2009,
Dude, that sounds awesome. I like the look of the center fretboard, but I'm no expert.
go with the pickguard. Although, that would prolly add a crapload of weight to it, depending upon what you used.
And how are you going to get good looking 'rust effects' on there? Cause it might be nice to know for the future.

Join date: Nov 2007
120

IQ
Sounds good. Been looking at Ormsbys W.O.M.D. have you?
im gonna keep my eye on this thread, and i might steal your headstock design if you dont mind.
Last edited by ESP_Shreder at Jan 6, 2009,
kinda like that, but not via paint. The bolts are going to be real, the rust is going to be real, but a bit like that

the hardware is spot on though!
Last edited by ESP_Shreder at Jan 6, 2009,

Join date: Apr 2007
30

IQ
kick ass! itd be sick if you used nickel hardware with rust on it. rust up the tuning pegs and the pickup covers on those emgs too. thatd be nasty, im gonna keep an eye on this.
the one on the right has a busy grain, i like it.
I'll go with that one... UNless I decide I wanna stain it black.... Should I stain the rosewood black? Kyle... You missed out man. I got this amazing piece from the lumber yard. That rosewood plus another fretboard's worth was $12! Also the deal on hard maple is ****ing amazing!

Join date: Apr 2007
30

IQ
I'll go with that one... UNless I decide I wanna stain it black.... Should I stain the rosewood black? Kyle... You missed out man. I got this amazing piece from the lumber yard. That rosewood plus another fretboard's worth was $12! Also the deal on hard maple is ****ing amazing!
gotta give the thumbs down to that idea. it may be interesting to see, but i wouldn't want to try it with that wood. ive never seen any stained fretboards, but I feel like maple would work best. then again, when i started typing this post I thought it was not a very good idea, but now as i think about it more i'm starting to reconsider. to get the tone of rosewood, with the look of ebony....hmmm.... this also opens up new doors. for instance, who says a maple fretboard couldn't be stained blue or red? tho i dont think rosewood would work for lighter shades, you'd end up with some muddy lookin poo color.
dont stain rosewood, its too beautiful!
If you are going 'industrial' wh dont you use black hardware? and I would say those fretboards are too pretty for this guitar.

Join date: Dec 2006
40

IQ
dont stain rosewood, its too beautiful!
i admit i actually put a coat of stain on my current build simply because i wanted the color to be a bit richer
im just afraid it might wear off
u live and u learn i guess
I stained a board once and it didn't wear off! That stuff is potent!
you need to DYE fretboards, not stain them, get ebony dye fro mstewmac and whipe that on there, but you usually use that on macassar ebony, its very dry and accepts it well because its already very dark, rosewood is oily and grainy, so it might look strange

Join date: Jun 2007
301

IQ
save the one on the right, it looks reallyy nice.
cant wait to see this.
i have the same router/table. works well... doesn't plunge

and the height adjustment is a little iffy at times... but it works


Join date: Dec 2006
30

IQ
bareknuckles pickups sells their pickups with an optional aged nickel cover that ya might like.
Last edited by darianivan at Jan 6, 2009,
buy pickups from me and I'll beat the snot out of the covers for you

the right fingerboard, if you haven't decided yet. Damn that's nice
I think I've decided to go with the right one. think those 3 pieces (plus one not pictured) for $12! I think that's a good deal! (**** stewmac!)
nuthinbuttrubl8, I agree the height thing is iffy! I guess there's always a good square!

I like the idea about the bareknuckles and nuthinbuttrubl8 making me the pup's.... I think now I am definitely not gonna do a standard pickup set.

Who makes pups besides nuthinbuttrubl8? I bet some people on UG do, I just don't know 'em.

Also, updates later today...
cordEW or w.e makes em and offers discounts
Can't wait to see it finished. I love explorers. I'm in the middle of a squier rebuild myself...
I'll talk to Cord...
headstock template: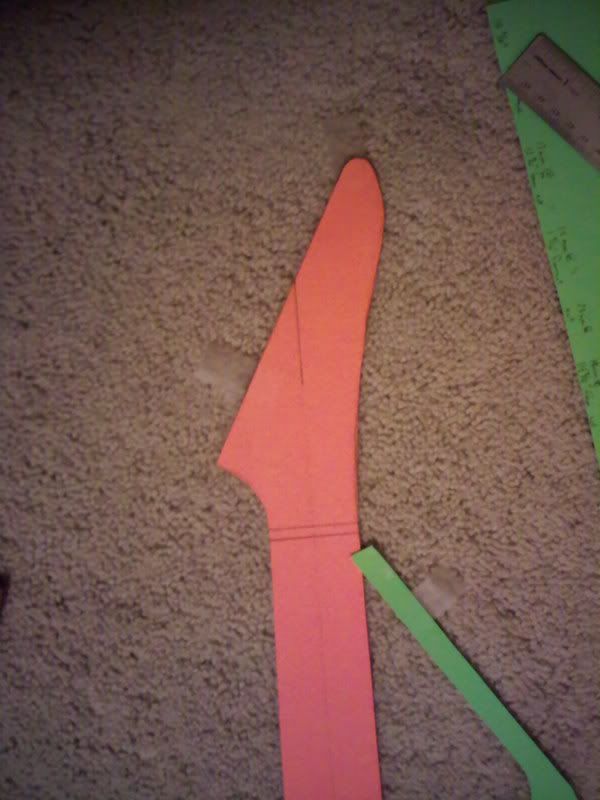 Template:
truss Rod Routed: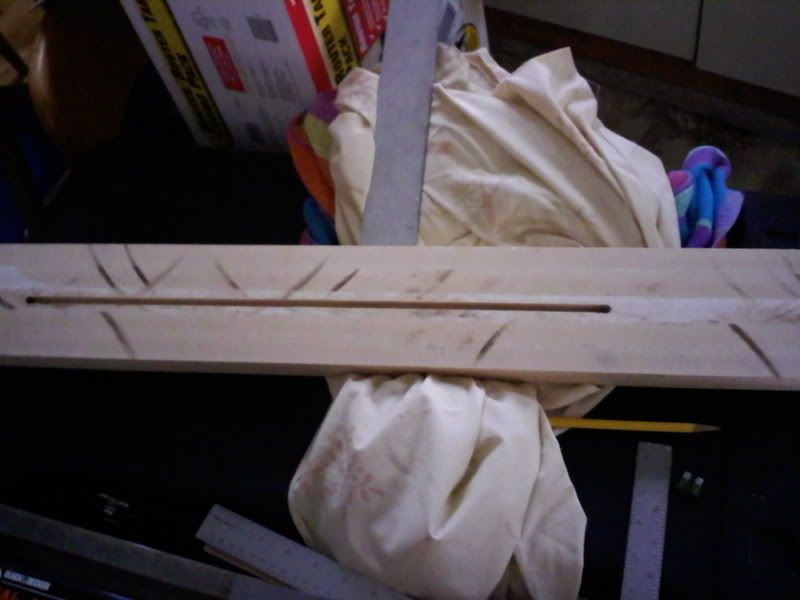 Gotta love my table saw.... not
Progress.... the little bit of it. Tomorrow is band saw day!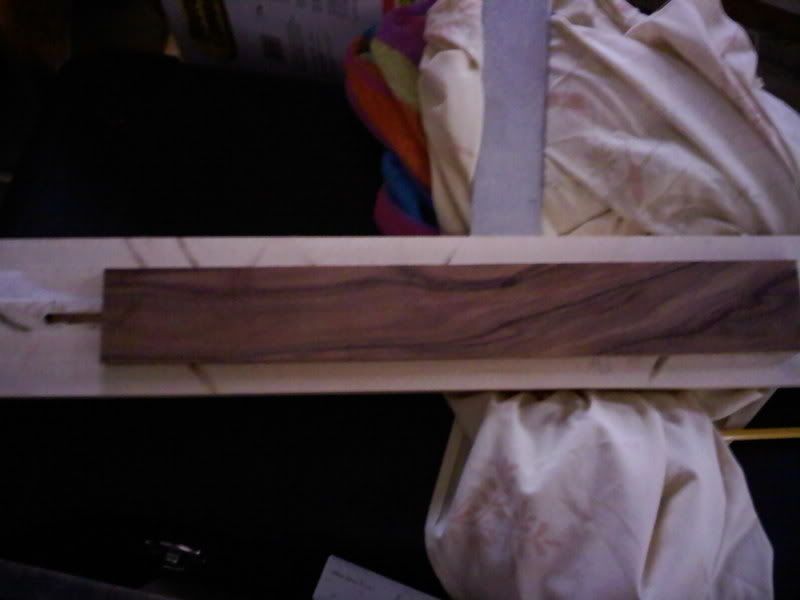 i sell mine for $70 each for humbuckers and $60 for singles and i'm in the states

, Otter is going to buy a couple off of me.

yea they didn't think out the height adjustment very well so you kinda have to wiggle it a bit to get it right. it's a good fixed base router for basic hand work but if you're doing anything intricate, i'd suggest a better router base. I like the one i have and i put a harbor freight speed control on it... works nicely but the only thing i use the table for is routing truss rod slots.
little trick for ya... 2 C clamps and a piece of tape over the guard on the plastic fence for truss cavities. the adjustment slots dont have enough play for a wide piece like a neck blank to center up right but there's 2 nice flat spots under the table for some clamps... or just use a straight block of wood...
Last edited by nuthinbuttrubl8 at Jan 6, 2009,
I'll take that one into consideration! Ever have issues with it not locking onto the bit?
nah. just make sure you use 1/4" shank router bits and use the little spring loaded lock to hold the spindle in place while you tighten the collet.

i dont think any routers in the US use 6mm shank bits but be careful either way.
I must have not tightened it enough then.... it's 1/4th shank. I used it in another router and got it home depot and checked it.
yea... that little black spring loaded thing is the spindle lock. use that when you tighten the collet and you're golden

that's the thing.... I used it.... I guess I got lazy or something... That tool is a bitch to use when the router is attached to the table! Oh well. it didn't do too much damage. Just gotta make the radius blocks with the router now. Fun times! lol Also... I may need hardware soon... If I send you a sheet of what I want could I get a quote?
edit: Updates... yes, glue is everywhere.... Don't kill me... please....
no comment on these... They suck. I'll clean it up tomorrow and it'll start to look pretty soon!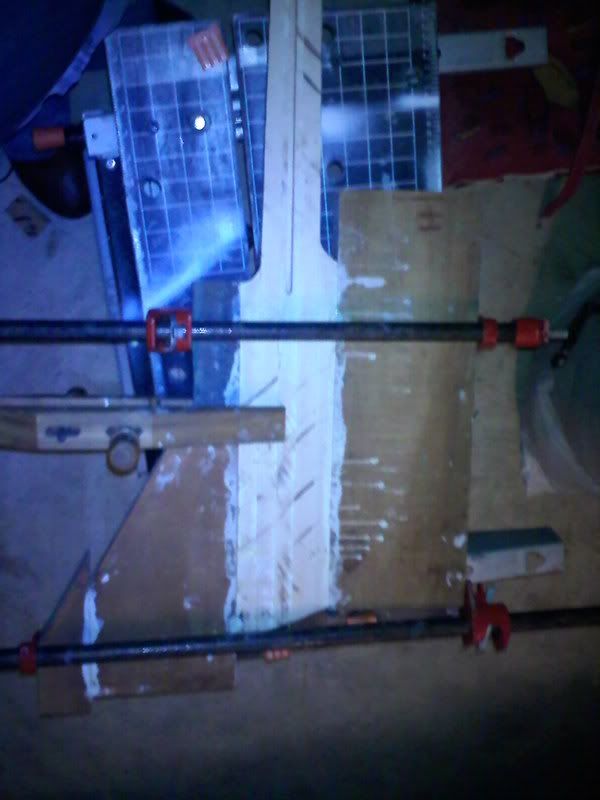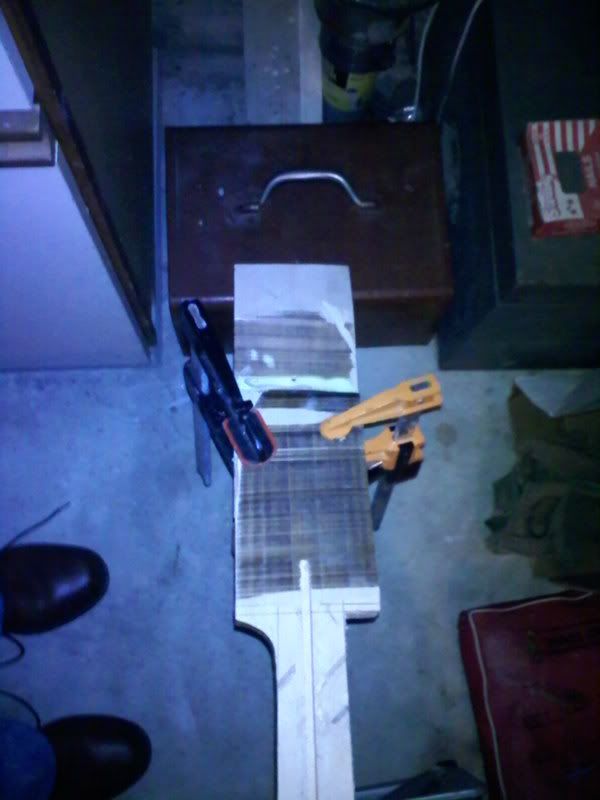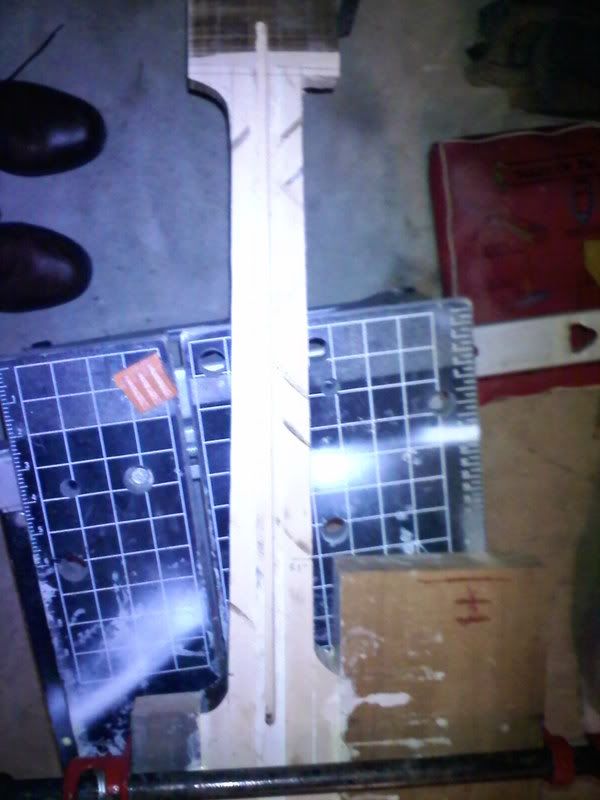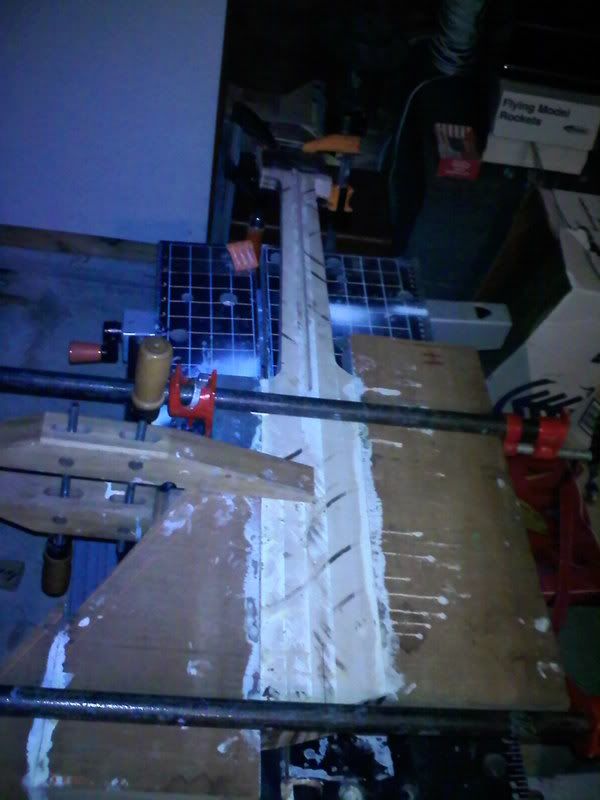 Fun fact here.... The Saw was on :-P Me btw @ my old school.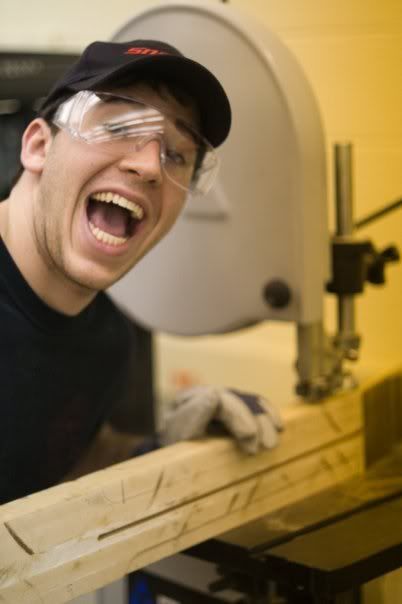 Last edited by ESP_Shreder at Jan 7, 2009,
nice so far!
i would go with the right fretboard,it would look super neat if the spiral went at the 13th and 16th frets.Just an idea.
so its a neckthru?
cant wait for more
if you put bolts in bleach i guess it makes it rusty in like 2-3 days
keeping an eye on this
p.s. would the glue make more work? (all the extra glue)
Last edited by nowa90 at Jan 8, 2009,
I guess it would.... I need to learn how to use the glue more wisely! I never thought about the bolts in bleach.... I should try that! Hopefully it is uneven and all cool looking!
So... Today I cut the body and the headstock and started to shape the neck....
Back of headstock....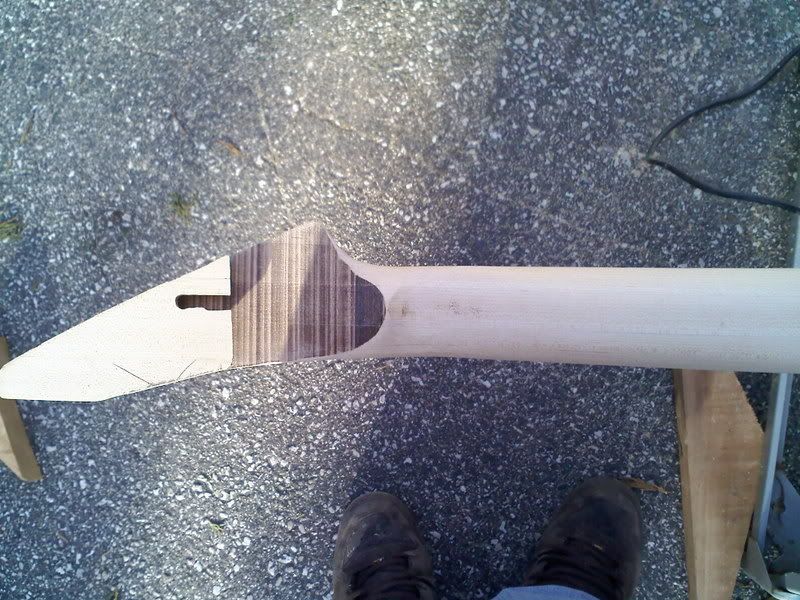 a bit of work...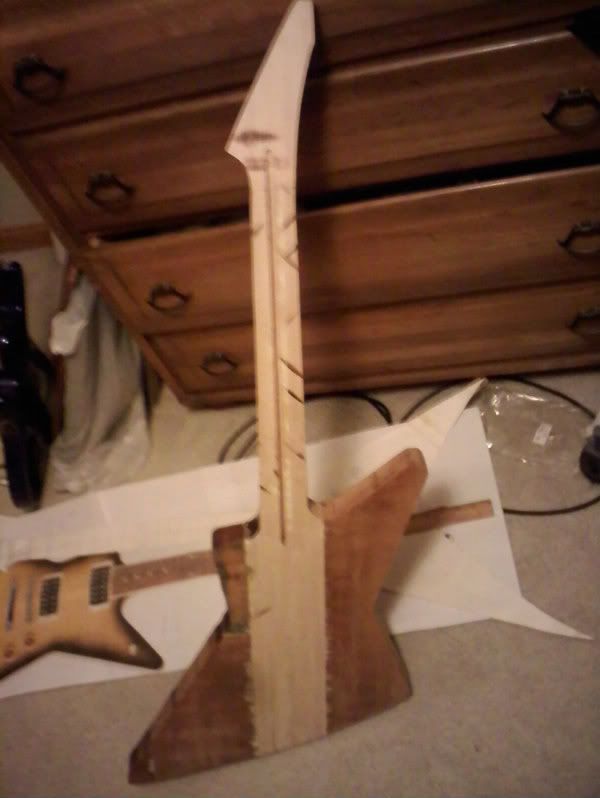 neck work... Any idea's for the heel?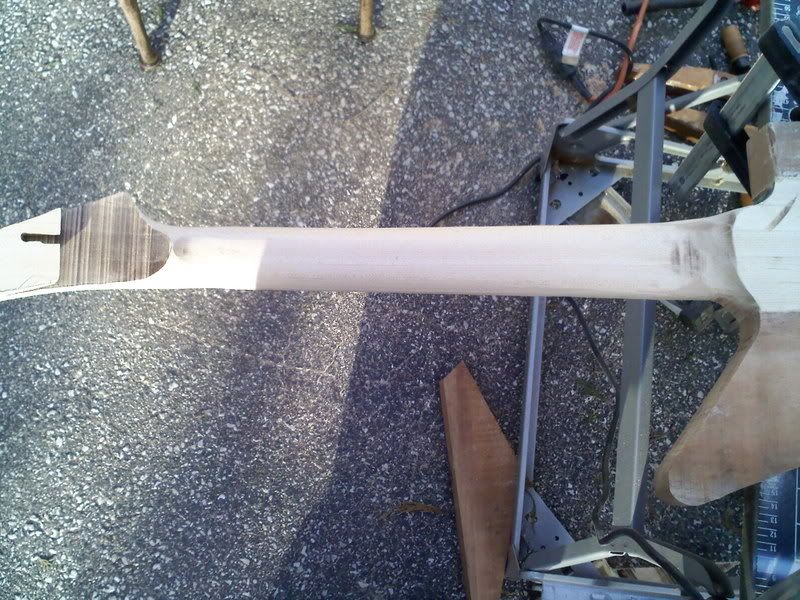 nutinbutrubl8! I want some hardware!
Join date: Aug 2006
180

IQ
Does the truss rod route come through the back of the headstock?

Edit: NVM i see whats going on there.


For the heel, i would take a rasp or something and make it fit your hand.
Last edited by walker-rose at Jan 8, 2009,
I am so interested in this

Join date: Feb 2006
180

IQ
Dude, that is SO cool. I wanna do that fake rust effect too. Is it available for purchase or do I have to DIY?
can you route out the truss rod with a table saw?
Probably not a good idea, the ends of the slot would be curved following the arc of the blade, where as a router will cut a rectangular slot with nice vertical walls for the truss rod to butt against.
You have nice teeth.


On a sidenote, good luck with the build. The world lacks custom explorers!