One cab to do both guitar and bass?
My guitar/bass instructor told me that the Celestion G12T-100's do well as a bass speaker, even though they were designed to be a guitar speaker. He has used them in his bass cab since the late 80's. He mentioned that these speakers cater to the lows more than most other guitar speakers and that their voice coil isn't very efficient, and that prevents them from blowing.

This got me thinking, could I have a cab built with these speakers that can do both bass and guitar well? You would just need a 2x12 or 4x12 cab with these speakers. But this raises several questions...

1. Ported vs non-ported?
2. Tweeter or not?
3. Open back or closed back?
4. OSB, MDF, or plywood?


Reason I want a cab like this is my wife plays guitar, and I play either guitar or bass pending on the song we are jamming to and we like to turn it up in our garage. She has her own half stack, but it would be nice not need 2 half stacks of my own.

Thoughts/Comments/Concerns?

Join date: Oct 2007
40

IQ
sounds like a good Idea! I've been thinking about this a lot recently, and had an idea, i'll paint it up and post back here in a little bit

EDIT: POSTED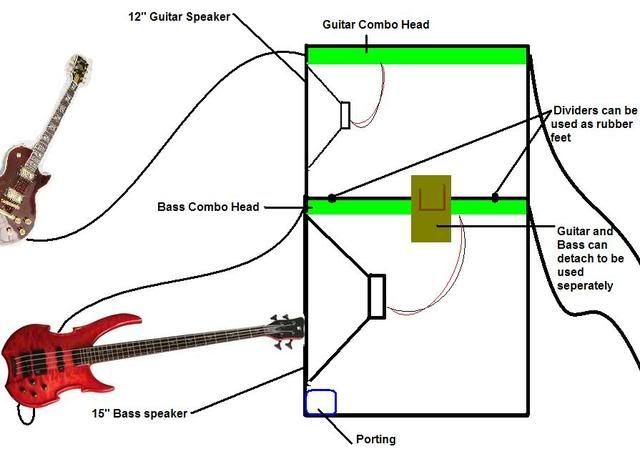 Last edited by deftonesordie at Jan 8, 2009,

Join date: Mar 2008
10

IQ
If you want to sound good for bass you will really want a ported, closed-back, plywood cab with a tweeter.
Due to space and cash restaints i've been thinking about something like this for a while, so would love to see how you or Jake get on with it. Hope it works nicely

Its a tempting idea but I always designed bass cabs with reflex style and I'm not sure how that would work for guitar.
There is another option. Use a 4x12 but wire it with a pair of celestions and a pair of something brighter for guitar. (I like Crescendos if someone else is paying) and have a switch accessible, I guess you use a single head with normal and bright/drive channels so that would be a very nice option. Have to watch the impedence during switching, of course.

Join date: Oct 2007
40

IQ
one cab to rule them all..
one cab to find them..
and in the darkness BIND THEM..
lotr

anyways, this sounds pretty neat. id love to see this build.
if you play a bass through a guitar amp does it hurt the amp or just the speakers?
sounds like a good Idea! I've been thinking about this a lot recently, and had an idea, i'll paint it up and post back here in a little bit

EDIT: POSTED

[Enormous image]
I got the feeling Staz was aiming for a 2x12 as an either/or, rather than both at once? After all, his wife already has a cab.
I have a cheap Legion Sound 4x12 guitar cab with 4 Celestion G12T-100's. Good for guitar and can do basic bass, but I was thinking of buying an empty bass cab from this site to put my speakers in...
http://www.shredmuzic.com/category_s/56.htm
Right now, my current cab can do both, but doesn't have a deep bass sound, which is why I am thinking about putting my speakers in a bass cab, but the more bass oriented I go the worse it becomes at guitar, so looking for a good midpoint. I was thinking closed back and ported, but no tweeter as I am not sure how well tweeters do with guitar. This is only for home use, no gigging. Thoughts?
G12T-100's are supposed to be guitar speakers anyway, and guitar cabs are supposed to be practically unaffected by the size and shape of the cab, so i don't see how it would degrade quality of sound for guitar. Obviously, being closed and ported, it'll have a fuller, tighter bass response than open backed would, but that might be a good thing.

If it was me, i'd probably put the tweeters in - you could always have 2 inputs, with the tweeters left out of the circuit for guitar, but in the circuit for bass.

Edit: anyone know of a similar site to the one staz just posted, but for the UK?