Why school is a joke.

Join date: Aug 2007
20

IQ
Basically, school is a joke and anyone who believes it's a "learning institution" is brainwashed.
Reasons school sucks:
1. You have no rights, no true freedom and are ultimately an expendable client.
2. The curriculum and textbooks are full of skewed and biased versions of history, and outright mistakes/lies.
3. School teachers, or the majority, are payed so little they have no motivation or intention to "educate" us.
4. It's a complete rip-off, you shouldn't have to pay thousands of dollars for an "education".
5. It's structured in the most exploitative way, students are at the whim of the school, not vice versa.
6. Food sucks, unhealthy and immoral.
7. You have to ask to go to the restroom.
Ultimately, school kills the students natural thirst for knowledge, it's forced curriculum makes children learn arbitrary material that they're not even interested in and has no relation to their REAL lives. If you still have the chance, DROP OUT.
Discuss?
EDIT:
Source: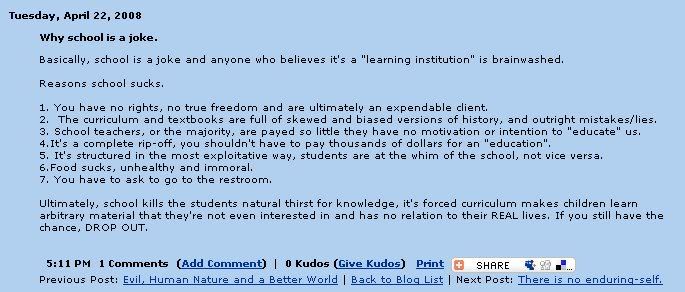 Last edited by -BlackZeppelin- at Jan 19, 2009,