Acoustic Advice...Aria AD-65 or Epiphone EF-500RA?

Join date: Oct 2008
20

IQ
I'm wondering which acoustic to go for, I'm budgeting around £500, so I'm thinking:
An Aria AD-65...
or an Epiphone Masterbilt EF-500RA...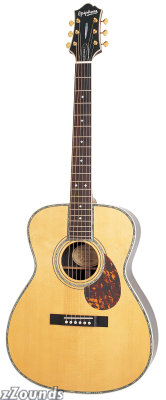 I like Blues and Classic Rock...mainly Clapton's style (unplugged is great). I have a Fender DG-4 which tbh, is horrid, lol. I only really play with a plectrum but would like to start trying fingerstyle too.

I'd try them if I could but my two local stores don't have either in, and I very much doubt they'd order two guitars in for me to try them and only likely go for one or possibly neither.
I heard the Epiphone has a V-neck which I like but don't know about the Aria, however it seems the Aria is basically a copy of a Martin, so maybe ??
There's no reviews on here (UG Reviews) but there is one of the Epiphone on Harmony Central and it's getting near top marks, also there is one of a slightly lower model of the Aria on there and the marks are near the same, so I'm guesing the ones for this Aria would
more than likely
be better...
...please feel free to make a suggestion of your own too.
Help is much appreciated!

Mike.


Join date: Oct 2008
20

IQ
Anyone?

I would go with the Epiphone. Every time I go to the guitar store, that's the guitar I pick up. They're well built and made of all solid wood. They have bone saddle and nut too. You can't ask for much more for the price.