Ibanez Pickup Question
So I'm converting from passive to active.

I bought EMGs; an 81 and a 60a.

I have an Ibanez RG2EX1 which came pre-installed with "Designed by EMG" pups.

I bought the 81 off of eBay and received the pickup wired but thats it, with the 60a I got from the EMG Online store.

Do I need another set of electronics for the 81?

Sorry that's such a n00b question, but I haven't explored guitar tech at all.

Also I heard I need to change my pots from 500k to 25k?

And possibly my input jack?
The pickup you bought from the store should come with everything you will need(input jack and pots) besides the battery. You will only need one battery unless you want to do a 18v mod. You should change your pots to 25k, and your input jack to a "stereo" type. Go to this site -
Clicky
- and find your setup and it will show you how to wire 'em up. Blackouts and livewires will be wired just like EMGs.
Ok, cool, thanks.

Another n00b question (Again, I haven't explored this territory at all) how do I change my pots and input jack? Is there any way to tell if my jack is already stereo?
If your pickups are passive now, then your jack is not stereo. To change pots, remove the knob, then remove the nut underneath. Assuming it's de-soldered it will come free. then just put the new one on, tighten the nut, and solder the wires back.
Good deal.

So how do I go about getting, and installing, a new jack?

Would the EMG I got from the store have supplied one?

EDIT: Never mind, I see that they did bring me one. :]

Thanks for the help and fast responses!

-Jordan
Last edited by Holocaust Angel at Jan 12, 2009,
Mono Jack (whats in your guitar now)

Stereo Jack(will come with the pickups)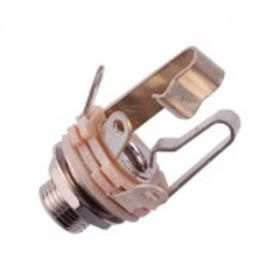 The jack is the same deal as the pots. Remove nut, desolder, switcheroo, resolder. If you run into some bad luck and don't get a jack with the pickups then you can probably pick one up at your local guitar store. You'll want a 1/4 inch stereo jack that looks like the one in the photo. If you don't get pots you probably won't be able to find them at a guitar store, though you can easily find them online at Allparts or Stewmac.