Plectrum necklace?
This may not be the proper place to ask this but it's worth a shot.

Okay so the other day I came across a website that sold picks that could be snapped on to and pulled off of a chain worn around the neck. Does anyone know any websites that sell anything like this or even what I'm talking about?

I'm constantly losing picks so I figured it would be a good investment, if a little gimmicky.
I know people that wear them. They seem to work pretty well. Check out MF, I know they have them on there. And for all you know, your local shop might have them.

Join date: Jun 2008
40

IQ
can get em at most guitar shops. my local store has them, as well as guitar center
I can't find them anywhere nearby unfortunately.

So if I want to get my hands on something like this it'll have to be from the web.

Join date: Sep 2008
20

IQ
Musicians friend has em, was just rummaging through it and they got em (labeled as jewelry)
Yeah I found those. They don't ship to the UK though.
Your pick is always close at hand with the Ice Pix Quick Release Necklace and its got fly looks too! Includes clip, chain, and pick.


a friend of mine just holepunched his pick and put it on a chain, simple.

Join date: Sep 2008
130

IQ
Yeah I found those. They don't ship to the UK though.
oh, maybe try amazon or ebay?

Join date: Jul 2007
470

IQ
My girlfriend got me this at Spencers a few months ago. It came with one pick but can hold as many as three thin picks. I changed the leather cord because it was too small and put the ball chain on it until I find a better longer cord. I keep two mediums in it the one with the cross came with it but it was a little loose so I use the other pick to keep them nice and tight.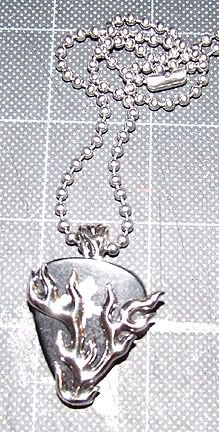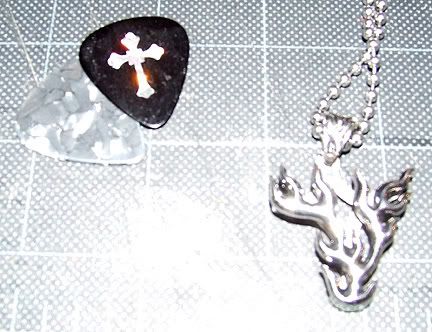 Sorry about the bad pics the batteries in the camera a weak.
John
Those are nice!
The best place I could think of would be on amazon or ebay.
Carmen (Invalid img)
My girlfriend got me this at Spencers a few months ago. It came with one pick but can hold as many as three thin picks. I changed the leather cord because it was too small and put the ball chain on it until I find a better longer cord. I keep two mediums in it the one with the cross came with it but it was a little loose so I use the other pick to keep them nice and tight.

Sorry about the bad pics the batteries in the camera a weak.

John
Well, I'm sure the UK online retailers have them as well. Just search around on their websites