Input jack problem
Recently I picked up my modded cheap harley benton strat copy to play around a bit, plug it into an amp, and there was a really loud sound-the same type you get when you set a radio or a tv to a "empty" frequency-. However, it dissapears as long as i keep my little finger on the input jack metal cover, or the metal part of the cable. Any ideas what is wrong and how do I fix this?
Thanks in advance
take off the plate, make sure both wires are connected.
Did that, both are in place. I know nothing about electrics, but the sound comes back when while holding my finger on the metal parts i lift my feet of the ground-is there something like"grounding" in a guitar and can it be damaged?
yeah there's grounding in the guitar that can quiet it.

but also swap the cable. a bad cable can do that.

Then, we can work on the guitar.
Checked on two other cables, nothing changed. However, after careful examination i discovered that one of the cables(dark one) some of its wiring kind of tattered(dont know if its the right word)-some of these small metal wirings its made of is exposed from under the plastic coating and many are broken- but the rest of the cable seems fine. is it the cause of the problem?
of it's touching something causing the buzz.
when you touch other metal on the guitar does the buzzing stop?
if not then it's the ground wire at the jack or maybe that the jack arm isnt grabbing the cables in the correct way.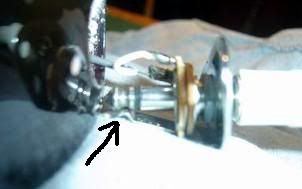 No,it only stops when i touch the jack or the metal part of the cable. Moving the cable in the jack seems to help a fair bit, not completly though. Does it mean i need to replace the jack and/or the cables?
swapping the jack honestly takes 5 mins. jacks cost a couple dollars.

but if the cables arent fitting in the jack correctly then yes.
(test it by inserting the cable)

if you think the black wire is loose or frayed, then a $15 soldering iron kit will fix that quick.
Ok, will take care of it when i come back from work-God knows when will it happen

Thanks a lot for quick and expert help