Could I do this without killing everyone in a big fiery explosion?
youre kidding right?

"thermionic

VACUUM

tube" mean nothing to you? theres nothing inside a tube
Nope, not kidding
Long before vacuum tubes were discovered as electronic devices, the blue glow of "not so clean" vacuum was discovered automatically. All you need is not so good vacuum, with a very tiny fraction of air, and the tube is gets conducting at high voltage, emitting bright pink light. These were the "Geisler" tubes, and soon these were used in all kind of variations. The discoverer of the so called Geissler effect, had no idea what caused it. You must imagine the days where electricity was just discovered, and street lamps had candles in it. The use of those tubes was only for impressing people with the magic of electricity . Later they made medical lamps of it. Though it didn't cure any disease at all, even real medical doctors were offering fake treatments with it. (Sounds familiar somehow)
The Geissler tube is made of a glass cylinder with an electrode at each end. They are vacuumed, but contain a very minor fraction of gas such as neon, argon, or air. Also conductive liquids or minerals can be used. When a high voltage is applied to the terminals, an electrical current flows through the tube. The effect that takes place is the following. Assume an electron gets freed from a gas molecule. Now the ion (+) goes to the negative electrode, and the electron (-) to the positive electrode. Since the weight of one ion is very little, it will accelerate very much and will hit the electrode with a lot of energy. On the way to the electrode it will hit on other gas molecules, and will free some electrons from those as well. The recombining ions + electrons will emit a frequency by the formula F = E / h. Where E = the recombining energy, which is a constant of the used gas. The factor H is also constant, so the frequency (spectral line) is always the same. Some gasses emit a frequency in the visible light range. Some can be in the invisible range. The light will be a characteristic of the material contained within the tube and will be composed of one or more narrow spectral lines.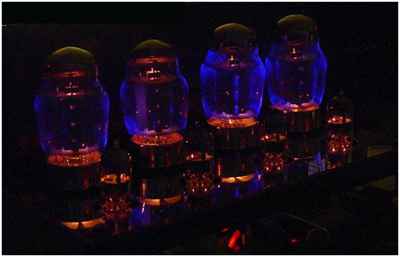 Last edited by zachman5150 at Jan 20, 2009,