Attenuator build.
Hey, need to tame my 120w bugera for bedroom volumes.
After looking at a Weber mass III, I decided to look at a DIY version.
I stumbled on this:
link
Can anyone tell me how many watts this will handle? And will this keep the impedance the same, or is it fixed?
Thanks
Louis
Okay, I decided to simplify, and go for this kinda thing, does the wiring look okay? Obviously I can move the lugs on the resistors to change attenuation, via the calculator.
Thanks, Louis.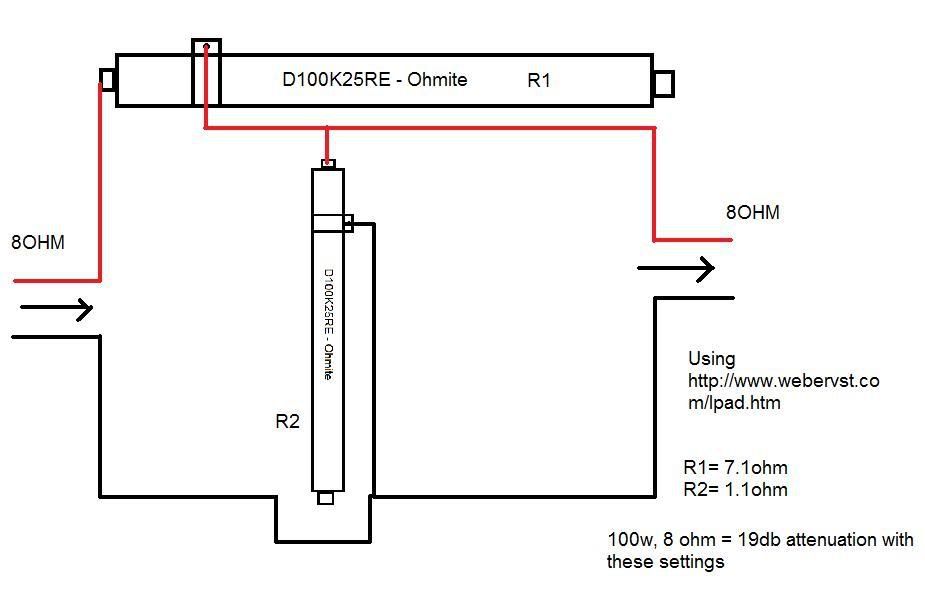 Join date: Oct 2008
30

IQ
Thanks, I'll bookmark it, but I'm gonna try this simpler one first.

Right, turns out that turning down on a higher ohm resistor also reduces wattage, so like 5ohm on a 100w 10ohm resistor would be about 50w, so to be safe, I'm looking at 500w resistors, and going for one 12ohm, and one 5ohm.

Almost edit: I think I'm going to have to have these made specially. The 500w seem hard to find, and the amp won't be pushing 120w unless it's turned up to that point right? So like, for regular above bedroom volumes might only push 70w or so? If that's the case, suppose I could go down on the wattage.
Hmm, totalled at $66.32 USD for the resistors and brackets.

Gonna cost around £50-60 GBP when I'm done.
Is it really worth building it?

Join date: May 2007
40

IQ
If it works, it's better than spending £250+ on something just the same.
Well shipped it's £95. Anyone know of any non-brand ohmites?