NPD (GMD Content)

Join date: Aug 2007
286

IQ
My GMD Luther arrived today!
Excellent price and was shipped in no time. GMD is a great person to deal with.
Craftsmanship is top-notch.
Warning: I'm horrible at describing tone, but I'll give it a shot.
Using my LP Jr and AC15, I a/b/c'ed it with a TS9 and TS808. I'm gonna a/b it with my FD2 later tonight.
First thing that I had noticed was the treble. I'm not a treble-type a guy. I usually set my amp and pedals a tad dark. Then I dial in just a bit of treble, for some bite. Well the treble on the Luther is very well-rounded. Even with the tone knob turned up, it doesn't get that "tinny" sound, which I can't stand.
Second thing is the pedal's voicing. It just stands out over the other two 'screamers. I went through the whole range of the tone knobs on each pedal. When the pedals were set, with compairable tone, the Luther just stood out.
I also tried it as a boost. I set the gain at 8 o'clock, tone around 11 and volume maxxed. Worked out really nice on the AC15. Then I tried it on my Champion 600. That also worked pretty good too. I did have to turn the volume down a tad though.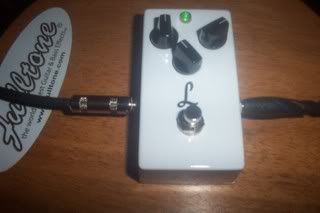 Now for the most important question: Is he really Jack Black???

Join date: Jan 2008
480

IQ
Reminds me of Death Note... Completely unrelated but thought I would say it anyway lol

congrats...
funny how you say you can't describe tones..it's the first time in a long time that I don't have to read the description twice to figure out what exactly is being said.