Doctors amputate Brazilian model's hands, feet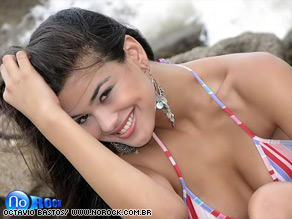 (CNN) -- During one beauty pageant, Brazilian model Mariana Bridi, 20, confided in friends that she was "living the dream."

Now she's fighting for her life in intensive care in a hospital in the Brazilian city of Serra, following a series of operations to bring a potentially fatal infection under control.

In the last week, she's had both hands and feet amputated. Doctors removed both kidneys and in the most recent surgery last night removed part of her stomach.

"They say her situation is very critical and that her chances (of survival) are not really significant, but she keeps on surprising everyone," Henrique Fontes, executive director of Miss World Brazil told CNN.

"Two weeks ago the doctor gave her 24 hours to live and she's been fighting and resisting -- she's quite amazing."

Less than one month ago, Mariana Bridi was a healthy 20-year-old who was well on the way to achieving her dream of becoming a world class model.

She placed sixth in the Miss Bikini International competition in China last year and took first place for the "Best in Swimsuit" category. In 2006 and 2007 she came fourth in the contest to become Brazil's entrant for the Miss World pageant.

Fontes told CNN Bridi had recently been selected to compete in a national modeling contest by the same person who discovered Brazilian modeling sensation Giselle Bunchen. Mariana had saved space in her diary for the competition in Sao Paolo this coming April.

That wasn't the only thing she had planned. Fontes said Bridi also dreamed of becoming a journalist. She was planning to move to Sao Paulo this year to begin her studies. She'd been living with her boyfriend, Thiago Simões, who is now spending as much time as he can by her bedside.

The pace of Mariana Bridi's deterioration from a vibrant, energetic young woman to a fragile patient in intensive care has been swift and shocking.

Mariana first sought medical advice after feeling ill in late December. Doctors said she had kidney stones but her condition soon worsened.

Bridi was eventually diagnosed as suffering a urinary tract infection. By the time the infection was detected it had developed into septicemia -- an infection of the blood.

Doctors decided to amputate first her hands and then her feet after the condition reduced the amount of oxygen being delivered to her limbs.

Dr Charles Clarke, Honorary Consultant Neurologist for the National Hospital for Neurology and Neurosurgery in the United Kingdom, told CNN that the development of a urinary tract infection to septicemia requiring amputation is "very rare."

However he added that "it's not a very rare thing" that septicemia is caused by a urinary tract infection. "That will happen dozens of times in any big district general hospital," he said.

"The difficulty clinically is that when most of these things start off, they just start off looking like an infection.

"And it can be very difficult to diagnose: you have a temperature and you're not very well. And you treat it and it goes on to the full blown picture. There may be no clinical evidence of that."

Mariana Bridi is now on life support and the only recent communication she's had with her family is through her eyes.

"She doesn't talk, she responds by blinking her eyes and she said that she wanted to live under this critical situation," Fontes told CNN.

He described her as very persistent and determined, "a person who enjoyed life and went after what she wanted without fears."

He told a story about when she first contacted him about entering a modeling competition in Brazil.

"When she first wrote to us asking for information on how to participate in the pageant, Mariana herself went after what she needed to compete at national level."

"In order to compete she traveled more than 20 hours on a bus going from Victoria to Curitiba," he said.

News of Bridi's condition spread quickly throughout Brazil and then worldwide.

A message on her Web site said that the volume of traffic to the Web site had caused it to crash, and that the site had received more than 15,000 hits in two days.

"The whole world, I repeat, the whole world is touched by the case of Mariana."

The message said they had received "emails of solidarity from all corners of the world: Australia, Ukraine, Czech Republic, France, Italy, USA, Russia, etc. "

Bridi's family and friends have urged people to keep praying for Mariana's survival. "Mariana is (a) warrior and will win this battle."
Pretty damn sad.
Searched and found nothing.
Update:
She died.
not long after I posted this actually

Last edited by Tire Me. at May 16, 2009,