copper sheild behind pickguard on strat?

Join date: Jan 2009
50

IQ
if you add a copper sheild behind the pickguard on a strat does it make that much of a difference?

where did you guys find the copper?

does it take away from the strat tone if you sheild it?

thanks.
yes, makes it more quiet.
stewmac.com self adhesive copper shielding.
it just makes it more quiet.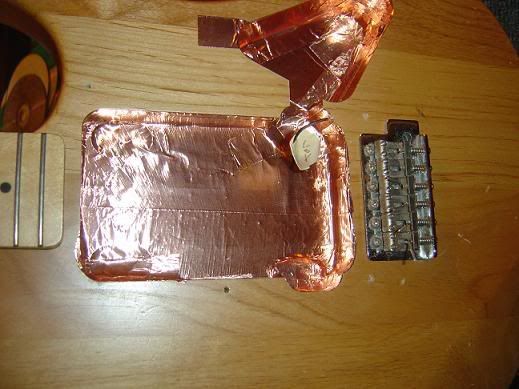 overlap the foil and lead a little out to a guard screw, for grounding.
Last edited by jj1565 at Jan 26, 2009,

Join date: Jan 2009
50

IQ
cool. do i just have to cover the pickups and the pots? thanks, jj
yeah lemme see....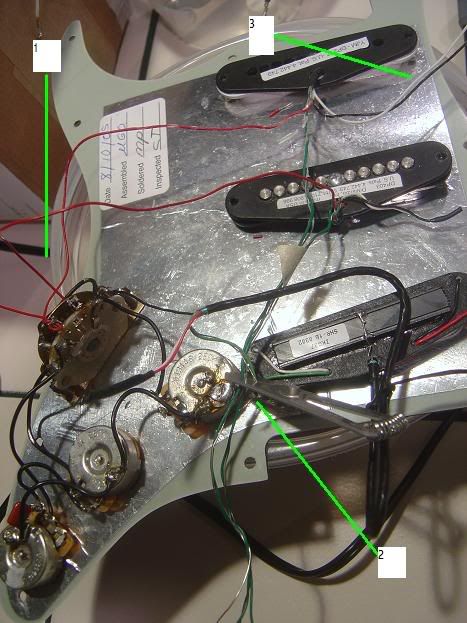 here you can see some foil. the pups, switch, and pots get taken off the guard.
then cover at the pots and switch mostly.
edit: the pic i was looking for...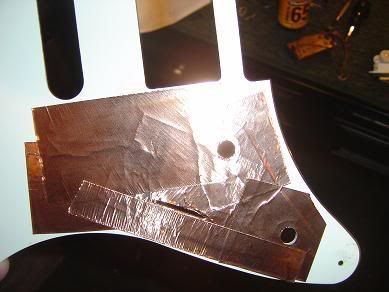 Last edited by jj1565 at Jan 27, 2009,
There's a pretty big debate about this amoungst Tele and Strat owners, especially on the Warmoth forums.

On the one hand, no it can't take anything away from your tone, so you might as well go for it.
On the other hand a lot of people don't find it makes the slightest bit of difference to anything, they get just as much noise as before, and it means now their guitar is covered in copper tape and it's one more pain in the arse to make sure it's grounded and yadda yadda yadda. Not worth it.

I think it's not a bad idea to try it if you're getting a lot of noise and you regularly use singlecoil pickups near lots of neon signs, but don't expect it to do much (if anything). I would also suggest you consider using shielding paint rather than the copper foil.
Join date: Jul 2007
60

IQ
You have to do the entire compartment and the pickguard. Also the big thing is the shielding has to be grounded to the harness. If its not grounded it doesnt do much. Star grounding will also help alot with noise. Some will put the shielding in the covers, and some pickups will wrap the shielding around the pickup itself making sure to ground it. Shielding the compartment and pickguard wont affect tone but shielding the pickup can affect tone.
i've shielded a few now.

the difference can be dramatic if you do it correctly.

i dont know how the guys in the warmoth forums are shielding strats, but..

ok, for example i've got this strat, always clicked when i touched the neck plate. drove me nuts.
i tried star grounding wires and moving things around, nothing helped.

it wasnt until i added shielding that it finally just stopped making the noise.

so i mean, $20 worth of tape has grounded like 4 of my guitars now. seems like a good deal.