Is this a good deal. Or stay away?
Here is the response I got from someone on craigslist. He's down the road from so it's not like I'd have to worry about getting scammed.

"I have a black Hohner G3T body (6-string headless licensed Steinberger copy)
and neck with no electronics (paddle-style body routed for SSH), partial
roller-trem (not TransTrem) w/ (lockable) whammy bridge assembly. If/when
intact, these guys are great players and command top $$; they're considered
superior to the current Steinberger Spirits. Not to mention the
travel-friendly portability of a headless guitar. I have a gig bag and some
extra strings to go with it.

You can have it for $25."

Strange looking guitar and I am not familiar with them, but it might be a cool venture.

What do you think for 25 bucks?
Dude, it's only 25$, go for it.

Join date: Feb 2009
200

IQ
what have you got to lose?

Join date: Dec 2007
200

IQ
for $25 you can't really go wrong, and you get to see the stuff first so, double win.
For 25 bucks id say hell yea.
If anything you can mess with it or smash it or something.

Join date: Jul 2006
20

IQ
Might as well...25 is 25, don't like it, sell it, otherwise in time you could have yourself a fully built guitar to enjoy or sell for a profit.

Join date: Dec 2008
210

IQ
If I'm not mistaken, they come with EMG Select pickups. Switch those bad boys out and rock the **** on, bro!
Good points. I'll probably look at it tomorrow if it's available.
If you buy it, and want to make some additional cash, MSG me.

Join date: Aug 2008
41

IQ
Throw some pickups in it and play it.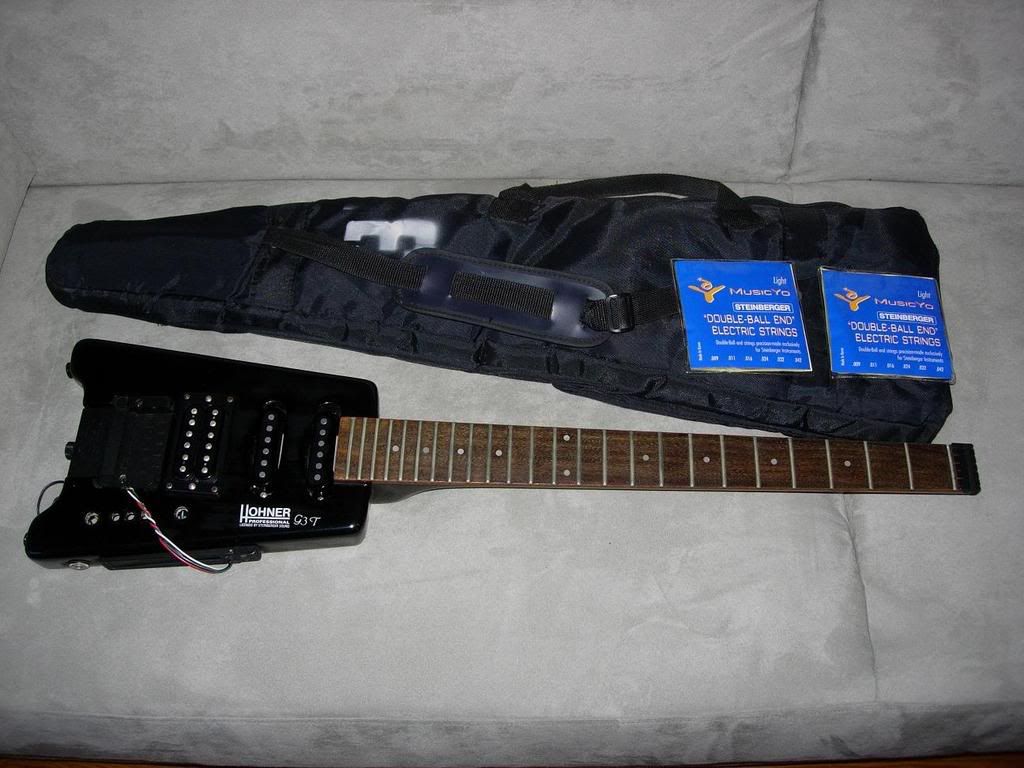 Turns out it does have pickups. He said they were "Bill Lawrence pickups". I guess these are not stock since they aren't EMGs, I don't know.
I need the bridge and some pots and switches and I'll be ready to roll.
CephalidHunter, I doubt I'll sell it. At least not soon. It's too weird.


Join date: Dec 2008
80

IQ
Go for it. BL pickups alone are worth at least like 5x that i'd bet.
I already got it. And he threw in a fender bass pearloid pickguard too.
btw CephalidHunter, if you know of where I can get replacement parts, please let me know. I need the top part of the bridge.

Join date: Dec 2008
20

IQ
For $25 you could have done much worse. Nice buy.
Join date: Feb 2007
150

IQ
God that thing is so weird yet completely awesome at the same time.
It's definitely strange. The main reason I bought it. I heard some Youtube vids last night of them and they rock out pretty good.

I need the bridge piece and the rest is cake. Simple switches and pots. Might be hard to do though without dropping a wad of cash. That was the reason the dude sold it to me. He couldn't ever find the trem system.
Looking quickly on ebay, a complete one goes from £200- 450 ($300-660) so it looks like you did well..
the bridge is the most expensive part of the guitar. around 50-150 for the top part of the R-trem.
Well, whatever it costs, I need one. No use having a guitar that doesn't work.
I just got a price quote on an entire new R trem, and tremolo arm for $85. Right from Hohner. Sounds like this will be my best bet.
that is very useful to know, they go over that on ebay all the time, since steinberger doesnt make spare ones anymore.

Join date: Dec 2008
210

IQ
You did real good, bro. that thing's gonna sound awesome.
Thread resurrection!
So....I finally got off my arse and ordered the trem...4 months ago. It finally came in. A quick google didn't turn up anything reliable so I decided to ask here.
Anyone have an accurate wiring diagram? Plus I need the switches and pots(ohm recommendation?). Knobs would be nice but getting it playing is more important atm.
Thanks in advance.