New Baby!!!!

Join date: Feb 2009
10

IQ
hey crew,
just thought id show off my new amp,
a fargen customshop blackbird.
if you dont know about these amps they are awesome, handmade boutique amps.
worth checking out if your on the lookout for a new amp.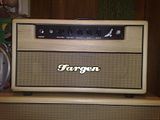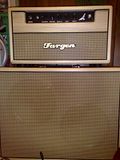 http://www.fargenamps.com/
my blogg
Nice, their Mini Plex looks pretty cool.

Join date: Jul 2008
270

IQ
nice.................and they make handwired plexi copies too i might check these amp someday but i dont really know.
if you could post clips/videos of it that would be great


Join date: Feb 2009
10

IQ
umm, would love to but where i live right now there is no room to record anything.
there are a few clips on the fargen website if people are interested in them, but this is a blackface
clone, and is the best blackface i ever heard. before i bought one i went around playing numerous
vintage fenders and other blackface clones. this one is the best in my opinion.
oh wow, sweet! those fargens are meant to be badass, never been able to try one though