1st Build Kramer 5150
I've already got a frankenstrat and I painted my bass like the bumblebee and then reliced it to hell and back twice.
So now I'm gonna try my hand at building a guitar.
I love van halen so the next choice for a guitar came to the shark or the 5150. The 5150 won because it's alot simpler than the shark.
So today I went to the hardwood store(no lumber yards around here carry thicker than 1 inch) and I bought a 1 3/4 thick 8 inches wide and about 2 feet long board of poplar for 15 bucks.
What would be the best way to glue it?
Part of the guitar plan hangs over the side.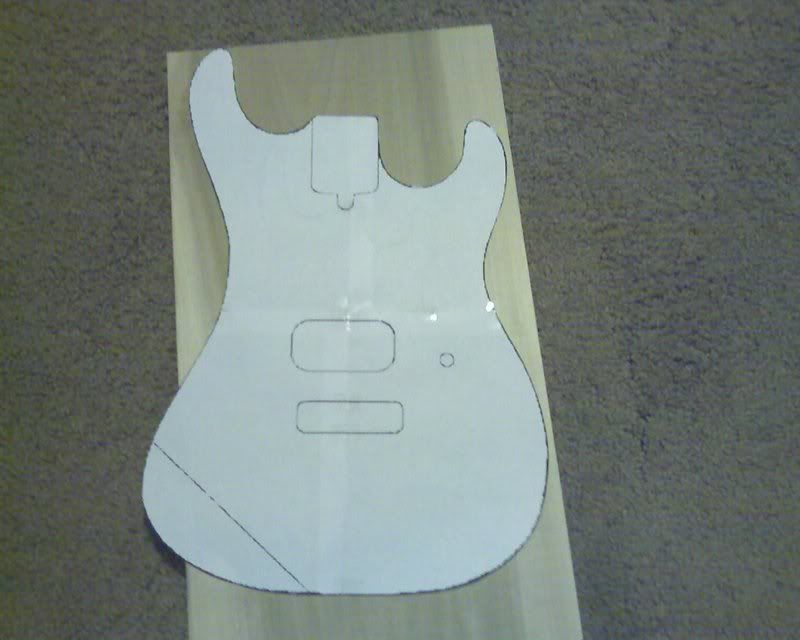 I'm going to cut off the chunk at the end and glue it onto the side where the body hangs off the piece of wood. Should I face the grain the same way or does it matter seeing as the piece is not under tension?
Last edited by pk1802 at Feb 11, 2009,
Personally, a Shark-esque wouldv been awesome. Like same shape and paint and everything, just not with all the extras he put on it, like the eye screws and stuff. And what about the Zebra, the guitar on the first VH album cover? I havent seen too many, if anyone, do that one.

Join date: May 2007
283

IQ
There is a book also called : Make your own 5150.
Its about the same guitar you are making. It goes thru everything starting with the paint. Does not show how to cut wood and all that, but its excellent for painting tips and things...

I can get it for u....pm me if interested
Thanks for the response guys.
I was thinking about doing a black and white vh1 guitar, but I wanted to do a pretty close to realistic replica and the vh1 doesn't have a floyd rose and that's one thing I really want with my next guitar.
Thanks for letting me know about the pics, I have a lot too.
As for the book, i've seen it but i'm a member of a vanhalen fan site and the amount of replicas on that forum is amazing. I'm getting all my tips and tricks from there. But if you have the book from cheap to free i'd be interested.

Last edited by pk1802 at Feb 11, 2009,
Progress
I've cut and glued the pieces together to make a blank big enough for the plans.
I took some pics of the glueing process so you guys can give my constructive criticism on all the things I did wrong.
Here is a pic of me tracing the plans onto the wood.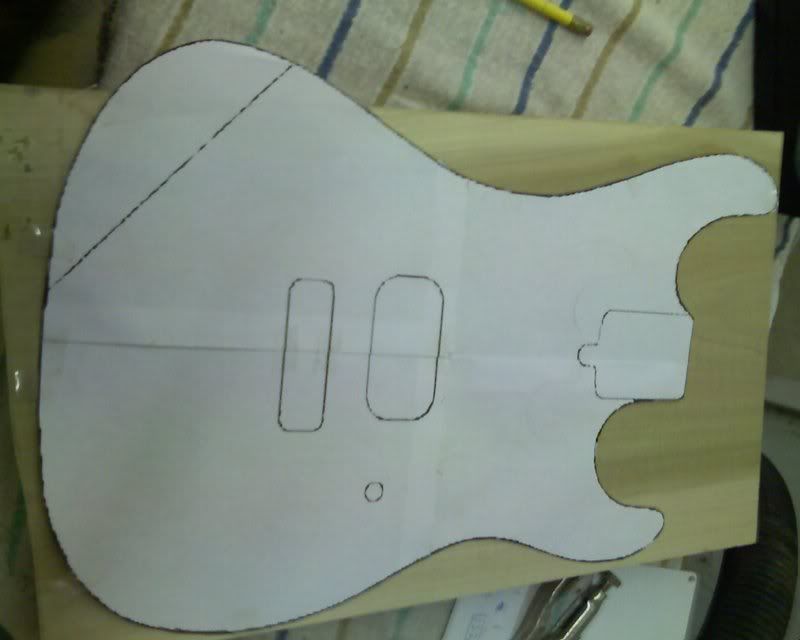 Then plans on the wood, you can see the pencil if you look hard enough.
A demo run of my brilliant clamping system. (stick the wood between clamps and then jam a wedge in there to keep everything tight)
Spreading the glue: Tightbond II. I'd like to thank starbucks for my spreading tool.
I made an oops, I realised shortly after this pic that the excess glue on the bottom is going to glue all 3 pieces of wood together.
So I stuck some wax paper between the bottom piece of wood and my guitar body wood. I know that it will stick but I hope that it will just be wax paper that I have to sand away.
That's it for today, tomorrow when the glue is dry i'm going to start cutting the body out.
Pretty close template, where abouts did you get it? Looks good so far, just don't glue your fingers together

It was actually a picture compairing a strat body with a pacer special(is that what it is?) body. I just opened it up in paint, erased the strat body and did some maths to blow it up where the neck pocket is standard strat sized.

I still have the template, I can give it to you if you want. My printer does wierd stuff when you print across multiple pages so I can't gurantee it will come out the right size, but I can give you the math formula to print it out at the right size.
Last edited by pk1802 at Feb 13, 2009,
Naa its cool man, I bought my own 5150 body and yes it is a Pacer Special body. A lot of people think its a Baretta but its not. You can tell by the pickup routing and control cavity.
Just know the offer is there if you want it, one kramer fan to another.

I knew it wasn't the Baretta because the pickup routing on the Baretta is at an angle.
I just wish Music Yo Kramer was still around, I could be saving my self alot of work an have just bought a Pacer... Or a steinberger mmm trans-trem mmm.
I'm enjoying the work though. I actually wish I could have started a couple more projects along with this one. I want to see what my craftsmanship on this is like first though.
You can, they are still available. Kramer came out with a 'reissue' Kramer Pacer Imperial in late 2008 and even thought they closed the Music Yo website you can get them through retailers. Thats why they closed the site cause they want to get into retails stores and get the brand out there...finally. Contact Tomi-o Music they'll have them in stock soon. There's a black, trans blue, trans red and trans amber finish available.
http://profile.myspace.com/index.cfm?fuseaction=user.viewprofile&friendid=129532038
Sweet, I was told that they were going to start selling them at retailers, but knowing Gibson I didn't know if I could trust that.
Ok so I did a little work this morning.
I left the glue to set up last night and the wax paper worked, it stopped the bottom wood from sticking to the top wood, there is a little wax paper stuck on the wood but not any that can't be sanded away.
Then I cut the shape out of the piece of wood, I think it looks pretty good.
Tomorrow or sunday I am going to round the edges and make the glue joint look pretty. then I need to figure out what I am going to do for a neck and parts.
Well, i'm not gonna be able to work on the guitar today, I have a lot of normal human existance stuff to do, like work, shop, and my homework.
But I thought I'd show you vanhalen fans what I found at the mall. They reminded me of eddie's guitars so I had to buy them.
Last edited by pk1802 at Feb 27, 2009,

Join date: Sep 2005
70

IQ
I fixed it. I uploaded the pic straight to photobucket from my phone and the link it gave me was wrong.

Join date: Sep 2005
70

IQ
Those are sick! I'm jealous.
I got them from a booth at the mall and the belts were 4 for 20 bucks so my friends and I got 4 total and walked away with belts for 5 bucks each.

I gotta work, so i'll update later if I can.