Shoop yourself a beard
As the title says, shoop yourself a beard. Original + shooped pic if possible.
For bearded people, shoop yourself un-bearded if you want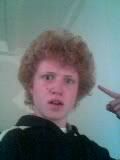 Old pic, but you get it.
EDIT: Due to the fact that this will mean pretty much one pic per person, feel free to shoop a beard onto anything or anyone.
Last edited by JDbbx at Feb 12, 2009,