Admira Elvira anyone?
This is my dads old Classical guitar. I love it, but i'd like to know more. Anyone heard of this particular model? i beleive it was made 35 odd years ago as my dad bought it in the 70's and its out of production now made in Spain, thats about all i know.
One thing i dont understand is it doesn't have a model number :\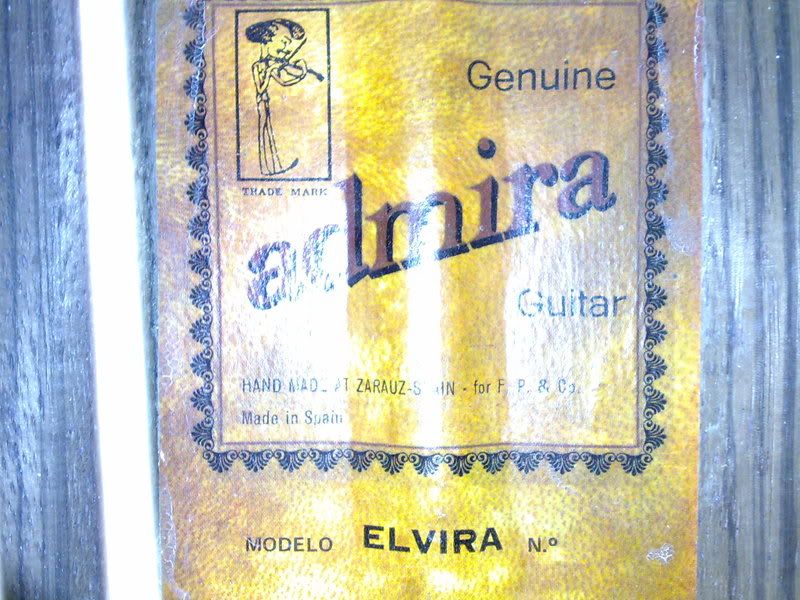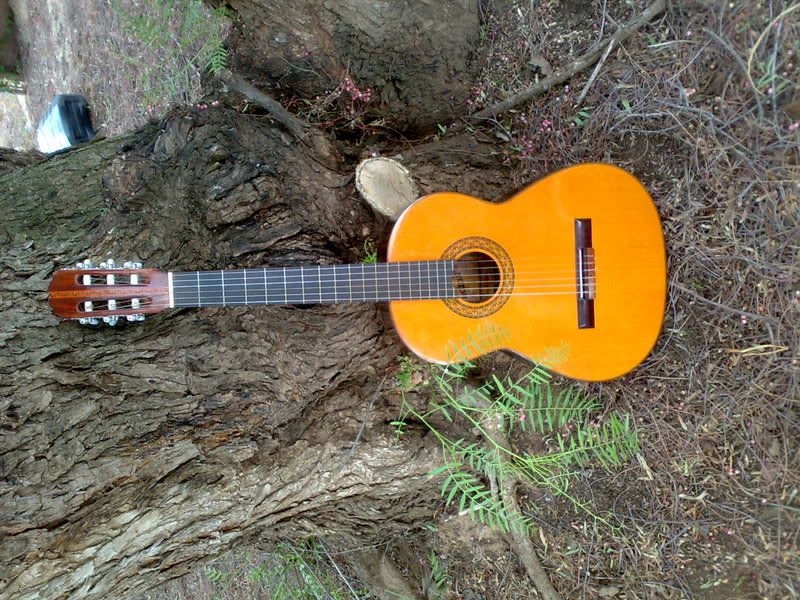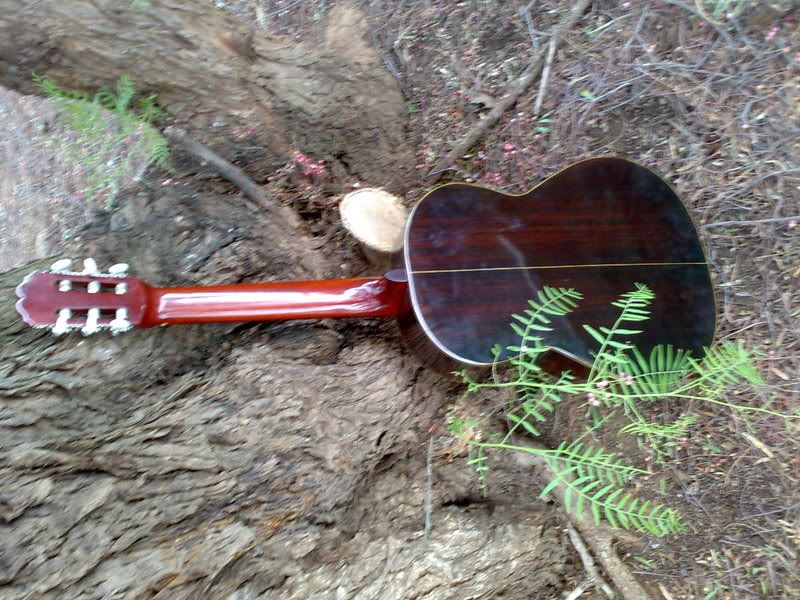 Looks like rosewood back?
not sure of the wood on the top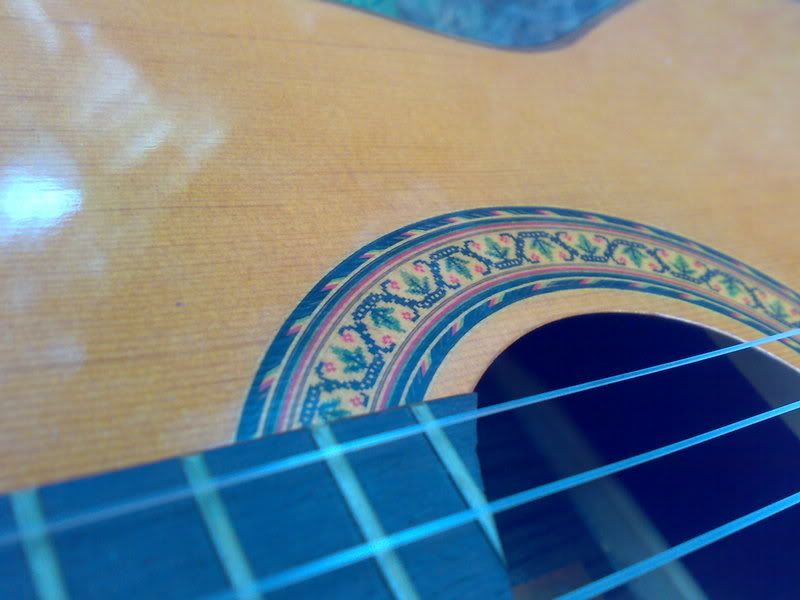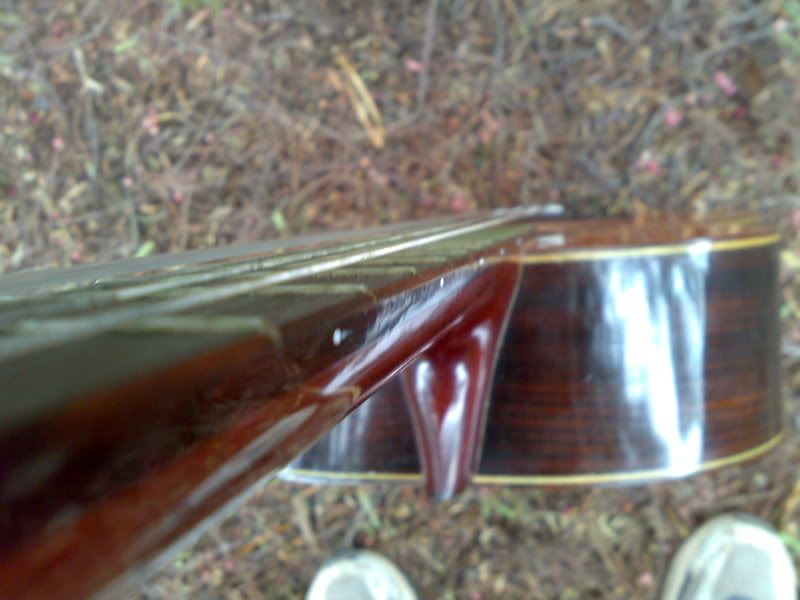 Note that i added in the fret markers a little while ago with white hobby paint to make it easier to play.
Any help would be appreciated.
Last edited by .:Darkness:. at Feb 14, 2009,
Pretty guitar. Good work letting it sit on all those sticks.
stfu sean. I was VERY careful with it. i wouldn't let this guitar come to harm

Looks really nice dude.

You're right. Back/Sides are rosewood. The top is spruce. I'm 99.9999999% sure of it.

Take good care of her, eh? She's a beauty
Ah good old admira's

that sure is a nice one
Top looks like cedar to me. Spruce is a clearer wood. Cedar is a red wood.

Join date: Dec 2008
60

IQ
Kill it with fire!!!

Jk.. never heard of it.... but yes, i would keep it close... Ever had it checked out by a luthier?
I wouldn't say 'luthier'. Its had its tuners changed by an experienced guitar tech that works at a store. I remember when i first found it the tuners were terrible. one of the heads were cracked, two of the cogs slipped and one of the 'bits where the string wraps around' were cracked. The ones that are on there now work a charm and they look really nice.

I google-translated a french site where someone reviewed this guitar and the guy said the top was Pine. Possible? I've never seen a pine top so i wouldn't know what to look for.
Hello
Excuse me for my English. I'm French and my English is many decades old.
I own (I have owned ? I don't remenber...) an Admira guitar, model Elvira since 1975.
I've never changed it because I love it.
A few years ago, I sent an email to the Admira (Keller) website because I wanted know what was the quality of my guitar and what kind of wood it was made of.
I received a reply two weeks later.
You can try to do the same. (
http://www.admiraguitars.com/contact.aspx
)
Perhaps I can help you...
Best regards
Jacques
hey Jaques,
what was the reply? might be quicker you just told us!

pabsdiabs
for sure

I've long admired Elvira.


Last edited by TobusRex at Oct 27, 2016,
Admira guitars are very good.
My old classical - bought new in 1968 - is a BM Espana. The "BM" stands for Barnes & Mullins who are a large UK musical instrument wholesaler who have been in business for well over 100 years. I understand that they used the Admira factory in Spain to build their guitars. They are now the UK wholesaler for Admira.
http://www.bandm.co.uk/

Join date: Oct 2016
10

IQ
.

arkness:.
I have one looks exactly like yours.