Greenbusrt LP, 1st build
I started this build back in December (also made a thread for it) but i kinda let it die....figured id start a new one because im interested in doing this as a hobby and see if i can make some spare money doing it. So bring on the "constructive" criticism

.
Lets start out with specs:
Poplar body
Mape LP neck w/Rosewood fretboard (ordered from warmoth)
No name, black, wrap-around bridge and machine heads from guitar fetish
No name humbuckers (craigslist)

and other miscellaneous bits and pieces not worth mentioning from stew-mac, guitarfetish, etc.
Poplar body...only wood i could get my hands on from local stores

plans for the body were sized incorrectly on the UG template thread

got em sized right

(still ordered the plans from stew-mac later on for other measurements)
i got more pics but dont wanna double/triple post em...im almost done with this thing actually

Join date: Jun 2006
50

IQ
i posted so post moar now pls kthxbai

Join date: Apr 2007
30

IQ
i posted so post moar now pls kthxbai
Yeah, if its further along, show us!!

Join date: Jun 2007
291

IQ
did you print that template at 100% ( the good one)

I'm trying to figure out the sizing error...
@ metalwarrior: the instructions say that all templates unless otherwise noted are to be printed at 200%....they forgot to note that one
and as requested, more pics
Glued and clamped, and dont yell at me about the end grain fiasco (got scolded already for that mistake

)
my VERY rough cut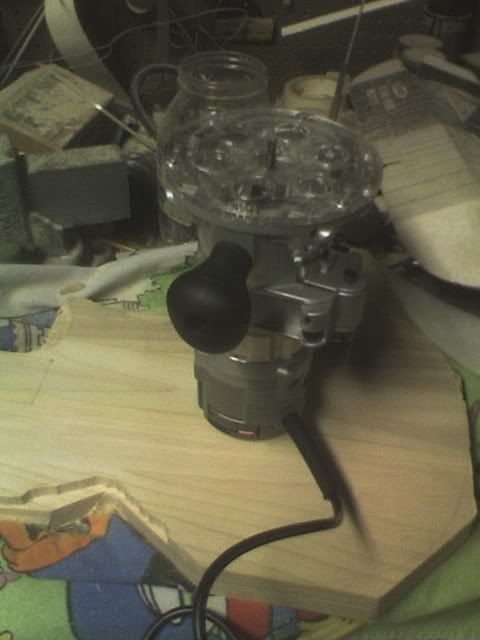 didn't have a jigsaw so i did it free hand with my router...it cleans up in later pics, promise.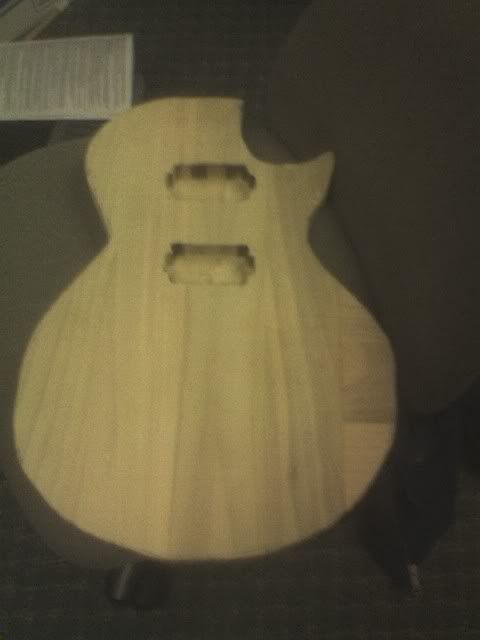 pup cavities routed
holes for pots and 3-way switch drilled
quick mock up (not the pups im going to use, just some epiphones i had laying around for a test fit)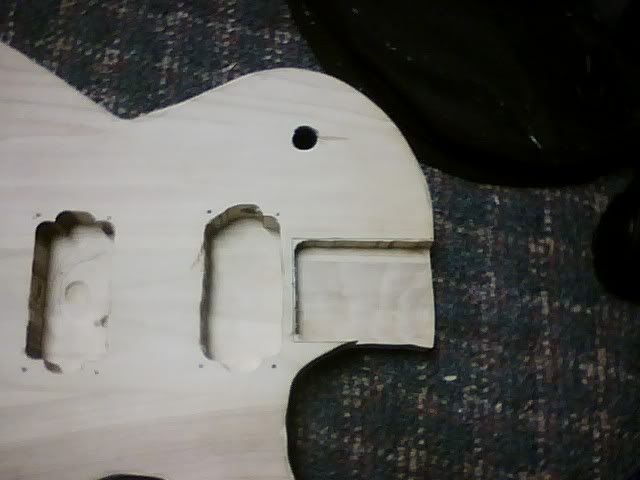 routed the neck pocket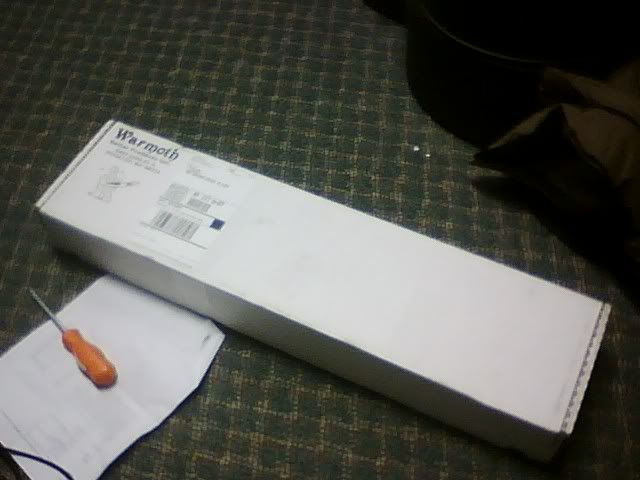 hmmm...what could this be?
tada!!!!

Join date: Mar 2008
180

IQ
wait what was it...

Why'd you cheap out on all the parts?

Join date: Dec 2006
40

IQ

Why'd you cheap out on all the parts?
you cant really blame him for cheaping out on the parts for his first build
i mean i know ive seen some damn good first builds but the majoirty (including mine)
werent worth investing large amounts on good hardware
now im not saying that this build wont turn out great just that sometimes its better to err on the side of caution
yep, it all comes down to money, money and more money...im trying to save up enough to move out so i wanted to try and keep things cheap.....anywho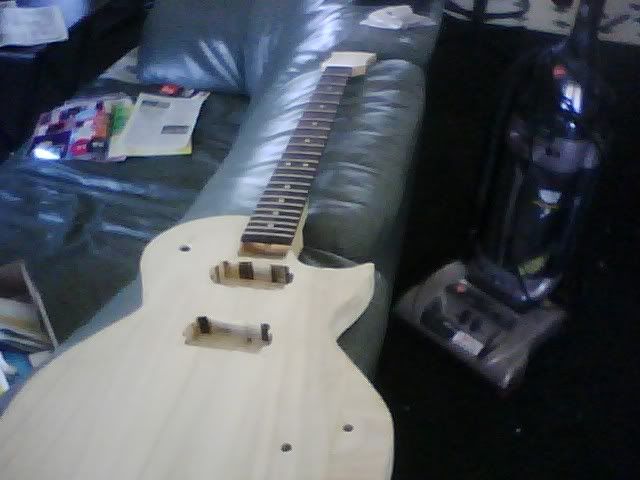 looks nice...but wait whats this?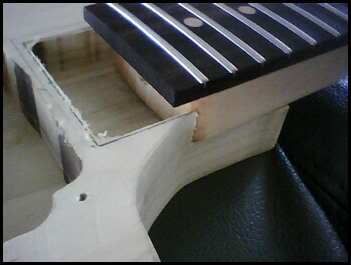 darn...so close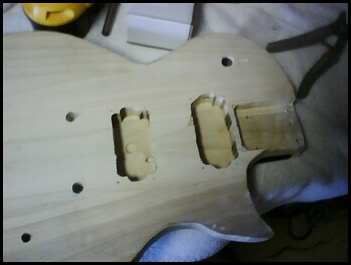 widened the neck pocket slightly and drilled the bridge holes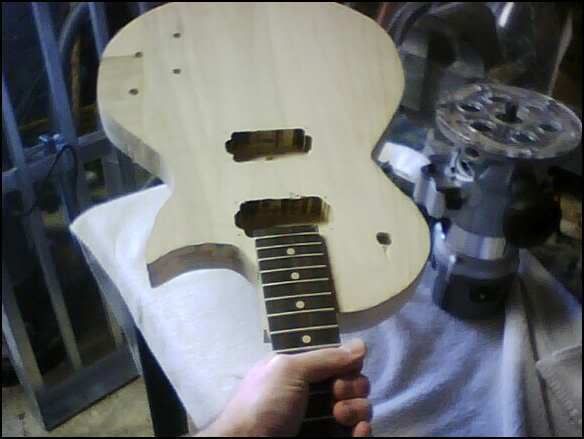 Ormsby neck test!!!!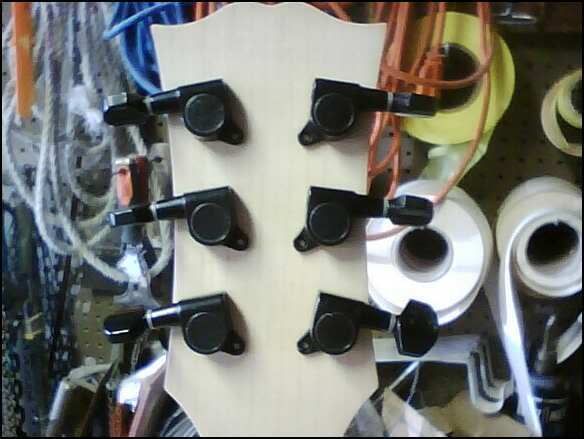 tuners fit nicely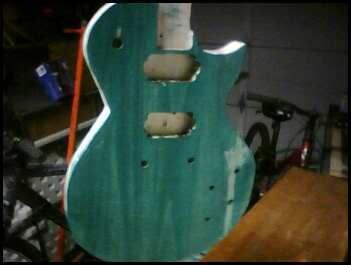 northern ivy stain...and yes i notice the line exactly where the glue on the end grain was. i'm gonna try and cover most of it with the black lauqer im using as my burst effect. And thats where i am so far...just finished the last coat of sanding sealer and am gonna do the laquer when im off from work
Last edited by rylock4 at Feb 16, 2009,
Its gonna look really nice.
Keep it up man!!

Any pointers? I think i'm gonna start building a guitar in the near future.
4 things...1. tutorials on here are your friends, lurk the hell out of this forum.
2. buy a guitar building book...melvyn hiscock or mark oakham are widely mentioned here
3. measure, measure, measure, measure....did i mention measure? then cut
4. LP addict and nuttin are the people to go to for your supplies....sadly i didnt but i probably will if i do another build (if those fine gentlemen arent swamped with work)
Thanks rylock.

It turns out that Mr. Google is a good friend to have.
Good luck with your LP.
So, when i got the neck from warmoth and i chose the "no finish" option i didnt see the fine print where it said that all their necks get sealed before sending. I intended on staining the neck the same color as the guitar and bursting the neck as well. But since i couldnt do that i just decided to but the laquer finish on it. Black laquer to be exact

.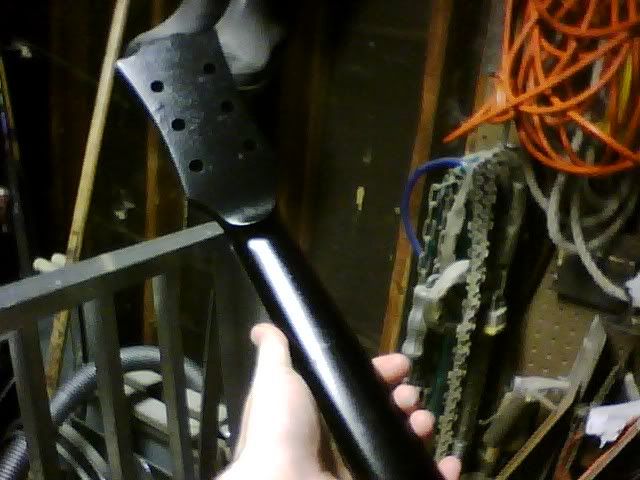 Bursting the body is also done, even though the front got the burst a little more than i would've liked.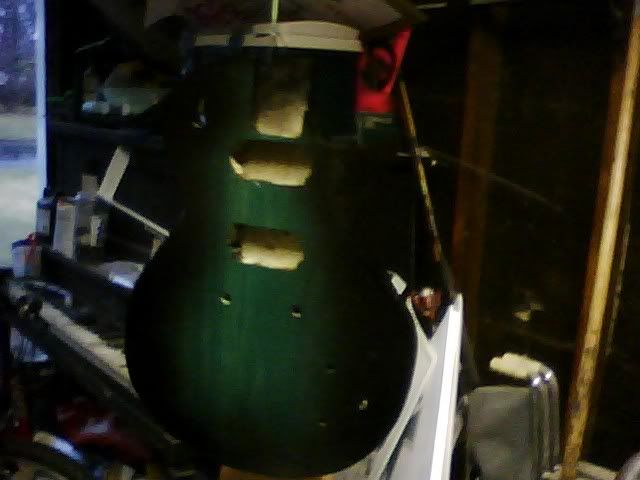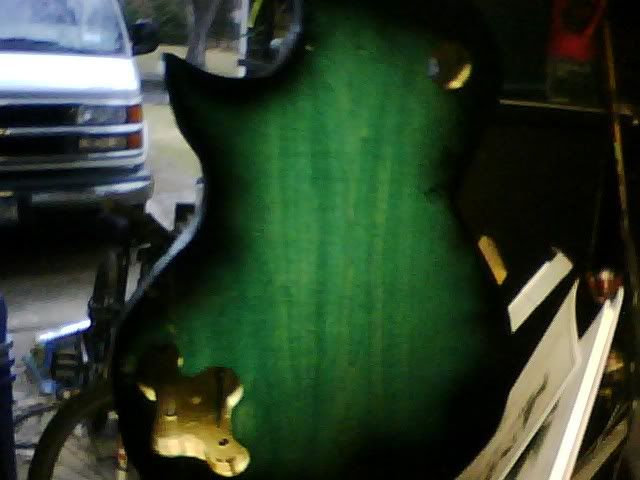 She's done, i f*cked up somewhere on the wiring and i gotta go hunt the mistake down. (That's what i get for going gung-ho into it

)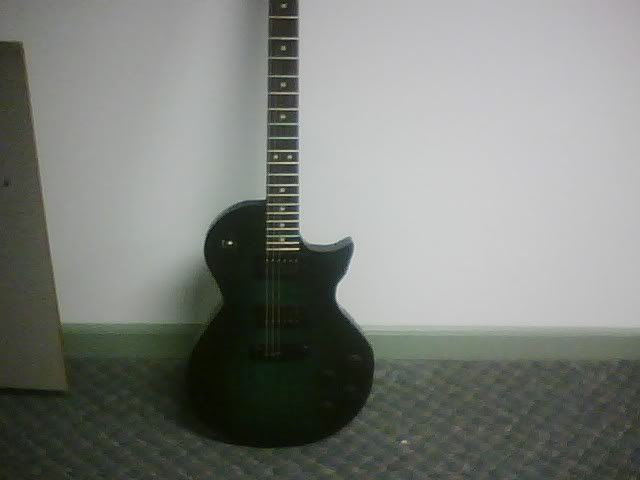 all in all it wasnt a total disaster, and as always...a learning experience

Nice build, but i suppose your second build will be better.

The body still seemed like it needed some cleaning up to me.
Yea, it did. Impatience got the better of me....and my router the first time around lol.

Join date: Mar 2006
418

IQ
It's not perfect, but for saying it's your first build AND you did a burst style paint job.
I have to say you did a good job!
Nicely done on the burst even though it didn't turn out exactly how you'd have liked.
Now get building more


Join date: Apr 2006
30

IQ
Looks good for a first build.

Something always feels so wrong though about gibsons with bolt on necks.