New Speaker time - Eminence vs Celestion?
Well, no one's really posting much in the ultimate speaker thread, so I decided to post a new topic for this
So I recently picked up a Mesa Boogie F-50 head. Actually, yesterday

After plugging into this beast with my 2x12, I've decided it's time for a speaker swap. I'm currently running Celestion V12-60's (Discontinued). I guess the way I could describe it best is sort of like a greenback with a fatter low end. However, I've decided there is too much midrange and the voicing is too vintage for the sound I'm after. Although they're awesome for classic rock and bluesy tones, I'm needing something a bit more modern sounding and better for high gain.
I suppose I could go after some Celestion V30's, but I want to hear other opinions and suggestions first. I was checking out some Eminence speakers, and it seems like they might be an equal or better buy for cheaper. What are some options I should consider?
You'd love to hear from me wouldn't you.

The f-50 doesn't come stock with v30's?
my f-30 did...
v30s have a lot of upper mid range bark. probably not up your alley, check out celestion g12t75s. they're a more scooped sounding, big tight low end, aggressive high end speaker.
tona_107: I have a custom built 2x12 cab. I just bought the head by itself.

Al: My main concern with the G12t-75's is that they may be too scooped sounding with a dark voiced amp like a Mesa. I love them with EL34-based amps though.

I like my mids in moderation, but believe me, even with the contour switch engaged on this amp, the result is still a mid-boosted tone.

I guess the good thing is that I can go try this head out on a V30 or G12T loaded cab, but Eminence would more than likely be a buy without trying deal.
Have you thought of a mix?
Last edited by Horlicks at Feb 17, 2009,
It isn't just a question of swapping speakers. they have to match the cabs. A cab that is too small will give a bass hump and cut the low bass, too big and it will squash the bass unless it is open backed. Open backed speakers are specially designed for this application.

You'll get sound, maybe even the sound you want but it will be pot luck if you haven't done a bit of design work. If you want to custom build it is better to start from scratch.
Well, I can tell you this much about the specs on the cab. They may not be 100% exact since I'm not at home to look at it right now, but these should be close..

It's about 27-28' wide, 10' deep, and maybe 18' tall, or just in case metric system is preferred, 68-70cm, 25-26cm, and 45-46cm for the dimensions. It's based off of an Carvin cab design, but made a bit wider, because I was originally planning to use a Mesa Boogie rectifier with it (which will fit on top of it very well).

If I remember correctly, the wood used was pine, with very little to no plywood at all, if that helps (And is about 1/2 an inch - 3/4 inch thick).

I'll get a picture or two of it later today and post it here.
Ok, bump time! Sorry for for the delay, I have the exact specs and a couple of front-view pics to give you an idea of what I'm working with. It is 27' wide, 11' deep, and 17.5' tall. Without further ado..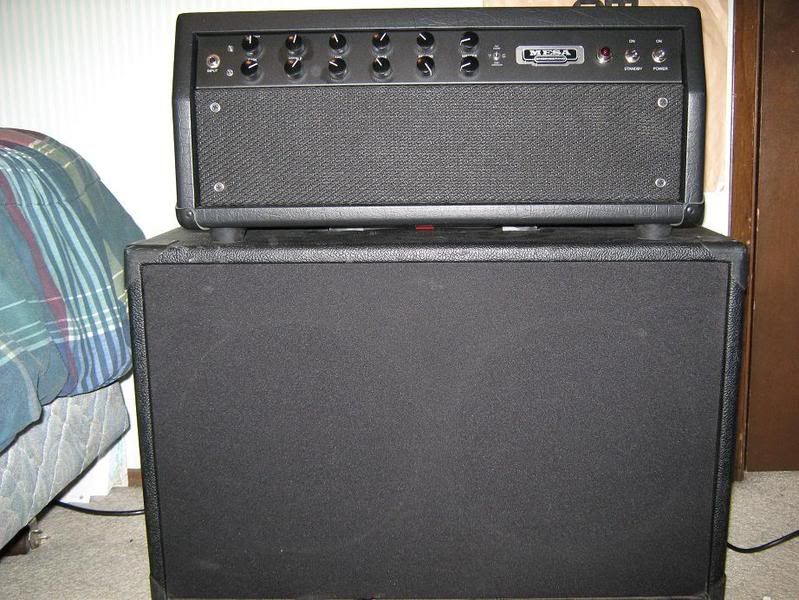 If I didn't mention it already, it is closed back.
Also, to kinda put it a better way as to what I'm after, I'm looking for a bit less mids (but not scooped), and something to smooth out the highs. These speakers sounded great with my Windsor, but they don't seem to collaborate very well with modern voiced high gain! it sounds on the harsh side, especially in the upper mids and highs (and slightly muddy bass, but nothing unbearable). I've heard that V30's or Governors fix this problem without scooping the mids? and that they will tighten up the low end a bit?
bump?

This. Personally, I'd go with an Eminence if you wanna smooth out the highs. Maybe the Legend 1218 if you don't think you'll like the Texas Heat.
Last edited by Shinozoku at Feb 20, 2009,

Join date: Nov 2006
1,222

IQ
Celestion V30 or Eminence V12 Legends should be best with that amp.
Celestion V30 or Eminence V12 Legends should be best with that amp.
Have you tried an Eminence Governor? I'm reading a lot of reviews on them saying they're basically like a V30, but better.
Cab looks nicely made.

I'll try to make time to pull the specs off the eminence website. Celestions will take longer because they don't publish them for their guitar speakers I'll then have a quick look to see how well they match your cab.
That'd be rad man, thanks!
OK the Texas heat and the Legend V128 will both work in your cab which will give them both a bit of a bass lift, which will give you a bit of warmth to the sound. I've emailed Celestion to get the parameters from them but they have bigger magnets than the eminence speakers which I generally prefer. Both Eminences have a big frequency drop out at 1500Hz and a whopping boost at 2-3kHz so will give a 'British' sound.

If you go onto the Eminence website they have clips of how their drive units sound, definately worth checking out before you buy.
Very rad, thanks a lot man! Yeah, I've checked out the sound clips on the Eminence web page, but I guess in a way, sound clips only do a piece of gear so much justice. Though I will listen to the Texas Heat and V128 clips again when I get a chance.
A British vibe from the speaker is actually desirable IMO. I think it will compliment the Mesa nicely.
Now, what I can also do, is when I get some new recording stuff (soon, waiting on that tax return), I can record some clips of the amp with the current speakers to highlight some of the issues I'm having with the tone, which might help you help me

I'm not a guitarist, I play bass and I can do the technical stuff, but I'm not the best judge of tone. The clips are interesting but there is a distinct British tone to many of the speakers in the clips. I guess that for a fair comparison they used the same guitar for all the clips and that dominates the resulting sound as much as the speaker. Interesting though. I too will go back and have a proper listen and try to see what really stands out. I wish other manufacturers would do this.