Is this acoustic guitar worth fixing?
I aquired an old guitar from my grandmas house and have a few questions about it.
is it an acoustic or a classical - it had steel as well as nylon strings on it the high e string was steel meaning acoustic but the g string was nylon ...lol....
Do you think its worth buying new tuners, fixing the bridge and nut and maybe refinishing this guitar? i tried searching the make on google but not much came up so i dont know how good it is... im assuming its pretty cheap/basic.
The neck seemed to be in good shape, the notes were in tune all the way up so it isnt warped/bent or anything.
edit - its a dana cg320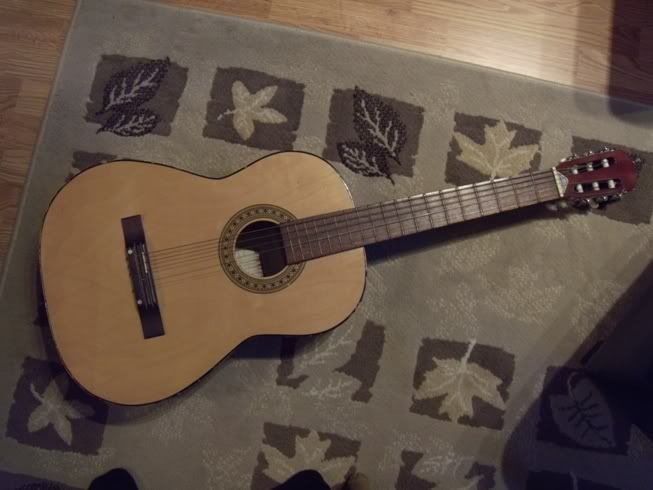 Last edited by zarsss at Feb 18, 2009,
That's the way classicals are. Steel wrapped nylon and then just nylon. Does it feel good? I have an Aria from the 60's and I love it. Even though Aria has always been a cheaper brand, it's still leaps and bounds above most modern low end guitars,
it seemed decent, better than some i've tried, but I can't really try it properly because only 2 of the tuners have the actually grips on them and a strings missing. The high E string is steel though, and my grandma said the single nylon string was added after, she said the original guitar didnt have any nylon strings so wouldnt that make it an acoustic?
Well no matter what type of strings it has, it's still an acoustic guitar. But there are "Steel String" and "Classical" acoustics. Those style guitars are designed to have nylon strings and frequently can't withstand the tension of steel strings.

I love classical guitars. If you feel like you're going to play it enough that it would be worth purchasing new tuners for it, I'd do it. But there may be nothing wrong with them, the strings may just be tied incorrectly. What do you mean only 2 tuners have grip.

Join date: Nov 2008
471

IQ
can you even refinish acoustic guitars? and it looks fine to me, just get some new, nice and tidy nylon strings, you could levae it as it is and mabey if you lucky you could get it to look like willie nelsons guitar.
so your saying it's a classical acoustic, not a steel string acoustic? because I already have a classical and an electric and was hoping to add a steel string acoustic to my collection.
By saying 2 tuners have grip I mean the little plastic handles you hold to turn them are fallen off so you would have to use pliers to tune the guitar... but the tuners are old and stiff so I would want to get new ones anyways.
Yeah, that's definitely a classical guitar. And you probably would need new tuners. I doubt you could even get the tuning heads.
Yeah, that's definitely a classical guitar. And you probably would need new tuners. I doubt you could even get the tuning heads.
k well heres where it gets tricky, I just cut off the 3 thick strings. I look at the cores and there steel not nylon, so if 4 out of the 5 strings that are on it are steel, then what makes you think this is a classical guitar?
1: it has a classical bridge, not that of a steel string.
2: It has a classical headstock, barely ever used on steel strings.
3: The string spacing is wider than that of a steel string: it was obviously made to be played fingerstyle.
4: it's obvious that some moron strung it up with the wrong strings.

There you go.