First Build Ideas...Project Start Date: March 13
So, I have done my fair share of lurking in the GB&C forum (I'm a GG&A poster normally), and I am wanting a neck through, string through, baritone 6 string guitar. Ideally, the shape would be similar to a Caparison, with a caparison style headstock, but without the $2800 price tag. I am wondering, however, if this is a bad idea for a first build. I have heard that neck throughs are easier to build, however I think getting the neck angle right would be tough....
Anyone here done something similar and wish to share?
Ideally I will shoot for mahogany sides with a 1 piece Maple neck.
Ideally, a black body with a maple neck, and black hardware....
Also, mind the stupid floyd nut...stupid thing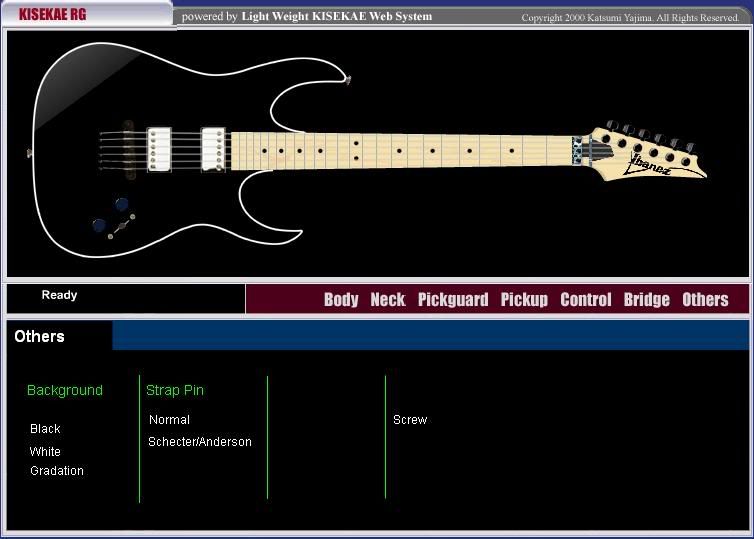 Last edited by Brendan.Clace at Feb 24, 2009,
Last edited by ccatck at Feb 24, 2009,

Join date: Mar 2008
180

IQ
put a bevel on the lower cutaway and recess the TOM, they always look better recessed imo

Join date: Apr 2006
10

IQ
For first builds I think bolt ons are easier.

Also for a first build I wouldnt suggest a one peice neck through, make it at least 3 peice.
Okay awesome.

Thanks for the suggestions guys.

I know i used an RG to illustrate, but the the Caparison TAT is what I'm shooting for.
Last edited by Brendan.Clace at Feb 24, 2009,

Join date: Jun 2006
50

IQ
good luck. im in the middle of my build right now and so confused on all of the neck angles and tapers and stuff
tjfishrocker what kind of build? A rebuild with a new neck on an already made body?
I got this from the caparison site
That shows that the TAT style neck (the one I would like) is on the same level as the body and that the headstock is angled....
Any idea on how I would go about that? Or would it just be a straight plane of the blanks, plane the neck and then angle the headstock accordingly?
Also, I do believe I will switch the neck up from a 1 piece maple to a 3 piece with maple/purpleheart/maple.
Last edited by Brendan.Clace at Feb 24, 2009,
I believe you scarfjoint the headstock on after. That way your neck blank isnt a foot thick
Anyone have any suggestions for the neck....

Should I plane it down to the same width as the body, glue it all, cut the body, and shave/rasp/sand the neck out and use the same wood for headstock? Ideally, I would rather cut the headstock into the single piece, and not scarf it...however, if it must be done....

Join date: Apr 2006
10

IQ
If you are making a neck through you will already need a pretty thick blank to match the thickness of the body

I would just get a 2" thick neck blank and cut the headstock from a single peice (using a volute) you can get a pretty big headstock angle out of a 2" thick blank).
After reading through some of these other neck through threads, I may just order a neck from Carvin, cut the headstock myself, and do the body like that

Figure it would be worth it?
EDIT: Just found they do maple boards at no extra cost.
Last edited by Brendan.Clace at Feb 25, 2009,
Thanks, just edited my last post to reflect that...found it at the same time as you probably haha.

Thanks for the info.

Would it be better to do it this way, or to actually do the neck myself......??

Keep in mind, this will be my first build.
By this neck, much simpler than all the neck troubles.
My advice at least. Its better for your first build to be as simple as it can be.
Yeah

The only thing is

If i match body thickness...if you look at the blank.... there is quite a heel on that...and ideally i would like the heel to be nonexistant (one of the major benefits of a NT IMHO) and so, once I get the body blanks done, I don't think I want an 8" thick body...right? So how am I going to manage to plane down that hunk of wood that the wings are being glued to?

EDIT:

Apparently that hunk is 1.7" thick... so...i guess i will just be carving and sanding the heel down?
Last edited by Brendan.Clace at Feb 25, 2009,