BOTM: MARCH V2 ScottB's Ibanez ATK
Specs:
Body: "Light" Ash
Frets: Medium frets
Fingerboard wood: Maple
Neck: 3pc Maple
Hardware: Chrome
Pick-up: Ibanez ATK 3 coil Pick-up
Controls: 3 Band EQ, Volume, 3 way switch
Colour: Black
Price Bought: £360 (New)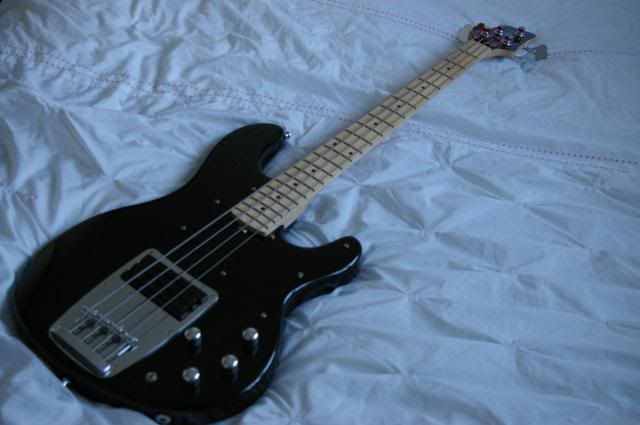 Features:
This bass pretty much
epitomizes
big. It has a huge neck(42.5mm at nut(Jazz is 38mm)), and I love the feel of it. It feels so much more comfortable to me than basses with super-skinny necks. However it's definitely a love or hate thing and I'm not saying it's for everyone. The body is somewhat similar to a P bass, but with rounder horns and a bigger arse. It has a model specific 3 coil pick-up, I'll go into more detail later(same goes for the electronics). It has a very large bridge, which gives it loads of sustain, and also gives it that little extra bite. The neck is held in place by 5 screws and the lower horn gives fairly good(could be better) access to the 22 fret neck.
This bass came with stock Elixir strings, which I'm not a fan of, I've heard they never die, but to me, they were never alive. They didnt have any bite when I got them. Since then it has been strung with, Rotosound Nickels (.40 gauge), Stadium Elites, and currently, Rotosound 66s (.50 gauge). My favourite by far are the Roto 66s.

Electronics:
This bass has a 3 coil Pick-up, I've never seen one on another bass. It is positioned in the same place that a humbucker would be on a Stingray. Controlling the Pick-up is a three-way switch. I did find a website a while ago that showed you what the switch did, but I cant find it now. But I drew a diagram instead

As you can see, when the switch is in the middle, only the neck coil is activated, with the middle coil acting as a dummy coil to "buck-the-hum" if you will. When the switch is to the left, it is the same as when in the middle, except with a subtle high freq cut. I cant remember the exact cut off point, but this mode is great if you want to lay a little lower in the mix than usual, also good for Jimi Hendrix Experience and Cream if you roll off the treble. With the switch to the right, the pick-up acts as a 2 coil humbucker, again using the middle coil as a dummy. The 3 band EQ has controls for Bass, Mid and Treble. Which makes it incredibly versatile, by boosting the bass a smidge and the treble a bit more than the bass(coupled with the humbucker setting) I can get a great early Red Hot Chili Peppers fingerstlyle tone. The circuit is powered by a single 9v battery.

Criticism:
This will be hard to do, because I love this bass so much. But, here are the things that I can find wrong with this bass. On the Ibanez website, it is advertised to be able to be strung through the bridge, or through the body. When I got it there were no holes in the bridge for strings, not too much of a problem for me as Id probably go through the body anyway. Looking back I wish I had gotten the bass in red, and it would have been awesome if it came with a moulded hard case. I'll probably change the tuners in time too, but for now they are stable enough.
So, yeah I hope you enjoyed my BOTM, if you have any comments or questions about the bass, just ask and I'll try and answer them!
-Scott B
Last edited by ScottB. at Mar 1, 2009,