Former WWE stars Bobby Lashley and ken Shamrock to FIGHT!

Join date: Feb 2007
60

IQ
http://www.bloodyelbow.com/2009/3/2/778084/bloody-elbow-exclusive-ken
Sources close to Bloody Elbow can exclusively confirm that the heretofore unnamed opponent of former WWE superstar Bobby Lashley set to square off at Roy Jones Jr.'s mixed and MMA event known as "March Badness" is none other than Ken Shamrock.

Shamrock is coming off a recent submission victory over Ross Clifton at the inaugural Wargods event on February 13, 2009. Lashley is coming off of his professional MMA debut, stopping Joshua Franklin at a Mixed Fighting Alliance event on January 13, 2008. The bout will be contested at heavyweight.

The Lashley vs. Shamrock bout is part of an hybrid boxing-mixed martial arts card being assembled and promoted by former Magazine pound-for-pound greatest boxer alive in Roy Jones, Jr. Jones's promotional company, Square Ring Promotions, Inc., has scheduled the event to take place at the Pensacola Civic Center in Pensacola, Florida and will be broadcast live on pay-per-view. According to published reports, a press conference is scheduled for Feb. 11 to formally announce the event. The event itself is scheduled for March 21st.
Jesus....Ken's gone completely insane, he might die in the ring...Lashley is a walking muscle that's gonna wreck this old man.
For some info:
Ken Shamrock: 45 years old, 2-7 in his last 9 fights
Bobby Lashley: 32 years old, 1-0, 2-time Armed Forces Wrestling Champion, 4-Time National Champion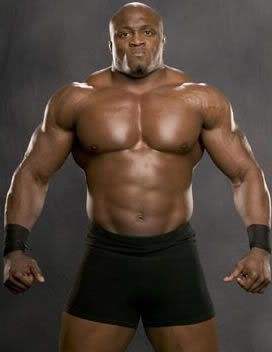 Your thoughts?