Almost 5 Months
and its here!
My brand new splawn superstock!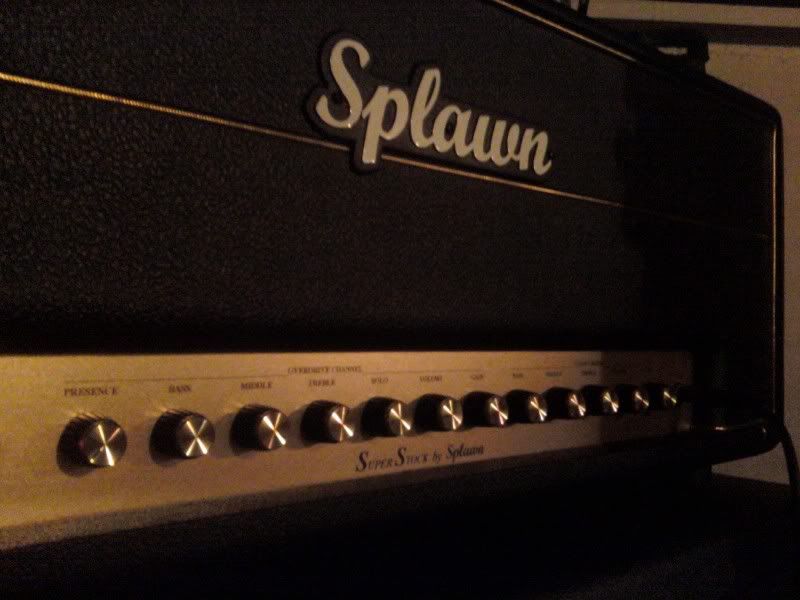 The artsty pic lol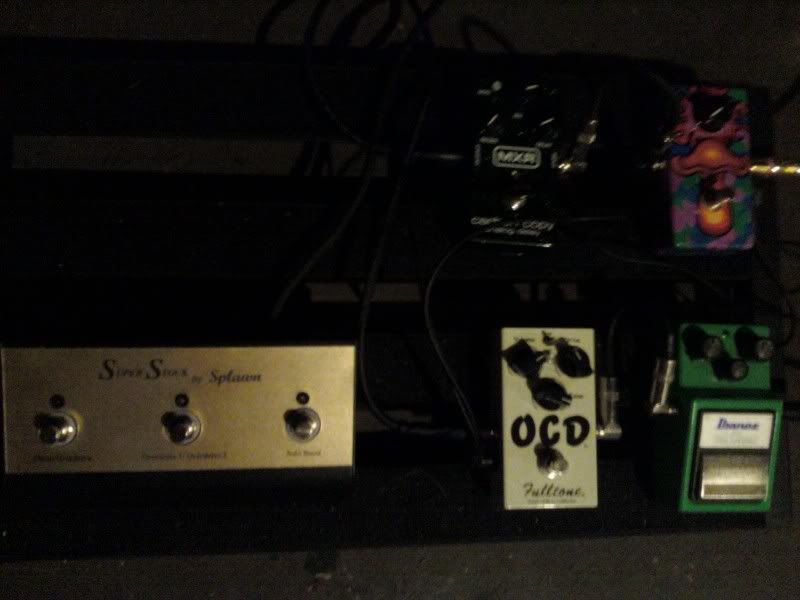 pedal board at the moment
the 4x12 with splawn big block speakers
ive only really played with the amp for an hour ish so i cant write a full review. though with my ocd i got kick ass tones at bedroom volumes and im very happy about that.
to sum it up so i can play more, this amp is awesome. it came 2 months late which bothered me but im preetty sure it was worth the wait. it looks sexy as hell too
sorry for crappy pics
yes that is a build a bear box behind the first pic. hooray for being drum major in their schools marching band
edit::
anyway a bit more of a review after playing it for a week
Cab
TOO BIG! but sounds great im going to hate lugging it around but it has a nice sound to it. I prefer it to my friends marshall 1960
The speakers are breaking in a bit so the ice picky highs i had at first are gone and the buzz disappeared too so thats good
Clean Channel
i really like the cleans on this amp the pre and power volumes offer so many tones its insane then the eq on top of it just adds the to it. i want to say they are better then my old fender's cleans
OD 1
With the gain earlier then noon, its pretty much the same as the clean channel cranked (which i learned can get loud and heavy with an OD) recently i've been leaving the gain at around 2-4 oclock and set the master to 3 oclock. this is where the loop master volume is very handy. This gets me a great dirtyt hendrix tone. its at the point where you can hear all the od in the backround but still hear the clarity of each note you play
OD 2
this sounded best when i had the amp completely cranked (but then again when doesnt it) but with a boost in front it gives me screaming leads and heavier rhythm tones. im surpised im nailing rage against the machine wtih a strat
Overall:
Its the **** i love it. I am definitely going to invest in an attenuator soon since when i plug straight in and crank it i have all the tones i need. at practicing volumes i still rely on my pedals and loop volume for better tone. its still good but its just not the same. at this point if anyone is interested in getting a splawn look into the quickrod, more versatile in my opinion
Last edited by timzee117 at Mar 11, 2009,