My first head/cab build
So this is what i have so far:
I took a valveking 112 and built a box for the amp and I'll build a cab to house 2x12.
my plan is to cover it with this cloth-backed vinyl or something that i picked up at the fabric store (like whats on diner seats) with multipurpose spray adhesive i got at home depot and staples for the edges. will this work? any tips or suggestions? this will be my first time for a project like this but i have corner guards to cover up those troublesome spots.
Last edited by beard_face at Mar 16, 2009,

Join date: Dec 2007
200

IQ
corner guards are going to make wrapping it up a million times easier. i think it'll look cool when it's done.
nice job on the head too

Looks awesome. Should get something to cover the corners, their name escapes me.

Join date: Dec 2007
113

IQ
looks good and your plan sounds good too
alright... heres the end result. worked out pretty good. i just had issues with the seams for the vinyl but i got a good idea to fold them under the chassis straps and it looks like it was meant to be that way. probably won't use it again, though.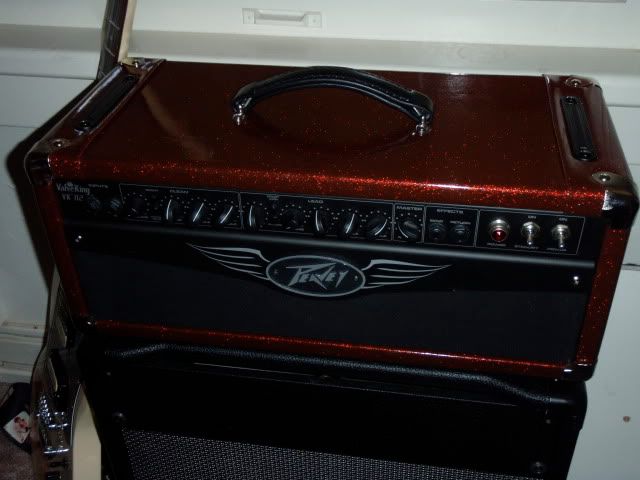 Join date: Oct 2007
40

IQ
Very nice, that's lookin' pretty pimpin.

Join date: Nov 2006
60

IQ
Wow, that looks wicked. Not so sure about whether it matches the cab, but I love the red. Goes with your guitar very well.
What kind of guitar is it? I think I spy an Epiphone sticker in it. Looks nice.


Join date: Nov 2007
10

IQ
That looks great. Should do that for the cab to make it match =P
Guitar is an Epi WildKat... She's my baby.