Cab a capo damage?

Join date: Mar 2009
20

IQ
Hey guys!
Ultimate guitar is the place that taught me ALOT about guitar.. and it got me started in fruity loops too... hehe

Now, I come for more help.
This time to the community.
I have had a Ibanez PF (the one thats around $250) for almost 3 years.
I play in my church about once twice a week live (at least one through system).
The guitar has been great, but I got me a new Laguna LG series.
Now this is a little more expensive and I plan to take care of it better.
I have a regular capo the black one (Kyser).. i think they're pretty popular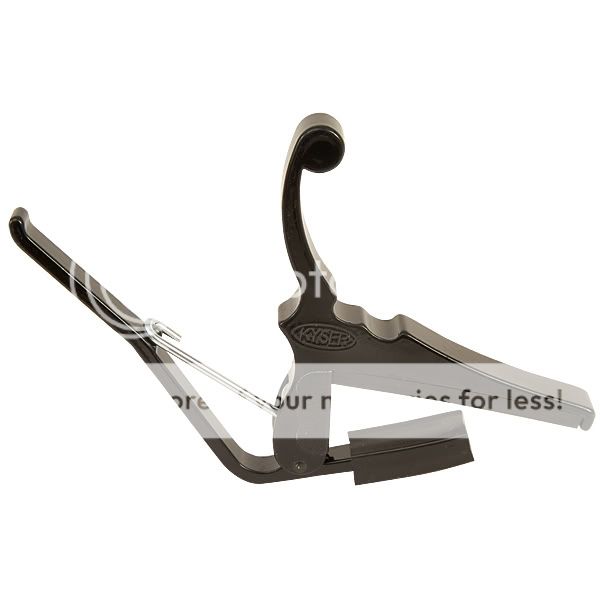 I was showing my guitar to one of the oldies in our church (he used to play alot).. and he loved the guitar... but jumped up when he saw my capo.
Said its gonna ruin the fret overtime.. etc.. etc.
Now, for as much as I respect the fella, I would like to get some more opinions.
I usually don't go past 5th or 6th fret with the capo.. But I do use it alot sometimes.
Should I invest in a different capo? what do you guys recommend?
** EDIT **
I have this guitar
http://www.playlaguna.com/models/index.cfm?model=lg6cerw
Youtube review:
http://www.youtube.com/watch?v=tSUVKqDvV2M
Last edited by nickbunyun at Mar 13, 2009,

Join date: Jul 2006
130

IQ
I can't see any reason that capo would be worse than any other capo. I use that crazy expensive G7th thing, but it's really no different from my Dunlop trigger capo. I think you'll be just fine.

Join date: Jul 2008
250

IQ
It's not gonna do severe damage. I have that kind. If it hurt your guitar, then they wouldn't sell it for use on your guitar. Although, a higher quality snap on capo or something would be useful since I know how much you have to use a capo in church band.

Join date: Apr 2007
20

IQ
The only way it can damage is if the tension on it is too high, I have one with adjustable tension that never even touches the fretboard, just enough to fret the note.

Join date: Apr 2008
10

IQ
It PROBABLY won't do anything. If it does, it'll probably be rather slowly. I think its more a problem with acoustic guitars, if anything.

At least, as far as I know.

Join date: May 2004
120

IQ
I would be more worried about the fretboard than the actual frets themselves - if you leave the capo on a certain fret for an extended period of time the windings on your strings will leave indentations on your fretboard.

Join date: Mar 2009
20

IQ
So is he saying never use a capo or go buy a better one?

Either way I reckon he's wrong.
Use it as an excuse to buy a G7th capo.
is that kyser capo causing your strings to go a little sharp when you trigger it on?
most likely it'll pull at least a couple of them a little sharp.
if not then you are golden, and dont leave it on for extended time like said.
if it does do that, and it's any kind of problem at all then pick up a SHUBB capo with adjustable tension option.
the key is to use as little pressure as possible.
if it's not tossing the guitar out of tune, then it's no more harmful than fretting.
http://www.musiciansfriend.com/navigation?q=shubb+capo&src=3WWRWXGB&ZYXSEM=0