P-Bass upgrading
So I don't have the time to continue my build, which really sucks, but I have enough time to mod out my bass. Its a Squier Precision Bass, fairly old, and I've been using it with my band. I'm getting the ESP D6, but I wanna hold on to my 4 string to play easier songs, so here I am asking for mod ideas. I wanna keep them fairly cheap and "garage"-ey

I've already decided that I'm going to "sharpen" the inside of the horns, so I have better reach on it, but other than that, I can't think of anything, except maybe switching out the bridge for one that I can actually adjust the saddles on (mine is busted, so every time I rest my finger on the E it hits the pickup).

I also wanna change it aesthetically, so any suggestions are highly welcome.

EDIT: Mod 1 done. Pics at bottom
Last edited by Prisoner5 at Mar 22, 2009,
So I don't have the time to continue my build, which really sucks, but I have enough time to mod out my bass. Its a Squier Precision Bass, fairly old, and I've been using it with my band. I'm getting the ESP D6, but I wanna hold on to my 4 string to play easier songs, so here I am asking for mod ideas. I wanna keep them fairly cheap and "garage"-ey

I've already decided that I'm going to "sharpen" the inside of the horns, so I have better reach on it, but other than that, I can't think of anything, except maybe switching out the bridge for one that I can actually adjust the saddles on (mine is busted, so every time I rest my finger on the E it hits the pickup).

I also wanna change it aesthetically, so any suggestions are highly welcome.
I'd say go for Gotoh 201 bridge, a new nut (im guessing your current one is a little worn down?) for nuts, I just got some Graph Tech TUSQ nuts and I like them, maybe a new pickguard? some new knobs?
I think you need a bridge most though, I pick the Gotoh because it's half the price of the Leo Quan BadAss11. Aesthetically, I always imagine P basses and that punky, dirty, worn out look.
Is there a difference between the 203 and the 201? And thank you. I can't decide if I wanna mod it aesthetically now, but relicing it sounds like a good idea.
Also, do you forsee any problem with putting a j-bass neck pickup into it?

EDIT: Nvm, Its cheaper just to get a full set of EMG Hybrid Selects and cut on the pickguard to put in the big pup.
Last edited by Prisoner5 at Mar 17, 2009,
So here is the original, then the rest: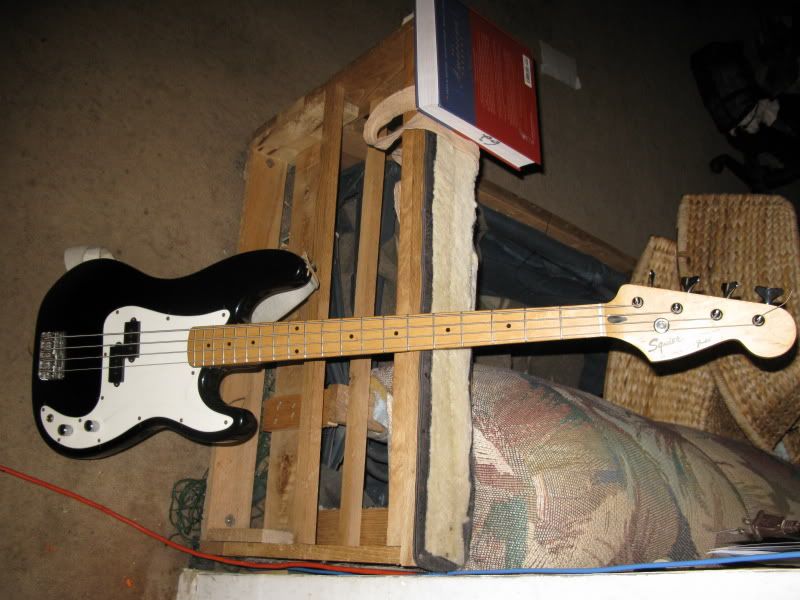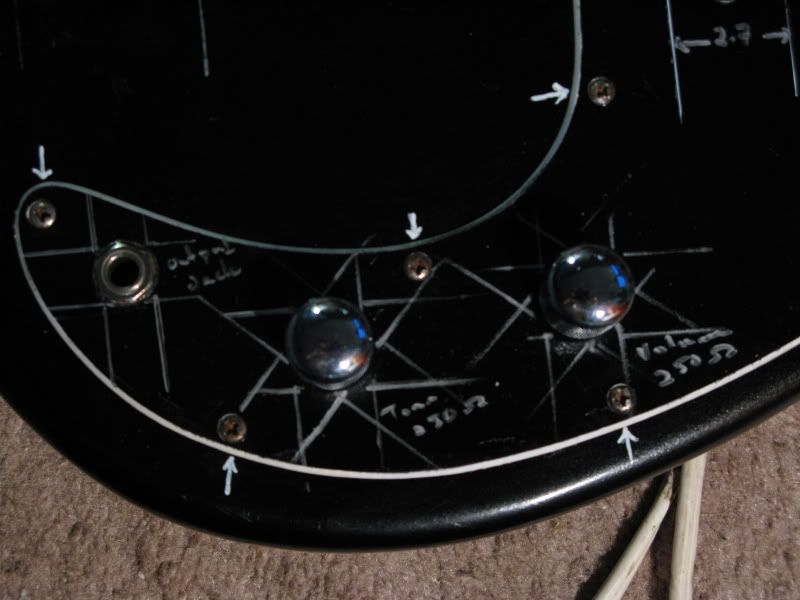 Join date: Jun 2008
61

IQ
I've never seen a Squier P bass Standard/Affinity with a maple fretboard before. The only time I can remember seeing it is on a JV series.... It may just be an older one at a time they used Maple fretboards. And it's got the smaller machine heads, used on the 5 stringers. Hmm what's the serial number on this?

Sorry I never replied earlier, I never noticed. I've only dealt with the 201, which appears to be a little chunkier.
VN303148
its not even really a fretboard per se, its directly on the neck.
And thnks forstringwonder
VN303148
its not even really a fretboard per se, its directly on the neck.
And thnks forstringwonder
Aaah a Korean model, and it would appear they came with those miniture tuning pegs. Sorry, I was just wondering for myself because i'd never seen one like this before. If you're interested at all, you have a 1993 Made in Korea P bass

. Black on black with a maple fretboard looks beautiful, I feel a gold Gotoh 201, gold tuning heads (remember that they're the smaller Fender sized ones!) and gold knobs will make this a great bass. From what I understand, the pick ups on these are very good already.
EDIT : Incase you were wondering about my questions, I was scared incase this was a VJ series, which would sell for a lot more than say a MIM Fender.
Last edited by Micehorns at Mar 23, 2009,