I've fallen in love...through the Internet.
Pit, I seriously need help. I've fallen terribly in love with this girl through an online game. We have so much in common, we've already known each other for 2 months, and we basically quit the game, but we talk EVERYDAY through AIM now and our convos usually last 3 hours minimum on average.. I am SERIOUSLY in love...I mean it, every time I speak to her, I feel so in love, I feel so alive and I've said the most poetic things in my life since I met her. She is soo innocent GOD I love her. She's the PERFECT person for me, everything is just so amazing about her.
But...she lives far away from my country, we promised we would meet, but since we still have school (I finish school next year though, I'm 17) I could probably go visit her and finally be with that person I've waiting so long to be with NEXT YEAR....
Pit, do you think love can last through the internet? I mean, I have to wait a WHOLE year to be able to visit her...or maybe even more than a year!

I feel so frustrated because I want to hold her in my arms, but I can't...it's so frustrating, I don't know what to do, I think about her EVERYDAY that it sometimes makes me feel VERY depressed since I can't be with her physically. I even cry because of this frustration that it's too much that I can't concentrate on ANYTHING, I'm doing bad in school, I can't concentrate when playing guitar and can't seem to get my head straight on anything...
I need help, please Pit I know that deep down inside of you, you guys have healing souls. HEAL MY HEART PIT!!!!

Summary: I've fallen with a girl through the internet, we are perfect for each other and we plan on meeting next year but I'm not sure if the feelings can last that long, I feel extremely frustrated and can't concentrate on anything because my head is filled with thoughts about her.
Last edited by XxLloydxX at Mar 21, 2009,

Join date: May 2008
150

IQ
Sorry to say, but it's probably a dude, man.

Join date: Jun 2006
290

IQ
This is her:
A whole year? Get a job or something and maybe you can see her sooner.
PS I'd cut down on the daily 3-hour-convos. Give her the gift of missing you.
PPS Relationship thread?


Join date: Jul 2007
10

IQ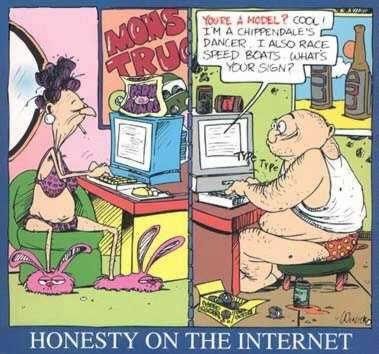 But in all seriousness bad idea dude.
OHH OHH

all aboard the relationship (thread)!